It'd be an understatement to say that here at YumSugar, we do a lot of cooking — and for new ideas and fresh inspiration, there's no better source than restaurants and cookbooks. At a time when close-to-the-source food has been making a comeback, there've been a dizzying number of books guiding the way when it came to making homemade food.
With so many new titles making waves this year, it was hard to choose our top picks, so for a little help, we turned to other respected cooks who'd know best: our readers! Without further delay, here are our favorite (and your favorite) books from the year.
Our Pick: Home Made by Yvette Van Boven
One of our resolutions for the upcoming year is to learn to make more things from scratch. Home Made [1] by Yvette Van Boven is exactly what we've been searching for. With mouthwateringly beautiful photography and unique recipes that promote a wholesome lifestyle, this cookbook is inspiring, to say the least.
Reader's Pick: Paula Deen's Southern Cooking Bible by Paula Deen
We figured the queen of Southern cooking would make an appearance somewhere on this list, and Sara M. made sure of that with her pick of Paula Deen's Southern Cooking Bible [2] as one of the top cookbooks of the year. Southern cooking is really hot right now, and we all could use a go-to resource like this one! Now get cookin', y'all.
Our Pick: Girl in the Kitchen by Stephanie Izard
Stephanie Izard is one of our favorite Top Chef winners, and seeing her hit the big time with her Chicago restaurant Girl & the Goat is just as satisfying as her cooking. Her new cookbook, Girl in the Kitchen [3], includes more than 100 recipes as well as insight into how she shops for food and what inspires her.
Reader's Pick: Cook Like a Rock Star by Anne Burrell
Turns out you love crazy-cool chef Anne Burrell both on the small screen as a Food Network chef, and as a newfound cookbook author. Salena C. voted Cook Like a Rock Star: 125 Recipes, Lessons, and Culinary Secrets [4] as a top pick. Her mantra? It's all about supplying any home cook, new or novice, with the confidence necessary to kill it in the kitchen.
Our Pick: Modernist Cuisine by Nathan Myhrvold
In the year 2011, former Microsoft exec Nathan Myhrvold turned the collective cookbook publishing world upside down with his six-volume, 2,438-page, 52-pound, $625 Modernist Cuisine [5]. Each copy of the book, which requires four pounds of ink to print alone (!), features breathtaking, nature-defying photography — and, more importantly, a whole new set of scientifically demonstrated declarations about cooking.
Reader's Pick: VOLT ink. by Bryan Voltaggio and Michael Voltaggio
The talented Voltaggio brothers came out with this wildly popular cookbook filled with stunning photography and the stories behind their cooking. They've been described as two of the most talented chefs of their generation, and so it seems only appropriate that Volt Ink. [6] would make your list.
Our Pick: The Family Meal by Ferran Adrià
From Tyler Florence to Mario Batali, everyone, it seemed, came out with a family-themed cookbook this year. One of our favorites of the bunch was The Family Meal: Home Cooking With Ferran Adrià [7], which includes step-by-step color photos of every dish and its components, plus modified ingredient lists to suit a serving of two, six, or 20, from the guru of molecular gastronomy.
Reader's Pick: Good Eats 3 by Alton Brown
Good Eats 3: The Later Years [8] is a wealth of important and empirically backed food information, and we wouldn't expect anything less from Alton Brown. Sara M. voted this cookbook into the slideshow and we agree with her: the best thing about Alton is that he brings so much fun into the kitchen, and his third effort is no exception.
Our Pick: The PDT Cocktail Book by Jim Meehan
Jim Meehan's legendary New York bar PDT may stand for "Please Don't Tell," but in The PDT Cocktail Book [9], the man behind this institution spills every drink recipe from the watering hole since Spring 2010 — all 304 of them. The recipes are meticulous (at times specifying obscure brands of spirits), but ultimately we appreciate this attention to detail. This book, which brings the high art of bartending into the home, has secured a spot on our shelves for many years to come.
Reader's Pick: The Kimchi Chronicles by Marja Vongerichten
Marja Vongerichten, wife of New York restaurant magnate Jean-Georges Vongerichten, picked up on America's readiness for all things kimchi with her book The Kimchi Chronicles: Korean Cooking For the American Kitchen [10]. Her love of the country inspired you to be influenced by the cooking of North and South Korea, from bulgogi to Marja's gimbap [11].
Our Pick: Plenty by Yotam Ottolenghi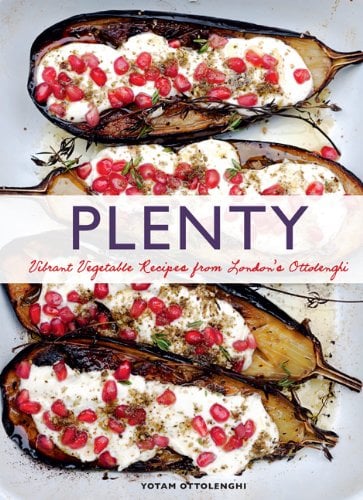 The Israeli-born chef, London restaurant owner, and Guardian columnist Yotam Ottolenghi has been a worldwide sensation for some time, but it wasn't until 2011 that we got a taste of his talent with his American cookbook release of Plenty: Vibrant Recipes From London's Ottolenghi [12]. It's some of the most inspired vegetarian cooking that we've seen to date.
Reader's Pick: Simple Food, Big Flavor by Aarón Sánchez
Latin food is a perennial favorite among YumSugar readers, as evidenced by Sara M.'s cookbook pick. Simple Food, Big Flavor [13], the sophomoric effort from Food Network's Aarón Sánchez, gives us a solid base for several Mexican-inspired dishes.