There are so many things to love about this time of year. Yes, there are cozy blankets and flickering fires, but there are also the flavors of Fall: the crunch of toasted nuts, the smell of warming spices, the cornucopia of end-of-year gourd vegetables. Since there's so much we love about Autumn eats, we've compiled all of our favorites from this time of year into one place, so you can enjoy them as much as we do. Sit down with a pumpkin spice latte [1], then keep clicking to come up with the perfect combo for tonight's dinner. Jump ahead to:
Fall Soup Recipes [2]
Fall Salad Recipes [3]
Fall Dinner Recipes [4]
Fall Dessert Recipes [5]
Spiced Carrot Soup
For loads of texture and flavor contrast, garnish this creamy carrot soup [6] with spiced chickpeas, tahini-lemon sauce, dukkah, and parsley.
Spicy Tomato Soup
Tomato soup with grilled cheese croutons [7] takes a classic combination and spices it up a notch.
Easy Chicken Noodle Soup
On days when you're not feeling so hot, try homemade chicken noodle soup [8]. It'll feel like Mom just made it.
Sweet Potato Soup
This sweet potato soup [9] gets its kick from the za'atar oil (a Middle Eastern spice blend comprising oregano, thyme, sesame seeds, and sumac).
Roasted Beet and Garlic Soup With Chèvre
Velvety smooth and perked up by the addition of tangy chèvre, this roasted beet soup [10] is not only delicious, but also practical. Make a big batch and reap the rewards throughout the week for an easy-to-reheat lunch or dinner.
Potato Leek Soup
More formally know as potage parmentier, this French potato leek soup [11] is a Julia Child [12] classic.
Creamy Butternut Squash Soup
Smooth, creamy, and subtly sweet, expect butternut squash soup [13] to be a Fall favorite. It's an excellent candidate for leftovers, because this seasonal soup tastes even better the next day.
Baked Potato Soup
Forgo the baked potato for a baked potato soup [14]. Top the soup with all your favorite baked potato condiments like chives, sour cream, cheddar cheese, and bacon bits.
Broccoli Soup
Michelle Obama's cookbook [15] is filled with delicious recipes like this broccoli soup [16]. It's a simple dish that is easy to throw together for a weeknight dinner. Try adding a dollop of light sour cream and a drizzle of jalapeño olive oil to boost the soup's body and flavor.
Curried Pumpkin Soup
This particular pumpkin soup [17] has an Indian twist with the addition of ginger, curry powder, and coconut milk; however, it is not overwhelmingly spicy or palate-burning. Add toasted pumpkin seeds for a crunchy topping.
Beef and Bean Chili
Make your life easier with one super simple recipe. That's right, it's time to pull out your crockpot and try this beef and bean chili [18] that'll keep you warm on the chilliest of days.
Brussels Sprouts Salad
Shredded kale and brussels sprouts, toasted sunflower seeds, and dried cranberries combine for a Fall-friendly salad [19].
Mayo-Free Waldorf Salad
Apples and grapes are at the peak of their season during Fall. Throw them in a mayo-free Waldorf salad [20] with crunchy walnuts and celery.
Kale and Chard Salad With Pomegranates and Hazelnuts
Attention kale lovers: this kale and chard salad with pomegranates and hazelnuts [21] is a must make. It's filled with plenty of seasonal fruits, vegetables, and nuts, and the dressing alone is worth showing off to your family during Thanksgiving.
Celery and Parmesan Salad
Celery may have a reputation of being a lesser-loved crudité, but the stalky vegetable shines in this celery and parmesan salad [22].
Arugula With Persimmons and Pomegranate Seeds
Juicy persimmon and pomegranate sweeten up this arugula salad [23] tossed in an unexpected dressing made with pomegranate molasses, fig balsamic vinegar, lemon juice, and olive oil.
Apple, Pear, Radish, and Sesame Steak Salad
Apples and pears aren't always seen in Asian cuisine, but that's about to change with this sesame steak salad [24]. Cucumber and red radishes also up the crunch factor.
Butternut Squash Pizza
Try pairing butternut squash, slices of brie, and arugula [25] for an unexpected pizza topping.
Fast and Easy Chili
The world's most flexible chili not only has a meaningful background [26], it's also receptive to any fresh herbs or spices you may have on hand. We topped ours with Fritos corn chips!
Spicy Sloppy Joes
Spicy sloppy joes [27] are the perfect meal to turn to when you're craving something smoky, meaty, and spicy, but it's too cold to bust out the grill.
Seared Scallops in White Wine Sauce
Indulge your seafood craving by searing a handful of plump dayboat scallops in a velvety parsley, scallion, and white wine [28] butter sauce.
Tricked-Out Pinot Noir Ramen
Bacon, eggs, pork, and Pinot Noir? Yes, you heard right. Don't let the unusual combination of ingredients deter you from making this dish, as it's one spectacular bowl of ramen [29].
Chicken Lo Mein
Autumn-weather vegetables like mushrooms, carrots, and broccoli add satisfying crunch to a bowl of chicken lo mein [30].
Ham and Cheese Soufflés
For some delightfully decadent treats, look no further than these ham and cheese soufflés [31]; they'll take your dinner to new heights.
Truffle Mac and Cheese
This velvety stove-top mac and cheese [32], which includes three types of cheese and truffle butter, is the most umami-packed version you'll ever have.
Bourbon Pecan Pie
There's nothing more American than a slice of bourbon pecan pie [33] with a scoop of vanilla ice cream.
Caramel Nut Bars
In the crisp weather, we're huge fans of these sweet caramel nut bars [34].
Almond-Nutella Pizza
This sweet twist on a pizza with gooey chocolate and crunchy amaretti cookies [35] is an unexpected match made in heaven.
Pumpkin and Chocolate Brownies
These cute little layered pumpkin and chocolate brownies [36] are a perfect bite of sweet Autumn flavor.
Pumpkin Bread
Nothing says Fall more than pumpkin, and the smell of this fragrant bread [37] baking is sure to warm the house. It's a great breakfast treat or snack, and it makes a wonderful housewarming gift when wrapped in pretty cellophane.
Banana Nut Bread
A slice of fresh banana nut bread [38] is perfect any time of day.
Crema Catalana
Make it a special occasion tonight with an elegant serving of crema catalana [39].
Apple Dumplings With Cider Sauce
Nostalgic baked apple dumplings [40] have dessert making use of delicious seasonal produce.
Pecan Pie Cookies
Who says pecan pie is just for Thanksgiving? These pecan pie cookies [41] are a warming treat all Fall long.
Cranberry-Gingerbread Cake
A dense, moist gingerbread cake [42] is another wonderful way to enjoy the cool-weather flavors of cranberry and ginger.
Maple-Bacon Cupcakes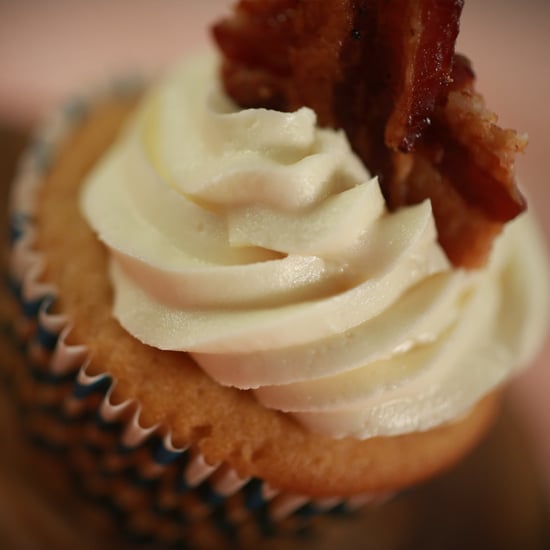 The rich, intense flavors of bacon and maple, when paired together, make for a winning cupcake.
Apple Crisp Baked Apples
There's no better place to start than with some amazing apple crisp baked apples [43]. Combine two American dessert classics for a treat that's guaranteed to be a Fall favorite.