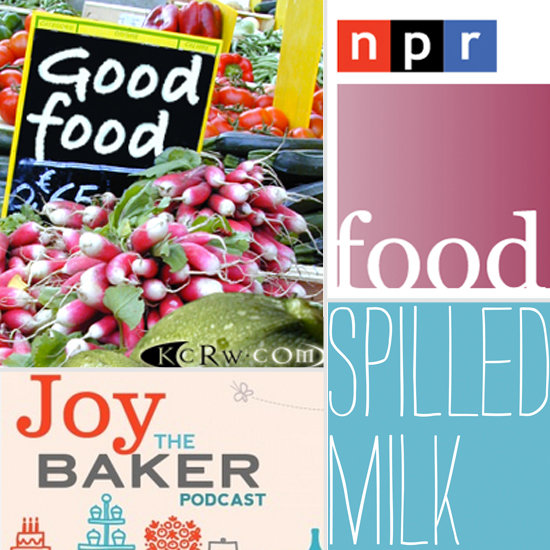 Stuck with a long commute, or looking to be entertained while tinkering away in the kitchen? Thank goodness for podcasts! These days, it seems that there is an online radio series dedicated to nearly any topic of interest, including a whole host of those devoted to food and wine and the intrinsic culture surrounding these subjects. I've logged hundreds of hours listening to podcasts over the years and have developed a few favorites:
Spilled Milk [1]
Looking to laugh? Molly Wizenberg (of Orangette [2] and A Homemade Life [3]) and food writer [4] Matthew Amster-Burton banter back and forth on this quirky shorter format podcast that tackles one subject per episode. Some favorites: sour candy [5], Thai salads [6], and braising [7].
Good Food [8]
While this podcast is a bit LA-centric, it has much to offer, whether or not you have a trip to sunny Southern California on the books. The show's host, Evan Kleiman, is a thoughtful and warm interviewer, and segments such as their weekly farmers market report and Summer pie-a-day [9] series are lighthearted yet informative.
The Food Seen [10]
Initially, I was a bit put off by the ever-so-slightly pretentious host, Michael Harlan Turkell, who comes off as the quintessential Brooklyn hipster, but I quickly learned to move past this, as his well-researched and extremely thorough interviews with guests like Joe Campanale [11] (whose episode about wine was both accessible and fascinating), Sara Moulton [12], and Deb Perelman [13] are more than worth tuning in to.
NPR Topics: Food [14]
While not a podcast in the traditional sense, NPR's digest of the food-related segments on their general-interest shows covers a great breadth of content. Stories range from how the humble sweet potato is saving lives in Africa [15], to interviews with food personalities like Nigella Lawson [16] and Alton Brown [17].
Joy the Baker Podcast [18]
Fans of Joy the Baker [19] and Shutterbean [20] will love this podcast for its no-holds-barred take on everything from oyster shucking and hot toddies [21] to taking smart shortcuts in the kitchen [22].
What food or drink podcasts do you love? I'm always looking for a new series to obsess over, so please share your favorites in the comments.