Earlier this week we spent two enthralling days perusing the 2013 Winter Fancy Food Show's [1] cavernous exhibition halls to catch a glimpse of what's new and notable in the food world, and determine which products are worthy of keeping on hand for everything from culinary experiments to snack-attack spells. It may have been a tough task to narrow down our short list of favorite flavors, but we survived. Rest easily while clicking through our top picks; any products you might be compelled to try yourself are worth your hard-earned dollars — they're Yum-approved!
Coach Farm Triple Cream Goat Cheese
This goat cheese certainly deserves its triple cream name, as its consistency was closer to an oozy, gooey brie than a crumbly chèvre.
— Anna Monette Roberts, assistant editor
Gin Gins Ginger Spice Drops
What's cute as a button but packs a surprising spicy-sweet punch? Why, Gin Gins' latest product: Ginger Spice Drops of course! Let's just say that I went back for seconds and then some . . . Also notable: Gin Gins' spicy-sweet (think mulled apple cider) Spicy Apple Ginger Candies.
— Nicole Perry, assistant editor
Chipotle Pickles
Pickles were a big thing at last year's show [2], but this was the first time I'd seen chipotle pickles. They were the perfect combination of sour, sweet, and smoky.
— Susannah Chen, editor
Jalapeño Whiskey Mustard
The Fancy Food Show is always overrun with flavored mustard, yet I still did a double take when I spotted Sutte Buttes Olive Oil Co.'s Jalapeño Whiskey Mustard. It lived up to its promised flavor profile.
— SC
Nature's All Organic Freeze-Dried Fruit
My favorites of the Nature's All Organic Freeze-Dried Fruit included the strawberry, raspberry, and apple. I crave crunchy things (like chips rather than fresh apples), so these snacks let me get my fix. Plowing through a bag of fruit is less bad than a bag of chips, right?
— AMR
Tillen Farms Rainier Reserve Cherries
I look forward to the short-lived cherry season more than anything. Thanks to Tillen Farms, I can now munch on cherries during the off-season. The plump fruit, despite being pitted and jarred, is still firm and retains that sweet flavor I so revere.
— AMR
Taza Gingerbread Chocolate
After sampling a nibble of Taza's warmly spiced stone-ground chocolate bar I instantly regretted it. Not because it tasted terrible, but rather because I loved it so, and it, and their similarly excellent eggnog bar, won't be available again till next holiday season.
— NP
Tcho Mokaccino
Hello, mocha! This Tcho Mokaccino milk chocolate bar melts effortlessly on the palate to reveal a warm, roasted coffee flavor.
— AMR
The Republic of Tea Rose Petal Tea
Rose, like many floral flavors, is often tricky to get just right in culinary applications; too little and the delicate flavor is easily overpowered, too much and visions of licking an old lady come to mind. Luckily, the Republic of Tea nailed it with their loose-leaf rose petal black tea.
— NP
Wagyu Oil
You've probably heard of wagyu steak, but what about wagyu oil? Australian company York Foods shocked us all with its never-before-seen product. Wagyu oil, which is made of wagyu beef cattle fat, has a higher proportion of unsaturated to saturated fatty acids, and lends a creamy and rich mouthfeel to foods. Our prediction? Wagyu oil is going to be the new duck fat.
— SC
Divina Chickpeas in Mediterranean Marinade
I'll admit that I first sampled these herb-coated chickpeas in an effort to eat something — anything — fiber-packed after stuffing my face with cheese and candies all day, but boy was I glad that I did! Perfectly cooked chickpeas play nicely with herbs and garlic, making for a healthy and hearty snack or side dish.
— NP
Pepper-Based Salsa
Cucina & Amore showed off what it claims will be "the next big thing in salsa": a line of pepper-based, tomato-free salsas. Pictured here: Piquillo Pepper & Passion Fruit, Fire-Roasted Red Pepper, Piquillo Pepper & Mango, and California Wonder Salsas.
— SC
Happy Goat Winter Spice Caramels
Honestly, Happy Goat's earthy goats' milk caramels aren't for everyone; the goats' milk gives them a distinctive barnyardy tang that may overwhelm some palates. That said, they're bound to be a hit with those who, like me, are obsessed with anything and everything goat; if you're not sure where you stand, just try one. While all flavors on offer were notable (think classic vanilla bean, coconut lime, and Scotch caramel sauce), Happy Goat's Winter Spice iteration blew me away.
— NP
Cheribundi Tart Cherry Juice
When I want fruit juice, I oftentimes find it is simply too sweet and syrupy. Cheribundi Tart Cherry Juice is as tart as the name implies. It's like drinking SweeTarts. I've already decided I'm drinking this after every workout.
— AMR
Artichoke Truffle Sauce
Who knew artichokes and truffles made such a lovely pair? I didn't, until I tried Cucina & Amore's Artichoke Truffle Sauce. It's not on shelves yet, but I look forward to seeing it in supermarkets like Whole Foods in the next month or two.
— SC
Ines Rosales Cinnamon Torta
Olive oil tortas may seem unassuming — and frankly overpriced at roughly $6 for six small flatbreads — but trust me here, they're not. My favorite of the bunch was this cinnamon-sugar version; it reminded me of dressed-up cinnamon toast.
— NP
Stu's Bloody Mary Mix
Are bloody Marys hard to make from scratch? No, but if you're drinking said bloody Mary in hopes of recovering from a night of excess a helping hand certainly can't hurt. Regardless of circumstance, this bloody Mary concentrate (just add tomato juice, vodka, and garnishes [3]) somehow manages to taste just as good as its from-scratch brethren and is bound to brighten lazy weekend mornings.
— NP
Honey Almond Nougat
In my experience, nougat is a hit or miss candy — as in it's either the best or worst thing you'll pop in your mouth. Thankfully, these almond-studded sweets fell firmly in the former category, largely in part due to their perfectly chewy texture and just-right sweetness.
— NP
Crunchy Coated Black Edamame
Wasabi peas and their close cousins crunchy edamame are hardly a new concept, but these slightly sweet and salty black edamame — an edamame variety prized for its natural sweetness and unusual hue — were new, noteworthy, and dangerously snackable.
— NP
Jeni's Ice Cream
Jeni wooed us once again with flavors like grapefruit frozen yogurt, mango lassi, and lime cardamom frozen yogurt. Each pint is worth its $12 price tag.
— AMR
Oat & Walnut Biscuits
The Fine Cheese Company's classically elegant packaging may have drawn me in, but it was the tender slightly-sweet contents within that truly impressed. While I wouldn't kick any of the company's biscuit flavors out of bed, the Oaten Walnut flavor was my favorite; tannic walnuts and nutty oats combine for a delicate shortbread-like biscuit that would be a welcome addition to any cheese plate.
— NP
Victoria Roasted Sweety Pepeprs
Unlike the conventional jarred roasted red peppers you'll find on most supermarket shelves, Victoria's Roasted Sweety Peppers had a gentle sweetness and a roasted (but not aggressively charred) flavor. I appreciated their toothsome bite, too.
— SC
Spindrift Water
We didn't feel too keen on flavored waters until we tried Spindrift Water, a sparkling water made with fresh pressed juice. Raspberry lime was my favorite in the line. The beverage is tart, tangy, and fizzy. The best part? It's not even sweet, making it more like a flavored water than a soda!
— AMR
Wild Squirrel Cinnamon Raisin Peanut Butter
This jar of Wild Squirrel Cinnamon Raisin Peanut Butter is downright dangerous. This is the American version of Speculoos spread. It's like blending two types of cookie dough flavors (peanut butter and oatmeal raisin) together in one jar.
— AMR
Vermont Farmstead Cheese Lillé
Vermont Farmstead Cheese Lillé tastes like a mushroom-infused brie. The ripe center had us coming in with our spoons for seconds.
— AMR
Shropshire Blue
Shropshire Blue tasted as though if sharp cheddar collided with Stilton blue.
— AMR
Vermont Farmstead Cheese Alehouse Cheddar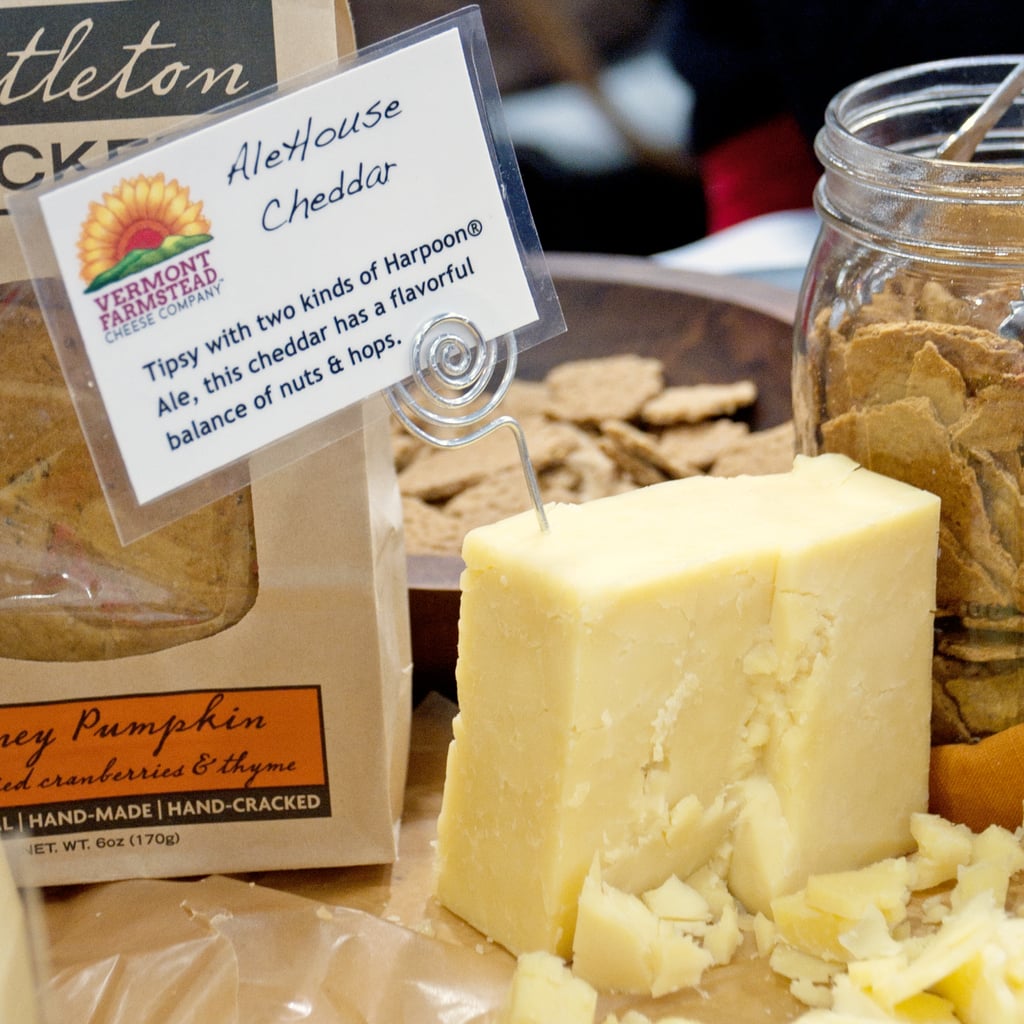 I'm a passionate fan of Kettle Brand's Cheddar Beer flavor (as is our whole team [4]), so I was hardly surprised to find myself (and our team) falling hard for what is essentially those chips in cheese form.
— NP
Azul Penacorada
This Spanish blue cheese might be the best blue I've ever tried. Creamy and spreadable, the addictive cheese has a slightly smoky flavor and that mouth-numbing quality often found in good blue cheeses.
— AMR
La Tourangelle Bottled Salad Dressing
When it comes to salads, I'm a from-scratch-only kind of girl, so color me surprised when I found myself coming back from taste after taste of La Tourangelle's latest bottled salad dressings. While all were enticing, my favorites were the punchy Truffle Caesar and tangy Mandarin Sesame.
— NP
Farm to Market Bloody Mary Pickles
I have a thing for bloody Marys, and for pickles, too, so it was no surprise that Farm to Market's Bloody Mary pickles were a favorite. I should've, however, been forewarned that each cucumber coin packs a wallop of heat. I needed a beer to wash down just one!
— SC
Cucumber Vinegar
Walking by Olivelle's booth, I did a double take; cucumber vinegar was something I simply had to try. My suggestion: snap up a bottle and whisk this bright refreshing cucumber-infused white balsamic vinegar into everything from salad dressings to bloody Marys.
— NP
Haribo Ginger-Lemon
Three of my favorite things — ginger, citrus, and Haribo gummies — combine in these tingly tangy sweets. And somehow even despite my absurdly high expectations for this new-to-the-US flavor, I was shocked by just how good these candies are. Since the show, I've been on a mad manhunt, stopping at every convenience store in sight in an attempt to re-up my supply.
— NP
Sucré Handmade Marshmallows
Even a marshmallow naysayer may not be able to resist these puffy, slightly dense handmade marshmallow drops made by Sucré.
— AMR
Joia Natural Soda
These sodas mix interesting fruits, herbs, and spices together and come in flavors like pineapple, coconut, and nutmeg and grapefruit, chamomile, and cardamom.
— AMR
Panevino Fiscalini Cheddar Grissini
Developed as a foil for wine-tasting, Panevino's line of grissini — crisp Italian breadsticks — were delightful even without a glass of Pinot Noir to pair them with. Naturally, my favorite of the bunch was the Fiscalini cheddar-flecked option — hardly a shocker, as Fiscalini cheddar is in constant rotation in my fridge.
— NP
Seaweed Snack Kimchi Spicy Flavor
Seaweed snacks populated the show, but our favorite had to be this Kimichi Spicy flavor. Acidic like vinegar and coated in a spicy, red powder, I could easily devour a bag of these every day.
— AMR
Boyajian Wasabi Oil
Infused oils are nothing new, but this show was the first time I'd encountered wasabi oil. I was so smitten by Boyajian's version, I went back to try it twice, and immediately started dreaming up applications for it. Wasabi salad dressing, anyone?
— SC
Mama Mellace S'mores Snack Mix
Graham cracker squares, chocolate chips, and mini dried marshmallows make this my new favorite snack when I'm not roasting 'mallows near an open fire.
— AMR
Photo: Anna Monette Roberts
Luna and Larry's Coconut Bliss Salted Caramel and Chocolate
The organic, vegan ice cream maker Luna and Larry's is coming out with a new flavor: salted caramel and chocolate, made with coconut milk. The product is so new, they didn't even have mock up versions of the container, but I look forward to indulging in a pint of this stuff anytime.
— AMR
Photo: Anna Monette Roberts
Vosges Crispy Carrot Bar
The latest addition to the Vosges lineup of chocolate bars is the Crispy Carrot Bar. It doesn't taste much like carrot or oranges, but it does have a crunchy, semi-sweet pieces throughout the milk chocolate that make it worthy of trying.
— AMR
Photo: Anna Monette Roberts