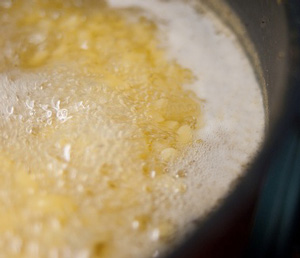 French for "hazelnut butter,"
beurre noisette
(pronounced "bur nwah-zet") is butter that has been cooked until it has a golden brown color and a nutty flavor. Contrary to its name, this sauce, which has been used by French chefs since medieval times, does not actually contain hazelnuts. Before serving, it's often strained through a fine sieve to remove darkened milk solids, and acid (such as lemon) may be added to cut through some of its rich flavor.
In French cuisine,
beurre noisette
, which is known in English as browned butter, is typically used to add character to vegetable, fish, egg, and even brain dishes.
Source: Flickr User thibaut nazare