Biscotti with the Handstand Kids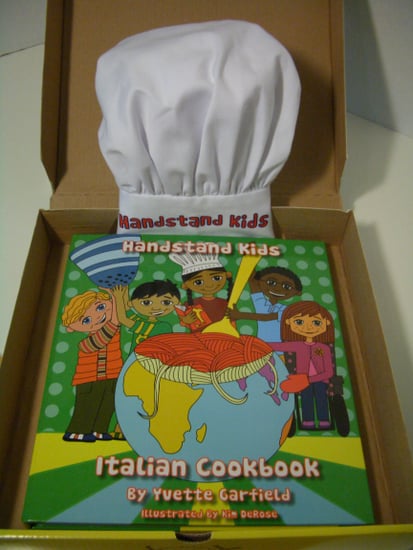 A month or two ago, Yvette Garfield told me about a new cookbook she was (sorry for the pun, but wait for it...) "cooking up." It is a series of ethnic cookbooks aimed towards children called Handstand Kids.
Fast forward to last week and a copy of Handstand Kids Italian Cookbook was waiting on my desk. Actually make that a decorative box with a smart spiral bound book (with a nice sealed cover) and a little chef's hat (shorter than the average chef's hat and meant for kids - although it did fit my rather large noggin). The concept was created by Yvette Garfield, a law school graduate with a background in international children's rights and is designed to introduce children to other cultures and volunteer opportunities. In general, I really like the concept and think it would make a great gift. The artwork is vibrant, the characters diverse (ethnicities and eating habits) and there is even a section that tells you the ingredients in both English and Italian. The recipes, however, seem a bit complex (mom & dad, get ready to help out!). Granted, there is a difficulty level on each recipe, but flavored popcorn and homemade biscotti get the same rating, so I'd take it with a grain of salt. I also question the font choice, it's "fun" but seems like it could be a little hard to read.
Overall, it's an interesting concept and a series worth keeping an eye on. This is the first book in the set and I'm sure there will be some tweaks along the way. Available now for $28 +S&H.
To check out the Handstand Kid's biscotti recipe,