Bite-Size Pumpkin Pies With Baklava Crust
Adapted from Martha Stewart Living [5] magazine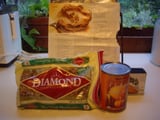 Ingredients
Walnut-Oatmeal Streusel
6 tablespoons old-fashioned oats
3 tablespoons chopped walnuts
3 1/2 tablespoons flour
Pinch of salt
3 tablespoons light brown sugar
1 1/2 tablespoons unsalted butter
1 tablespoon honey
Phyllo Crust
5 sheets of phyllo, thawed and room temperature
3/4 teaspoon ground cinnamon
1/2 cup granulated sugar
6 tablespoons (3/4 stick) unsalted butter, melted
Pumpkin Pie Filling
7.5 ounces solid-pack pumpkin
1/4 cup light brown sugar
1/8 cup honey
1 egg
1/8 cup heavy cream
1 1/2 teaspoon cornstarch
1/2 teaspoon vanilla extract
1/4 teaspoon coarse salt
1/8 teaspoon freshly grated nutmeg
1/2 teaspoon ground cinnamon
1/2 teaspoon ground ginger
Directions
Make the walnut-oatmeal streusel: Preheat oven to 350. Combine oats, walnuts, flour, salt and sugar in a large bowl.
Melt butter in small saucepan over medium heat. Whisk in honey. Stir into oat mixture.
Spread streusel on a rimmed baking sheet. Bake, stirring occasionally until light gold and crunchy, 12 to 15 minutes.
Let cool on baking sheet on a wire rack. Streusel will keep, covered for up to 3 days.
Make the phyllo crust: Preheat oven to 350. Combine 1/2 cup sugar and 3/4 teaspoon cinnamon. Gently place one layer of phyllo dough on a large cutting board. Brush with a thin layer of butter and sprinkle cinnamon-sugar mixture. Repeat this step five times until all 5 sheets have been used.
Cut phyllo into 2 by 2 inch squares. Remove each square and gently press and fold the edges into the mini muffin tin. Bake for 5-8 minutes until phyllo cups are golden.
Make the pumpkin pie filling: combine pumpkin, brown sugar, honey, egg, cream, cornstarch, vanilla, salt, nutmeg, cinnamon, ginger in a large bowl.
Sprinkle a bit of streusel in the bottom of each phyllo cup. Spoon in a small amount of pumpkin pie filling in each phyllo cup. Bake at 350°F 15-20 minutes until the pumpkin filling is firm.
Sprinkle a little strusel on each and serve warm.
Makes 30 bite-size pies.
Information
Category

Desserts, Pies/Tarts