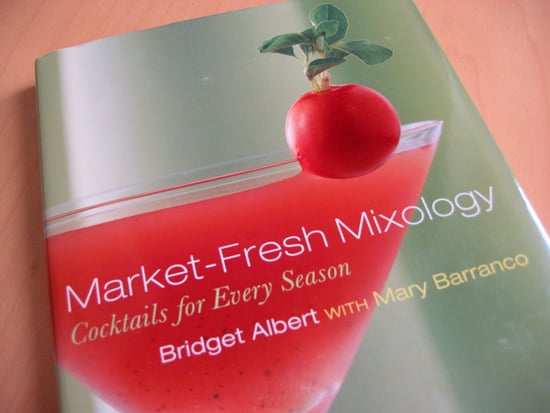 Regardless of whether or not we're in the midst of a food revolution, it's undeniable that over the last couple of years, cuisine highlighting fresh-picked produce has gained major ground. In fact, the principles of seasonality and slow food aren't just being applied to food. They're also key in what The New York Times calls the "farm-to-glass movement," where drinks are driven by produce at the peak of the season. If you aren't too familiar with the liquid locavore movement, one new book, Market-Fresh Mixology ($12.21), shows you the ropes. Learn whether it's worth seeking out when you
.
Pros:
"Tool box" sidebar tells you what equipment you'll need to make each drink.
Introductory chapter primes you on tools of the trade, glassware, and essential bar ingredients.
Classic cocktail recipes include fun tidbits on the history of the cocktail.
Cons:
Some ingredients and garnishes — like gooseberries, juniper berries, and pumpkin liqueur — could potentially be hard to find.
Steps are listed in paragraph form rather than numbered.
Recipes: Depending on how experimental your palate is, some sippers — like the Carrot Chic, Spiced Beet Cocktail, and Fennel Cocktail — may be truly adventurous or a bit too exotic for you. Other eye-catching recipes:
Rhubarb Strawberry Collins
Fresh Strawberry Daiquiri
Kiwi Champagne
Fresh Tomato Bloody Mary
Homemade Cocktail Onions
Papaya Pisco Sour
Blueberry Lavender Mojito
Imagery: Most of the cocktails included in the book are accompanied by vivid, crisp photos.
Overall Rating: If you like to make cocktails at home and appreciate the farm-to-table philosophy, then this book would be right up your alley.