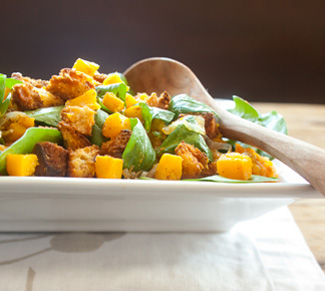 Don't call panettone fruitcake: The
fruit-studded Italian dessert bread
is also a hallmark of the Christmas season, but it's much fluffier and less cloying than its
dense
and
ridiculed
American counterpart. Panettone is wonderful alone or with butter, but it can also be incorporated into a weeknight meal. This creative recipe calls for the eggy, voluptuous bread in lieu of sourdough in a late-Fall
panzanella
. This bread salad's packed with nutrient-dense butternut squash, spinach, and apple cider.
To add a holiday touch to a healthy meal, read more.


From Whole Foods
Butternut Squash, Spinach, and Panettone Salad
Ingredients
4 shallots, thinly sliced
1 (2 1/2-pound) butternut squash, peeled, seeded and cut into (3/4-inch) cubes
2 tablespoons extra-virgin olive oil, divided
Fine sea salt and freshly ground black pepper
4 cups lightly packed (3/4-inch) cubed panettone
3 tablespoons apple cider, preferably spiced
1 tablespoon lemon juice
3 cups lightly packed baby spinach
Directions
Preheat oven to 350°F. Arrange shallots and squash on a large, parchment paper-lined baking sheet, drizzle with 1 tablespoon of the oil, season with 1/2 teaspoon salt and 1/4 teaspoon pepper and toss well. Roast, tossing occasionally, until just tender, about 40 minutes. Scatter panettone over the top and continue roasting until toasted and golden brown, about 15 minutes more.
Whisk together remaining 1 tablespoon oil, cider, lemon juice, 1/2 teaspoon salt and 1/8 teaspoon pepper in a large bowl. Add spinach and warm butternut squash, shallots and panettone and toss well. Transfer to a platter or large bowl and serve.
Serves 6 to 8.

Nutritional information per serving: 240 calories (70 from fat), 8g total fat, 3g saturated fat, 30mg cholesterol, 400mg sodium, 40g total carbohydrate (5g dietary fiber, 12g sugar), 4g protein.
Information
Category

Salads, Bread

Cuisine

Italian