California Pizza Kitchen BBQ Chicken Pizza Recipe
Get the Dish: California Pizza Kitchen's BBQ Chicken Pizza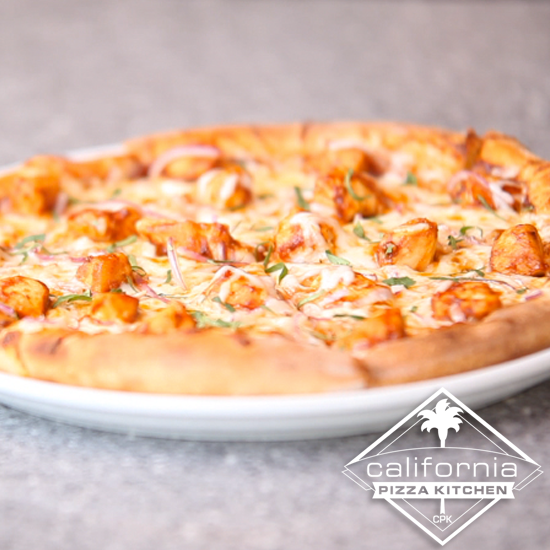 If you've ever eaten at California Pizza Kitchen, then chances are you've tried the restaurant's most signature menu item, its BBQ chicken pizza. The unconventional pie, which was introduced at the opening of CPK's Beverly Hills restaurant in 1985, became instantly popular and opened the door to the idea of nontraditional toppings on a pizza crust. While the all-American combination of sweet and spicy barbecued chicken, gooey cheese, and hearty pizza crust has been copied all over the world, we went behind the scenes at CPK's test kitchen to learn exactly what goes into the original. See how it's made, and then get the recipe.
To learn more — including how to make CPK's pizza dough recipe — check out all of our extras on our Youtube Channel.
Ingredients
For BBQ chicken:
10 ounces boneless/skinless chicken breasts cut into 3/4-inch cubes
1 tablespoon olive oil
2 tablespoons favorite BBQ sauce (we use a spicy-sweet sauce)
For pizza:
2 balls CPK pizza dough or other premade pizza dough
Cornmeal, semolina, or flour for handling raw pizza dough
1/2 cup BBQ sauce
2 tablespoons shredded smoked Gouda cheese
2 cups shredded mozzarella cheese
1/4 small red onion, sliced in 1/8-inch pieces
2 tablespoons chopped fresh cilantro
Directions
Make the BBQ chicken: In a large frying pan, cook the chicken in olive oil over medium-high heat until just cooked, 5 to 6 minutes. Do not overcook. Set aside in the refrigerator until chilled through. Once chilled, coat the chicken with 2 tablespoons BBQ sauce; set aside in the refrigerator.
Preheat the oven: Place a pizza stone in the center of the oven and preheat to 500ºF for 1 hour before cooking pizzas.
Construct the pizzas: For each pizza, use a large spoon to spread 1/4 cup BBQ sauce evenly over the surface of the prepared dough within the rim. Sprinkle 1 tablespoon smoked Gouda cheese over the sauce. Cover with 3/4 cup shredded mozzarella.
Distribute half the chicken pieces evenly over the cheese (approximately 18 pieces). Place approximately 18 to 20 pieces of red onion over the surface. Sprinkle an additional 1/4 cup mozzarella over the top of the pizza.
Transfer pizza (or pizzas; the 2 pizzas may be prepared simultaneously if you are careful in placing the pizzas at opposite corners of your pizza stone) to the oven; bake until crust is crisp and golden and the cheese at the center is bubbly, 8 to 10 minutes. When pizza is cooked, carefully remove it from the oven; sprinkle 1 tablespoon cilantro over the hot surface. If necessary, repeat with remaining ingredients for a second pizza. Slice and serve.
Information
Category

Main Dishes, Pizza

Cuisine

North American

Yield

2 pizzas
View Transcript »
Transcript
We're at California Pizza Kitchen's tough kitchen and today, we get to learn how to make their famous barbecue chicken pizza. Join us on Get the Dish. Find out secrets behind the signature recipes of famous eateries and how you can recreate them at home. When I think California Pizza Kitchen, I think Barbecue Chicken Pizza. It's sweet, smokey, savory, crispy and creamy all at the same time. It was on their first menu back in 1985 and their most popular menu item today. Chef Brian Sullivan is in charge of culinary development for all of California Pizza Kitchen. So, before it gets into the restaurants, I taste everything. Looks like you have a tough job. It 's a tough job, but somebody's got to do it, right? To start, we're gonna work with our traditional pizza dough crust, put chicken and then we have a delicious smoke Gouda cheese, some part skim mozzarella, red onions with some barbecue sauce and then we're gonna finish that with some fresh chopped cilantro. Okay. So, we've cooked our chicken now and we're gonna add about two tablespoons of barbecue sauce. And what kind of barbecue sauce tend to use. I mean are you looking for Carolina style, little tangier, Texas. Specifically, we're using Memphis style. It's tomato based. Okay. And it has a nice hint of smoke and it's also has molasses. So, it's got a real nice, it's kind of sweet and tangy and And sour. Yeah, there's a little bit of onion to it. So, it's nice. So, pizza dough. People punch it, people roll it out, people stretch it with their hands, I mean what's your technique? Take your fingers and we're gonna kind of take an indentation. We're gonna go around the dough in about a half inch around the dough and then we're gonna create this little rim. That helps you to define a nice even crust and then we're gonna flip it over. Okay. And we're gonna do the same thing. And be careful not to touch the rim. You can kinda see the indentation here. Yup. So, take it like this, fold it up like this. Okay. And you're just gonna run it through your hands. Try not to touch the actual rim and then take your hands and now, we're just gonna kind of pull it again. There and then twist it and then pull it. Oh. That was good. There we go. Now we're gonna set that down on the table. Okay. And you can see we got a nice rim. Okay, so now we're gonna take it and just put your fingers right on the edge of the crust without to across the end, okay, or the rim and then we're just gonna pull it and we're gonna do that until we get it 'til about nine inches in diameter. So, the next step is we're gonna take a little barbecue sauce. Okay. We're gonna go right to the edge of the rim, okay? Okay. And you just want an even layer, right? Correct. Okay, so the next step is to sprinkle the smoked Gouda cheese on top of the sauce. You smell that? I can smell it. It's so wonderful. Right. And I think it gives an essence of barbecue when you're eating this pizza. So, it's one of our secret ingredients. The next thing we're gonna do is we're gonna sprinkle our part skim mozzarella. So, in my experience, Gouda's been kind of hard to melt. So what's your suggestion if you were picking out Gouda to make this at home? You know, Gouda, you're right. Gouda doesn't melt that well, and so when we made this pizza. What we just did, we put the Gouda on the bottom. And so the mozzarella just sort of coats over that and helps everything melt together. Absolutely. Okay. We get a nice even melt on top of the pizza. I see. Now, we're gonna top our pizza with this barbecue chicken. So, when you put the chicken on, try to get a nice even distribution. It's hard to cook the pizza if everything's on the center. It won't cook evenly and look atYou are hired. That's perfect. Now, we're gonna go with our sliced red onion. Look at that color. You get that beautiful red purple color. Yeah. That's pretty. So, it's a beautiful visual presentation. Just a little more mozzarella and we're gonna do this to kind of cover the ingredients to give it a real nice, bubbly look when we pull it out the oven. We put our platter on the board and this should slide right in there. So, we can kinda lift it up a little bit and just kinda do a quick little push and then back and forth. Oh. Okay? It's a little bit tricky, but you can see it's moving around in the paddle, right? Now, we're just gonna set this right here in the middle of the oven and now, you're gonna get your big chance. And you still what, just do it. Just lift it up just a little bit. There you go. It's okay. You got it. We're gonna save it. Watch this, okay? Okay. All right. You've got to kind of shimmy it as opposed to like one big push. You've got to kind of shimmy it. Okay. So let me try to pull it up here. All right. So just kind of do that to it. There you go. You got it. Right. Okay. Now just set it right in the middle of the oven. Pull it straight back. Look at that. Perfect. We'll let that sit for about 3 to 4 minutes, one side facing the flame, and then we spin it.cook to brown the other side, and then it's ready to come out. Would you need to turn the pizza if you were using a conventional oven at home? Typically not, and that's the thing, you don't wanna peak and check on your pizza. So, if you have an oven light, just use the light to see how your pizza's doing, but there's no need to spin it. So opening the oven actually isn't a great idea, because you're gonna take the oven down a couple of degrees. They're done. Let's pull these pizzas out. I'll take mine out here. So now, we're gonna take our cilantro and we're gonna sprinkle out across the top. That looks so amazing. Cilantro and barbecue sauce, they're just such a great pairing together. I don't think you would normally think that, but this is No, you would it. But it's a match made in heaven. It is. This is the moment that we've been waiting for, the taste test. The moment of truth. Well worth all the hard workAnd the list is on. I love it. I got just a little piece of cilantro and it brightened up the entire slice. It's amazing. That 's sweet kind of spice. It's a little saffy. Just a little spicy. It is saffy. Right. I like it. I like my pizza saffy. Thank you, Chef Brian, for the inside scoop on your bestselling pizza. See you next time when we Get the Dish on YumSugar TV.