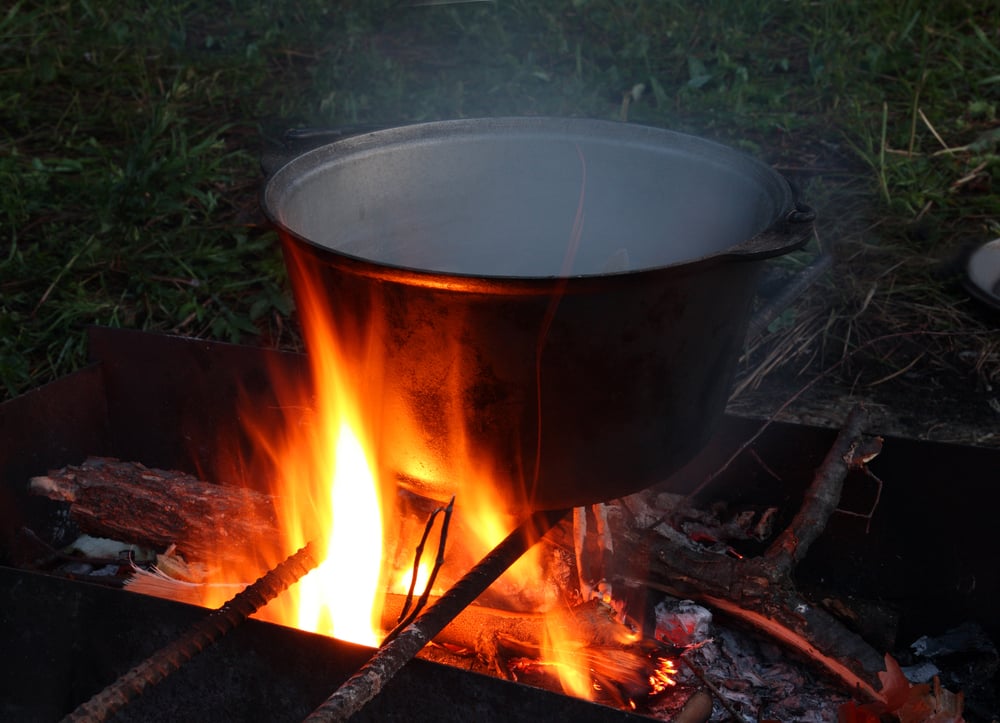 For newbies to camping, the key to setting up for satisfying fireside meals is preparation and packing the right "gear," as camping enthusiasts like to call it. While camping is an excellent opportunity to experiment with clever kitchen hacks, make sure to include these items on your packing list. That way, you won't forget the essentials (like matches, a can opener, and a pot to boil water), as well as those critical items that make brisk, early mornings infinitely more bearable (like a coffee percolator). Once you've looked through our suggestions, print out our checklist [1] to make sure you pack properly.
Fire starters: You never know what mother nature will bring, but at least you'll have fire with a set of stormproof matches [2] ($7) or a powerful and efficient BlastMatch Fire Starter [3] ($25).
Camping cooler: Anything perishable needs to be stored securely in a cooler on ice. This Picnic Time Zuma Insulated Cooler Backpack [4] ($26, originally $34) makes it easy to transport everything deep into the woods.
Percolator: Early mornings can be a bit nippy, making coffee a warming, energizing must have, no matter where you are in the world. Brew your morning pick-me-up in something durable and foolproof like this GSI Outdoors Glacier Stainless Percolator [5] ($40).
Pot and skillet: Don't leave home without these indispensable pieces: a stowaway pot [6] ($20) is essential for simmering hearty oatmeal and warming up canned beans, while an REI Nonstick Frypan [7] ($27) makes sizzling up proteins like fresh-caught fish or strips of bacon a breeze. Alternatively, this lidded Lodge Pre-Seasoned Combo Cooker [8] ($35, originally $64) is an excellent multitasker for those who are car camping and don't have to worry about carrying heavy cast-iron pots.
Swiss Army knife: Keeping a Camper Swiss Army Knife [9] ($36) around is always a good idea. This particular version has a can opener (crucial!) and a nifty set of tweezers to help you remove small fish bones from fillets, if necessary.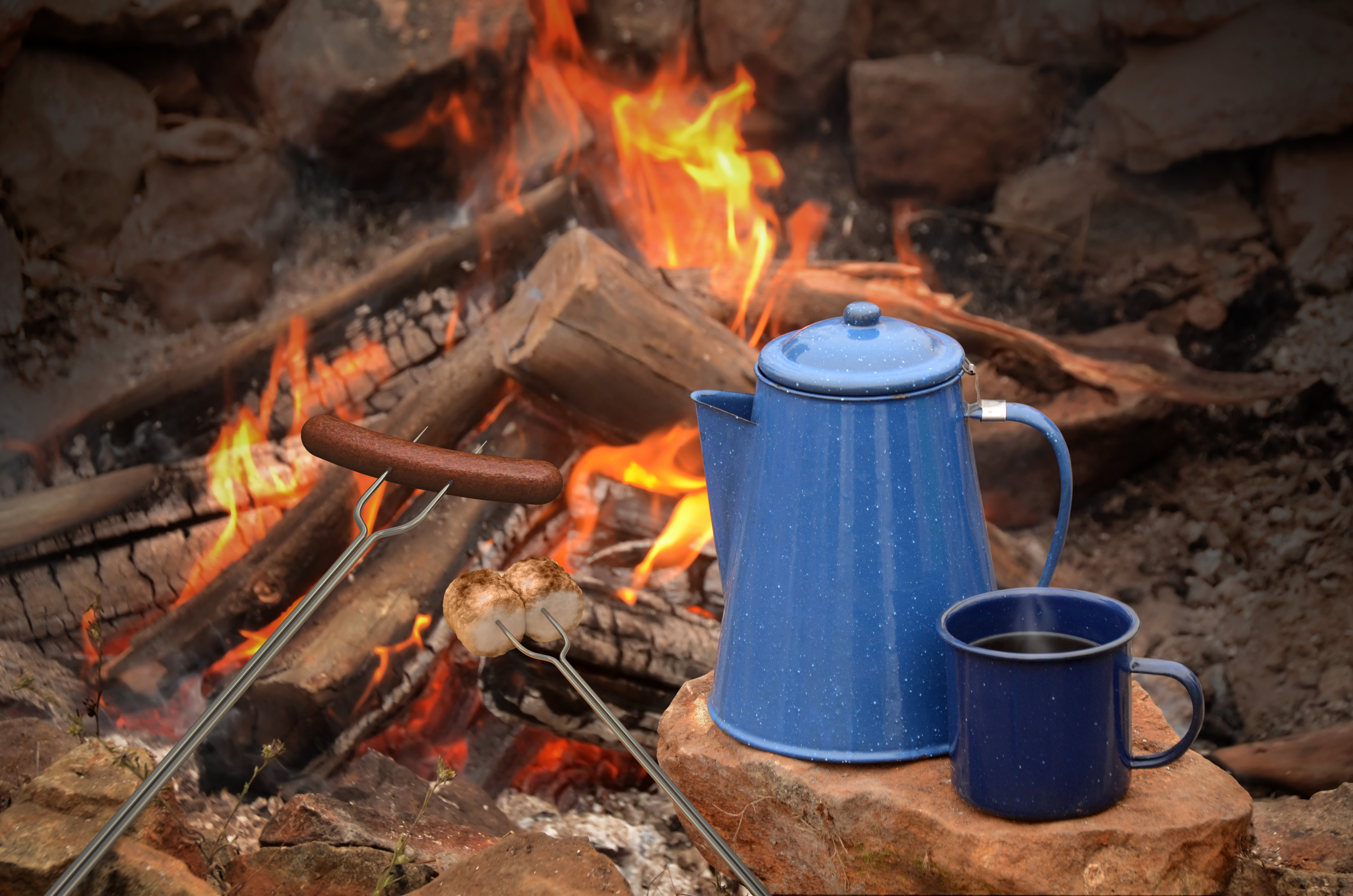 Mugs and plates: You can pretty much eat or drink anything out of one of these sturdy GSI Outdoors Baked Enamelware Cups [10] ($5) or REI Campware Plates [11] ($4), which are more bowl-like in their construction.
Spork: Stop wasting space by packing separate knives, spoons, and forks for the crew. Instead, combine all three in one with this ingenious Light My Fire Spork [12] ($10 for four).
Prep tools: Sometimes it's hard to remember the little things. This GSI Outdoors nFORM Crossover Kitchen Kit [13] ($38) includes tongs, a spatula, a serving spoon, a scrubby pad, a cutting board, a soap bottle, and more, all packed in a convenient tote. Just remember to fill up that soap bottle before you leave!
Sharp knife: A Kuhn Rikon Small Santokus [14] ($16) is adored by our edit team. They are incredibly sharp, have a nonstick coating for easy food release, and come with sheaths for safe storage.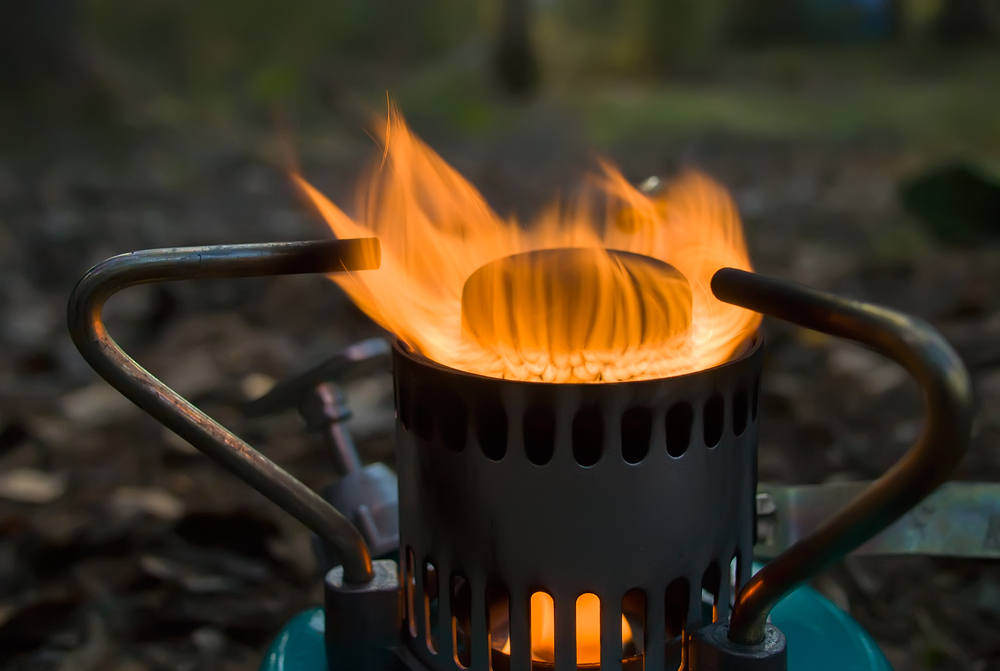 Camp stove: You can easily cook most food over a fire, but a travel gas-powered stove like this Coleman 1-Burner Dual Fuel Sporter II Liquid Fuel Stove [15] ($70) helps to boil water faster and is worth the moderate investment.
Old kitchen towels: Don't forget old, ragged, and stained kitchen towels; they serve double duty as dish rags and as napkins, and if they're destroyed camping, it's far less distressing than with new linens.
Basic seasonings: Bring olive oil, salt, and pepper so everything from fish to beans can be seasoned just right.
Other essentials: Trash bags, aluminum foil, and paper towels are indispensable for cleanup and storage.