While you've got it good at the market, take the time to preserve Summer's bounty at home by making fruit jams, dill pickles, canned artichokes, hot sauce, you name it! If you're new to canning, start by gathering all the right canning equipment essentials [1], then read through our instructions for processing cans [2]; the technique can be applied to anything that's piled in a jar. (If you're more of a visual learner, we've got you covered, too [3].) Still feeling intimidated? Then skip the sealed-can process — just be sure to consume everything within two weeks.
Jump ahead to:
Pickled vegetables and fruits [4]
Jams, jellies, curds, and marmalade [5]
Canned vegetables, olives, and sauces [6]
Nut butters, syrups, and dessert sauces [7]
Pickle Everything
This basic pickling primer [8] shows you how to make a savory pickling liquid for veggies as well as a sweet pickling liquid for fruit.
Spicy Pickled Green Beans
Best in Bloody Marys or for anytime munching, spicy pickled green beans [9] make a great gift . . . if you can avoid eating them all yourself.
Pickled Pears
Vegetables aren't the only thing you can pickle. Try these sweet and sour pickled pears [10], inspired by Korean chef Roy Choi.
Pickled Jalapeños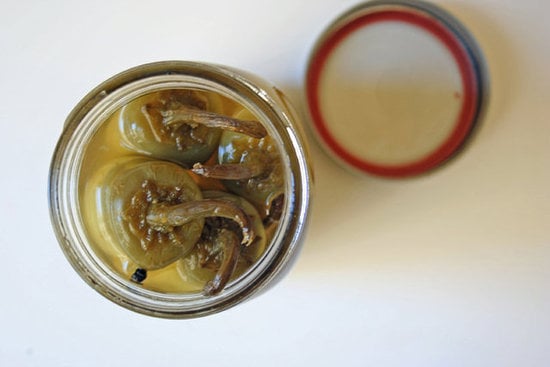 Pickled jalapeños [11] spice up guacamole, salsa, or any comida Mexicana. They taste even better when grilled [12].
Quick-Pickled Baby Vegetables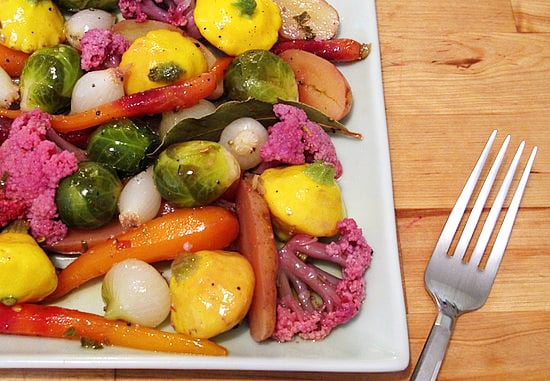 Pickled baby Spring vegetables [13] like purple potatoes, baby carrots, brussels sprouts, cauliflower, pearl onions, and pattypan squash create a bright, colorful presentation for dinner parties.
Soy Sesame Cucumber Salad
For a quick Asian-style pickle, try soy sesame cucumber salad [14]. Seasoned with sesame oil and soy sauce, the cucumber pickles come together in about an hour.
Cocktail Onions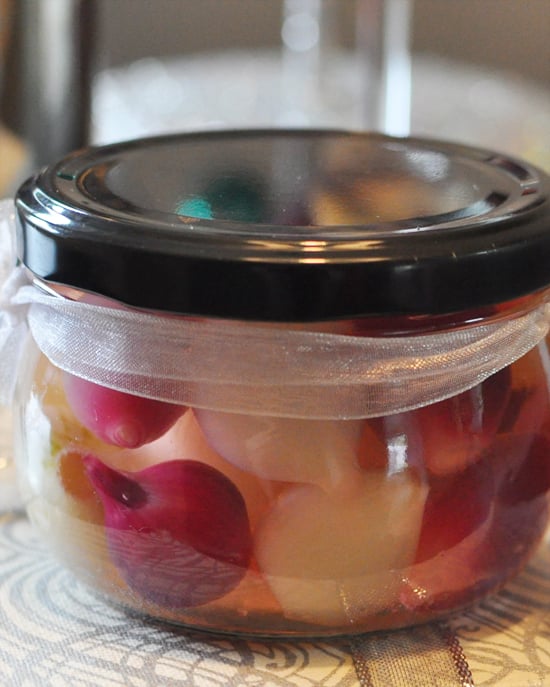 Cocktail onions [15] are crisp, salty, and sweet, making them the perfect addition to a classic gin or vodka martini.
Spicy Pickled Medley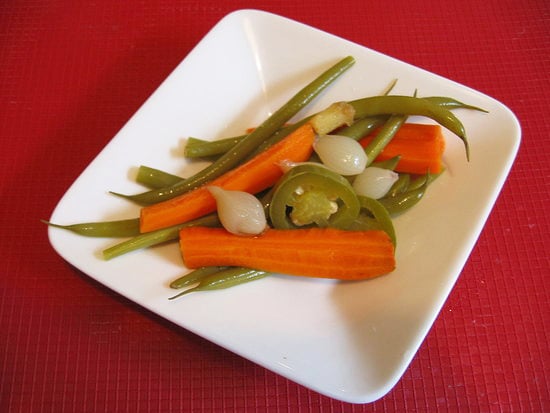 For a pickle that packs a punch in sandwiches and Bloody Marys, try a spicy medley [16] featuring carrots, haricot verts, jalapeños, and pearl onions.
Spicy Pickled Tomatoes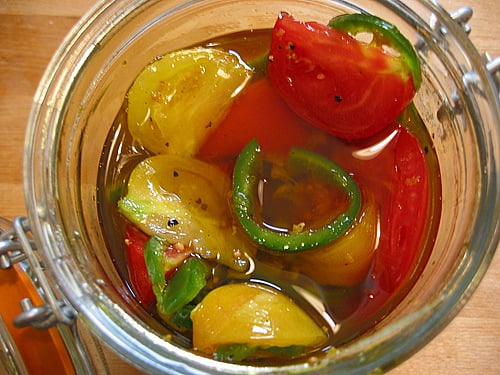 Gather assorted heirloom tomatoes and pickle them in this spicy, Asian-inspired pickling juice [17] with ginger, mustard seed, and jalapeños.
Three-Hour Pickles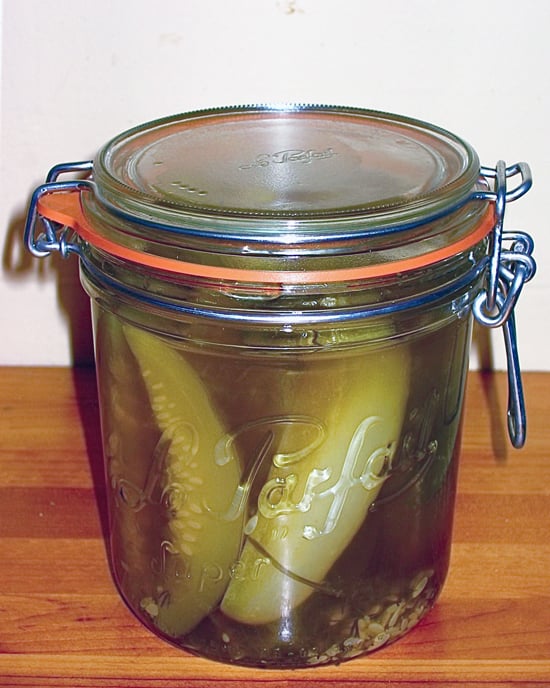 Three-hour pickles [18] are seasoned with traditional ingredients: kosher salt, black peppercorns, dill weed, and garlic. Even if they're not processed, they'll still last two weeks in the fridge . . . that is, if they aren't eaten before then.
Pickled Ginger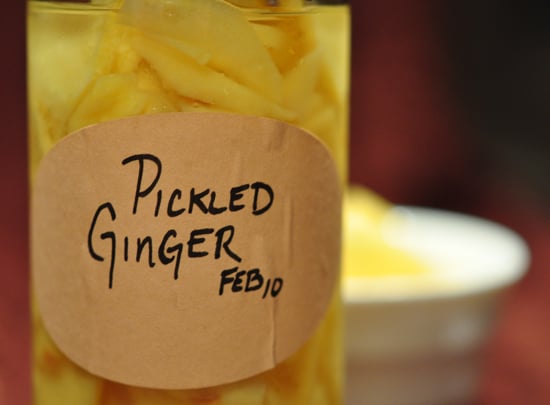 Pickled ginger [19] will last six months refrigerated and is a sweet and spicy addition to sushi, marinades, stir-fries, and salads.
Earl Grey Kumquat Marmalade
Kumquats, those cute, sour citrus fruits, make their way into an Earl Grey marmalade [20].
Concord Grape Jam
Nothing beats the classic flavor of concord grape jam [21] on peanut butter and jelly sandwiches or simply smeared over toast and butter.
Strawberry Jam
Before the price of strawberries spikes again during the colder months, preserve them by making strawberry jam [22].
Pepper Jelly
One Southern staple is pepper jelly [23], made from green bell peppers and jalapeños. It's often served atop cream cheese and smeared on crackers.
Pomegranate Jelly
Jelly, which is made from fruit juice as opposed to the crushed fruit in jam, is incredibly easy to make. As the weather cools, take a stab at this pomegranate jelly [24], flavored with tart pomegranate juice.
Lemon Curd
Lemon curd [25] is a zesty accompaniment to toast or yogurt. It also makes a bright, fresh-tasting filling for cakes covered in fluffy, marshmallowy divinity frosting.
Blueberry Sauce
Because of the high sugar content that preserves the fruit, try canning fruit sauces. This simple blueberry sauce [26] only contains three ingredients. Serve the sauce over pancakes, on ice cream, and even stirred into bread pudding.
Bacon Jam
Bacon jam [27] may contain some odd ingredients like coffee, brown sugar, and red wine vinegar, but the spicy, sweet tapenade-like stuff is as umami-rich as it sounds. Spread it on toast, crackers, and pasta — or just eat it by the spoonful.
Marinated Artichoke Hearts
Marinated artichoke hearts [28] work well in pastas, salads, and omelets. Seasoned with dried thyme, oregano, chile flakes, and lemon juice, these olive-oil-soaked 'chokes complement Mediterranean or Italian cuisine.
Olive Tapenade
Olive tapenade [29] paired with fresh baguette is a satisfying yet simple appetizer that bursts with briny flavor.
Salt-Cured Olives
Salt-cured olives [30] are easier than you think. Preserved in kosher salt then stored in extra-virgin olive oil, these olives have a buttery, sweet, and salty flavor profile.
Roasted Red Peppers
Roasted red peppers [31] get treated with oregano, garlic, and olive oil for a peppery addition to sandwiches and pizzas.
Hot Sauce
Drizzle homemade hot sauce [32], made from vinegar and chile peppers, atop Mexican fare instead of store-bought sriracha.
Homemade Ketchup
Ketchup [33] is a staple in American households, so try making it homemade. It will add the right amount of acidic touch to french fries, hamburgers, and hot dogs.
Harissa
With North African harissa [34], chiles, caraway seeds, coriander, cumin, mint, garlic, and lemon are blended with olive oil for a chile paste that will fire up stews, grilled meats, and couscous.
Canned Tomatoes
Home-canned tomatoes [35] taste significantly greater than anything store-bought. Buy a crate of tomatoes and can them up so you can enjoy them throughout the Winter.
Milk Chocolate Almond Spread
When you've grown tired of chocolate hazelnut spread, move on to this milk chocolate almond spread [36]. Just be sure you're around others who can help you empty the jar; otherwise, it's a near-impossible feat to resist finishing it off in one sitting.
Homemade Nutella
A house-made version of Nutella [37] is better than the product itself. To make this chocolaty spread, all you need is sugar, hazelnuts, baker's chocolate, vanilla, and hazelnut oil.
Vanilla Bean Syrup
Make homemade sodas or sweeten cocktails or tea with vanilla bean syrup [38].
Caramel Sauce
Every dessert, from cupcakes to ice cream, is turned up a notch with a healthy drizzle of caramel sauce [39].
Hot Fudge Sauce
Use high-quality chocolate bars for a rich, creamy hot fudge sauce [40] that tastes amazing on ice cream or waffles.