Caramel-Topped Baked French Toast

Adapted from Cook This Now: 120 Easy and Delectable Dishes You Can't Wait to Make [2] by Melissa Clark
Notes
An offset spatula aids immensely in spreading the brown sugar and butter mixture into an even layer on the half-sheet pan, though a silicone spatula will work in a pinch.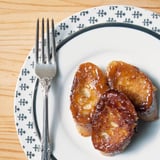 Ingredients
1 cup (8 ounces) packed light brown sugar
8 tablespoons unsalted butter, melted and still warm
2 large eggs
1-1/2 cups milk
2 tablespoons freshly squeezed orange juice
2 teaspoons orange-flower water
1 teaspoon vanilla extract
1/4 teaspoon kosher salt
1 (10-ounce) baguette, sliced diagonally, 1-inch thick (about 20 slices)
Directions
Preheat the oven to 375°F.
In a medium bowl, whisk together the brown sugar and butter until the sugar is completely dissolved. Pour the mixture into a half-sheet pan and spread it out into an even layer.
Whisk together the eggs, milk, orange juice, orange-flower water, vanilla, and salt in a large liquid measuring cup and pour it into a pie plate or other shallow dish. Coat both sides of the bread in the egg mixture, letting the bread soak up the custard for at least 20 minutes (flip halfway through).
Place the custard-soaked toast on the prepared half-sheet pan over the brown sugar mixture. Bake for 25 to 30 minutes, or until the tops of the bread are golden brown and the sugar is bubbling.
Serve immediately while still hot, with the crunchy brown sugar side up, spooning more of the caramelized pan syrup over the tops.
Information
Category

Breakfast/Brunch, French Toast

Yield

Serves 4 to 6