Carnegie Deli Matzo Ball Soup Recipe
Get the Dish: Carnegie Deli's Matzo Ball Soup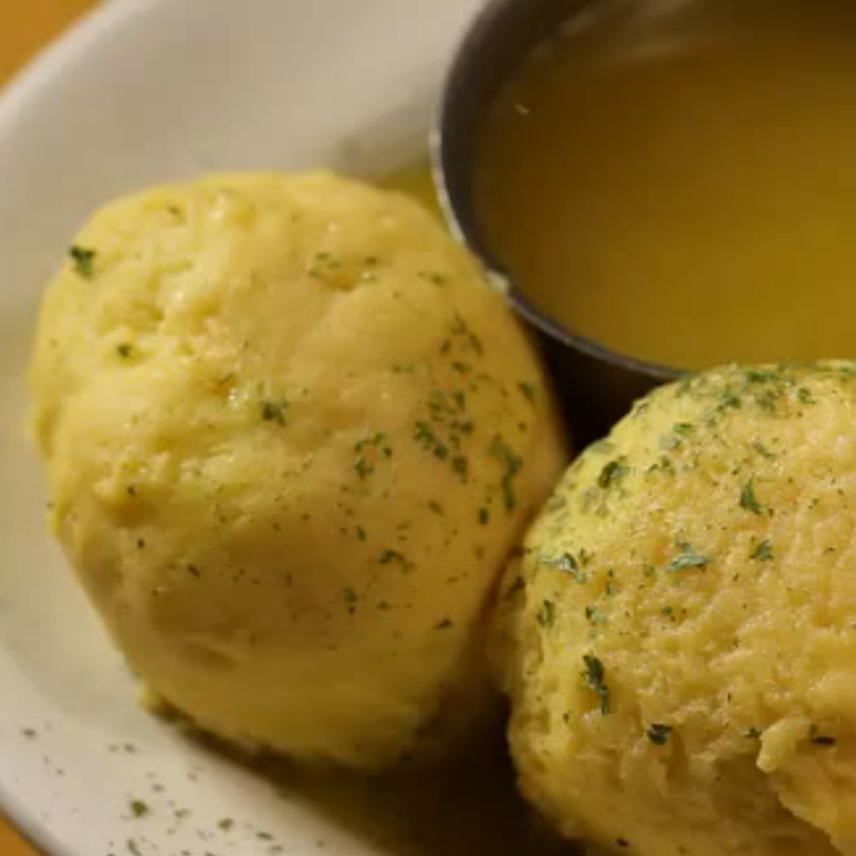 Regardless of your religious inclinations, it's impossible to ignore the warm revelation that is a good matzo ball soup. Referred to by many as "the Jewish penicillin," matzo ball soup is known for its cold-curing properties — and no one can attest to this more than the folks behind the Carnegie Deli. This midtown Manhattan institution, which has been open for 75 years, serves up a whopping 1,500 matzo balls daily! Find out the secrets to making a great matzo ball (hint: it's all in how you roll it!), and keep watching for the recipe.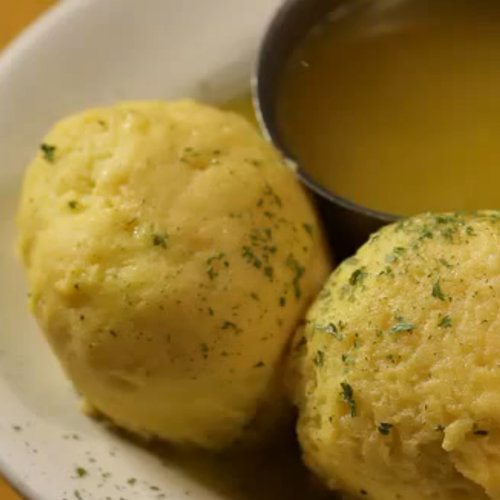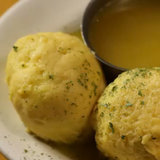 Ingredients
For consommé:
1 pound chicken necks, backs, and wings
1/2 ounce chicken base, such as Better Than Bouillon
1 celery stalk, roughly chopped
1 small white onion, quartered
1/4 teaspoon Maggi Seasoning
1/4 teaspoon yellow food coloring (optional)
Salt and pepper, to taste
For matzo balls:
8 large eggs
1 cup liquid shortening or olive oil plus more for rolling matzo balls
Scant 1 cup water
4 cups matzo meal
1/4 teaspoon Maggi Seasoning
3/4 teaspoons kosher salt
1/4 teaspoon freshly ground black pepper
Directions
Make consommé: Combine first four ingredients with 6 cups water. Add Maggi seasoning, food coloring, and salt and pepper. Bring to a boil. Turn down heat and simmer for 1 hour.
Make the matzo balls: in a large bowl, mix the eggs, oil, water, matzo meal, Maggi, salt, and pepper until just incorporated.
Oil hands, then, working as gently as possible, form round balls about the size of a billiard ball.
Cook the matzo balls: Boil matzo balls in consommé until cooked through and soft, about 45 minutes.
Divide matzo balls evenly between four bowls, allotting 2 matzo balls and 2 cups consommé per serving.
Serves 4.
Information
Category

Other, Soups/Stews

Cuisine

Jewish
View Transcript »
Transcript
Today we are at Carnegie Deli in New York City. And we are going to show you how to make the world renown Matzo Ball Soup. Join us on Get the Dish. We'll show you the secret behind signature recipes and famous eateries and how you can recreate them at home. It's a classic. It's an iconic. It's like a hamburger or frankfurter. New York has the hotdog. slice of pizza and it has the matzo ball. So we're here to show what takes it from [rush] great to homemade. It's all in their signature broth and specially seasoned matzo balls. I'm here with Executive Chef Fernando Perez and Sandy Levine the MBD. Sandy can you tell us what MBD stands for? Sure very easy I married the boss' daughter. Went straight to the top. Tell us how long you've been here and how long you've been making your matzo ball soup. Carnegie Deli started in 1937. So we've been in business approximately about 75 years. And one of the staples of the Carnegie Deli is the Matzo Ball Soup. We probably make about 50 matzo ball today. That's a lot of matzo balls. So Sandy, the first thing we need to start off with is the matzo balls. What ingredients do we need? The first ingredient we need is, naturally, the matzo mayo. Now we need some shortening, we need some eggs, some salt, some pepper and some water. First we start by whipping the eggs. We give it nice little whip. We pour it into our mixing bowl. Next, two cups of shortening. Use approximately one and a half cups of water. Our next step is salt. We use one spoon and use about three quarters of black pepper. But then it's up to the guest to add more pepper and more salt. So you can always add salt and pepper. Exactly. But you can never take it away. We've mixed all our ingredients together. Now comes the secret! It's the matzo mayo. He's actually filling it with his hands and as you can see right now, he just added more matzo mayo because he felt that he didn't have enough. So to get the real experience, I think I'm going to have to give it a go. Is that alright with you Sandy? I don't know. I hope you're not going to mess it up. Somebody's gonna eat this. What do you feel? like, it should feel sticky. If it feels any more liquid than that, then it's too soupy. After the mix is done, what we're going to do is we're going to make the balls. So I tried making these at home, and I had a little bit of a different experience. They were a lot bigger and a lot denser. Most people when they make the matzo balls they make it big, then after cooking it blows up. Not the correct way to make it. It's going to fall apart. You got to make them smaller, about four to five ounces, because they're going to blow up after cooking. Another ingredient we just let go. Let's get out of here! Too many ingredients, too many secrets! I'm dying to give this a go. I've got my gloves on and I'm just going to dive right in there. So show me how to do this. One of the other secrets which we're letting go right now. You can't make it tight. You gotta make it fairly loose so it can breathe and expand. And the way you made it and it looks like it's a great little matzo ball for the first try, excellent. And then we're going to be putting it into a pot of boiling water. And now I'm giving you one of our secret recipes. Normally we don't do this, but I like her. We use the yellow color to bring out the color of the Matzo Balls. So time to give it a drop. How long should the Matzo Balls be cooking for? It takes about 30 to 35 minutes. We constantly check it to look for the consistency. First thing you notice is that I use a strainer. A strainer wont brake 'em, and that's your finished product. Notice the coloring, notice the size now. Much bigger. Now we have to move on to the consomme. All right. Let's do it. So how do you get started with the consomme? We have our chicken, salt, black pepper. This is our seasoning. This is a maggi seasoning. It's an all-purpose seasoning. Chicken is done. Our yellow flavor. We have our onions, our celery, and our carrots. After the chicken is put into the water with our vegetables, we've got to boil it to break it down, to make it soft. After this is ready to go, we start adding our seasonings. We add some black pepper, our salt. Chicken base. Very, very important. Our seasoning that's also put in. Notice that he only put a drop of that in there. And our little secret, our yellow coloring. Now we have to cook it for at least another 45 to another hour. We've got to finish consomme right here, but it looks like all the vegetables have been strained out of it. We have to get the vegetables out so we get a pure broth. Now everything comes together. We're going to put the matzo balls in. We serve here at the Carnegie Deli two of them. Look how big and beautiful they are. Everything at the Carnegie Deli is big. If you finish this, we made a mistake. Now we add our broth. Now why do you separate the soup from the balls when you serve it? Because some people just like to eat the matzo balls by itself and you notice that, if they want, they can take the tureen and add a little soup at a time. So it's however you like it. It's however you want it. It looks delicious. Are you going to try some? Of course! Let's do it. I'm here with Sandy Levine and his son Johnny and we are ready to give it a go. I'm even looking at it, I'm getting cravings. It's smells wonderful. It's fantastic. This is what they call a Jewish Penicillin. If your not feeling well you don't have to go to the doctor and spend a hundred dollars. The broth. That will cure you. How about you? What are some of your matzo ball memories? It's just amazing to see people eat matzo balls to see the facial expressions when it comes on the table. Dennis Rodman, NBA Hall of Famer comes in. Big Guy. Right there. And then we put the two big sets of balls in front of him... Jumps right into it. And that's the reason why there's a line out the door every day. That's it. It's the best. See you next time when we get the dish on YumSugarTV.
Image Source: POPSUGAR Studios