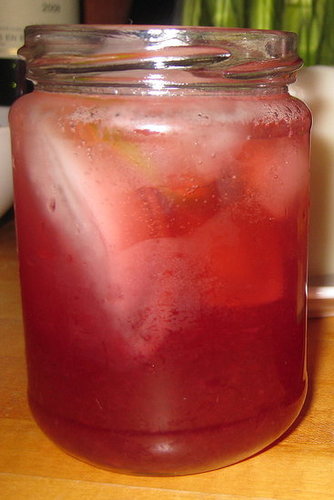 A year ago I saw this cocktail in
Food & Wine
. I wasn't much of a gin drinker, but thought it would be delicious with vodka. I printed the recipe and like many recipes, it was forgotten, left untouched in a stack of recipes I once considered making. Recently, I developed a
newfound love for gin
and all of a sudden, I couldn't stop thinking about the sour-cherry gin slings.
When a friend asked me to make a specialty cocktail for a party, I jumped at the chance to experiment with gin and cherries. I used New Amsterdam gin and bing cherries, though any variety of spirit and fruit is suitable. The resulting concoction is delicious — it's tart, sweet, and refreshing; easy to drink but potent. If you're not a gin fan, don't worry, it's actually divine in this drink. Get the recipe.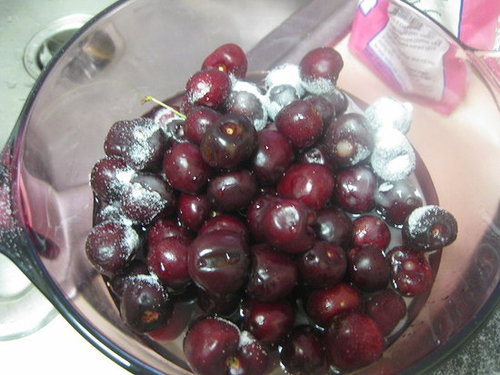 Ingredients
Sour-Cherry Syrup
1 pound sour cherries, stemmed
3/4 cup sugar
1 cup water
Strips of zest from 1/2 lemon
Strips of zest from 1/2 orange
Gin Sling
2 cups gin
2/3 cup Cointreau
2/3 cup fresh lime juice
2 1/4 cups sour-cherry syrup
Angostura bitters
Ice
Sparkling water
Lime wheels and fresh cherries, for garnish
Directions
Make the sour-cherry syrup: In a large saucepan, combine the cherries with the sugar, water and citrus zests and bring to a boil.
Cover and simmer over low heat for 40 minutes.
Pass the mixture through a fine strainer, pressing on the solids; you should have 2 1/2 cups. Let cool.
Make the gin slings: In a pitcher, combine the gin with the Cointreau, lime juice, sour-cherry syrup and a few dashes of bitters and stir well.
Pour into ice-filled glasses and top each drink with sparkling water. Garnish with the lime wheels and fresh cherries and serve.
Makes 12 drinks.
Information
Category

Drinks, Cocktails