Chipotle Guacamole Recipe
No Need to Pay Extra — Make Your Own Chipotle Guac at Home!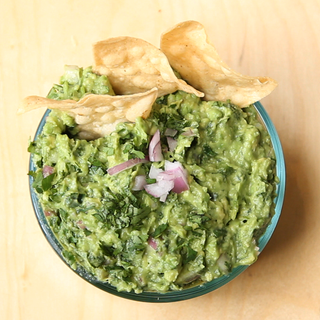 One can never have enough of Chipotle Mexican Grill's guacamole, but you're in luck. We went into the kitchen with Chipotle to learn exactly how to make its legendary avocado dip, so you can always get your fix. The secret? A longtime recipe that comes courtesy of founder (and classically trained chef) Steve Ells.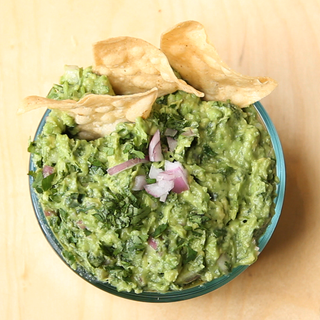 Notes
For a complete chips-and-dip experience, serve guacamole with tortilla chips that have been tossed with lime juice and a sprinkling of salt, a signature at Chipotle Mexican Grill.
Ingredients
6 large ripe avocados, peeled and pitted
1/4 cup citrus (lemon and lime) juice*
3 cups fresh cilantro, chopped
1 1/2 cups red onion, finely chopped
12 large serrano chili peppers, seeded and finely chopped*
1 1/2 teaspoons salt
Tortilla chips, for serving

*The original recipe calls for lime juice and jalapeño peppers.
Directions
Using a fork, mash avocados with citrus juice in a small bowl.
Add cilantro, chopped onion, serrano chili peppers, and salt. Stir to combine. Serve with tortilla chips, if desired.
Information
Category

Dips, Appetizers

Cuisine

Mexican

Yield

6-10 servings

Cook Time

10 minutes
View Transcript »
Transcript
Today I'm here at Chipotle, where we are going to learn how to make their addictive guacamole. A recipe passed down by founder Steve Ells who is also a classically trained chef. Join Get The Dish. Find out the secrets behind the signature recipes of famous eateries and how you can recreate them at home. Hey Libby, how's it going? You've been with the company For ten years, you be the perfect person to ask to make an incredible bowl of Guacamole. Can you show me how did you do it? Well, thank you so much. I'd love to, in fact, our customers ask us all the find what's in your delicious guacamole, so let's go make it together. So what ingredients so we have in front of us? We have beautiful avocados cilantro, red onion, citrus juice, salt, and pepper. How can you tell when an avocado is ripe. You want to make sure it has a little give Let's get to cutting. Put the base of the knife into the avocado, we call this 'around the world'. You go around the top, and just cut that right in half, and then you'll twist to release and then take the seed out. So now we can cut the cilantro, nothing to reseed. It looks like we are getting to the perfect size mince right now. Exactly, and you don't want to mince too much or it will become watery. So now we're going to chop the onion? We are. We choose red onions because red onions definitely add more flavour, and the trick is keeping the onion together like so that they're all even. Sharp knife is key to making me cut sizes perfect, and you'll cut through the membrane even quicker so that it releases less fumes and you won't cry. So now let's mash the avocados. We use a larger masher as you can see, because we mash all of our guacamole by hand, so I I am going to have you start and really it's just dig right in there. What could you use at home if you didn't have one of these? This sort of looks like a big potato masher. Could you use that instead? Absolutely you could use a potato masher, you can use a fork, you can even use a large spoon. You can tell this is made by hand. It looks chunky but creamy at the same Exactly. Now we'll add in our freshly chopped cilantro, and we'll add in our red onion, our citrus shoots. salt, pepper, and you'll see that you need big muscles to mash all of these ingredients together. workout isn't it? Yeah it is. It makes a great workout in the morning. I feel my arms turning into guns already. All of our chefs here at Chipotle have big biceps. guacamole making. It looks incredible! You can see little chunks of everything in there. What do you recommend serving it with? I recommend serving with our chips. And these are fresh and hot, we just made them. Gosh I want one right now they look so good. Well first we have to add our fresh lime juice and a little kosher salt fully experience because they have got that little zing to them that goes perfectly with the guacamole. So your going to want to squeeze fresh lime juice, a little salt, and and then we are going to flip the chip. Oh my goodness. Oh my gosh. You can do it. Put a little swagger into it. Alright. Here we go. Oh my goodness. Thank you so much for teaching me how to make the perfect guacamole. My pleasure. Thanks for being here. See you next time when we get the dish on YumSugarTV.