Who doesn't love a drink that offers a surprising twist? We partnered with SodaStream to bring you these recipes that will give your classic drinks a fresh new lift.
Classic cocktails are classics for a reason, but that doesn't mean you can't play around and give old favorites a new twist. The last of our lazy and warm Summer nights deserve something refreshing, which is why we reinvented these three classic recipes by adding bubbles to close out the Summer with a bit of sparkle.
Fuzzy Mai Tai
The perfect blend of juices and rum gets fresh with the help of bubbly water. Add a fruit garnish, maybe a little umbrella, and you're transported to the beach.
Ingredients:
1 ounce spiced rum
1/2 ounce coconut-flavored rum
3 ounces pineapple juice
2 ounces orange juice
1 teaspoon grenadine
Squeeze of lime
2 ounces unflavored sparkling water
Directions:
Measure and add the rums, juices, and grenadine into a shaker filled with ice. Shake, and then pour over a tall ice-filled glass. Top with a squeeze of lime, the sparkling water, and a fresh fruit garnish.
Cosmopoli-Fizz
Take your favorite cocktail to a whole new level with the help of a bit of fizz. And the bubbles add just a bit of kick, which is so fun.
Ingredients:
2 ounces vodka
1/2 ounce triple sec
3/4 ounce cranberry juice
1 teaspoon fresh lime juice
2 ounces unflavored sparkling water
Squeeze of fresh orange
Directions:
Pour the vodka, triple sec, cranberry juice, and lime juice into a cocktail shaker filled with ice. Give a good shake so the ingredients are ice cold, and strain into a martini glass. Top with the sparkling water and a squeeze of fresh orange. Cheers!
Bubbling Negroni
This earthy yet bittersweet cocktail is so refreshing, thanks to the addition of extra-fizzy bubbly water. For extra sweetness, squeeze the orange before adding it to the drink.
Ingredients:
1 ounce Campari
1 ounce gin
1 ounce sweet vermouth
2 ounces unflavored sparkling water
Orange slice
Directions:
Place the liquors in an ice-filled shaker, and shake into cool, frothy happiness. Pour over a rock glass filled with ice, and top with sparkling water. Add the slice of orange, and you have the perfect welcome-home drink.
More from SodaStream [1]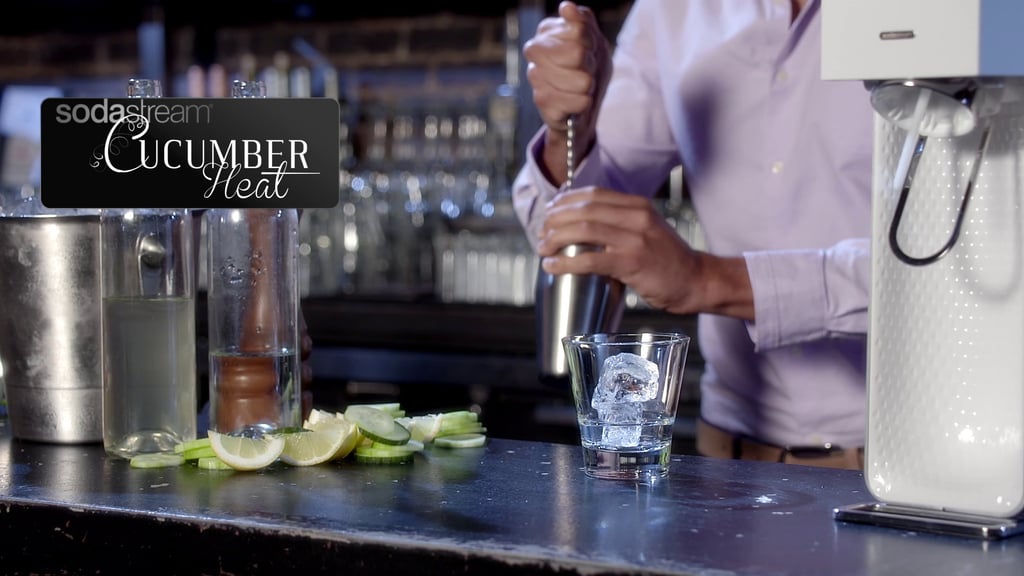 Watch as a SodaStream mixologist crafts the perfect Cucumber Heat cocktail, and download your coupon [2] to start making your own cocktails at home!