Come Party With Me: Baby Shower - Invites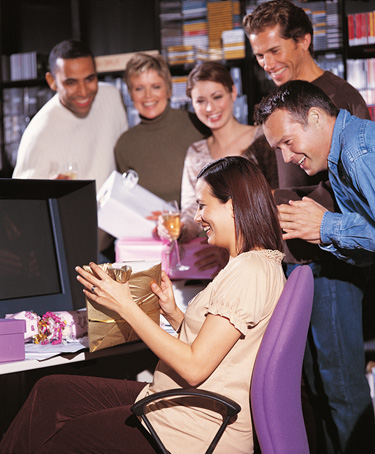 1
Come Party With Me: Baby Shower - Invites
I've been getting lots of requests for help in planning a baby shower, so this week I'm planning a baby shower for Naomi Watts. I don't know anyone who is pregnant, so I thought, hey I'll plan one for the beautiful actress. A baby shower is a time when mothers are bestowed with blankets, bottles, bibs, and advice on how to handle the little one once he or she arrives. Generally they are held by a friend, family member or co-worker, but never by the mother to be. Baby showers can also be celebrated after the baby is born, as they are in the Jewish culture, where tradition states that bestowing gifts upon an unborn baby is considered bad luck. My party for Naomi will be a lunch with the classic baby colors pale pink and light blue as the theme. Naomi is elegantly chic and I can't imagine her wanting a cheesy baby shower, so I'll do everything I can to make things stylish, lovely, and sophisticated - starting with the invitations. To see how the simple color combination can inspire an entire party, read more
No boys are allowed at this all female fashionable luncheon so I want the invite to be appropriately girlie.
To make the invitation you will need:
light blue cardstock to fit with the theme
ribbon
a computer and printer
scissors

one whole punch
To assemble this invitation:
on your computer create two new documents in either word or photoshop. Cover them both in the color of your choice (I used light blue) and scatter with pink polka dots. On one write You're Invited....

On the second write the details of your party. For Naomi's invite I wrote, in the font Curlz, size 14 Bold:



To an afternoon lunch to celebrate the upcoming arrival of Naomi Watt's baby
Saturday April 12, 2007
1:00 pm
PartySugar's House, San Francisco
rsvp 415.555.5555
please wrap presents in either pink or baby blue paper




Print out a test sheet, and if satisfied with the results, print out on the cardstock.

Cut each one down to size.

Punch a whole in the upper left hand corner of each sheet, the first page and the second page.

With the pink ribbon tie a pretty bow to keep the two pages together and form the complete invitation.


How would you design a baby shower invite? Tell me your ideas below! Come back all this week for more baby shower tips and party plans!
Latest Food