Come Party With Me: Bridal Shower — Drinks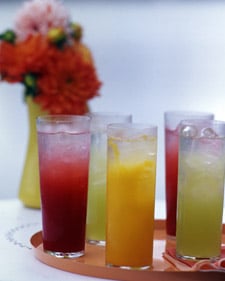 Since most bridal showers are afternoon affairs, a heavy cocktail menu is not necessary. At Elena's bridal shower we'll set up a fruit spritzer buffet. Guests can have their choice of fruit purees and either mix them with sparkling water, club soda, or sparkling wine. A do-it-yourself bar is essential to this type of party where some will want to drink and others will not. Arrange ice, glasses, fruit purees, and mixers neatly on a side table.
For more wedding coverage go to IDoSugar. To take a look at the fruit spritzer recipe,
.