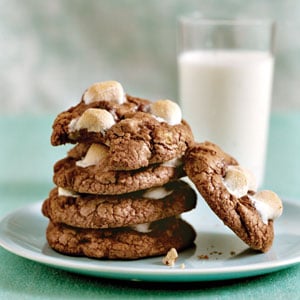 The cookie party [1] I am planning in honor of National Cookie Month [2] is more than just a party. It is also a challenging bake off where everyone's cookies will be judged and voted on. Although Mississippi Mud Cookies [3]
From Southern Living [4] magazine
Image Source [5]
1 cup semisweet chocolate morsels
1/2 cup butter, softened
1 cup sugar
2 large eggs
1 teaspoon vanilla
1 1/2 cups all-purpose flour
1 teaspoon baking powder
1/2 teaspoon salt
1 cup chopped pecans
1/2 cup milk chocolate morsels
1 cup plus 2 Tbsp. miniature marshmallows
Microwave semisweet chocolate morsels in a small microwave-safe glass bowl at high 1 minute or until smooth, stirring every 30 seconds.
Beat butter and sugar at medium speed with an electric mixer until creamy; add eggs, 1 at a time, beating until blended after each addition. Beat in vanilla and melted chocolate.
Combine flour, baking powder, and salt; gradually add to chocolate mixture, beating until well blended. Stir in chopped pecans and 1/2 cup milk chocolate morsels.
Drop dough by heaping tablespoonfuls onto parchment paper-lined baking sheets. Press 3 marshmallows into each portion of dough.
Bake at 350° for 10 to 12 minutes or until set. Remove to wire racks for cooling.
Makes about 3 dozen cookies.

Butter Cookies With Dulce De Leche [6]
From Gourmet [7] magazine
3/4 stick (6 tablespoons) unsalted butter, softened
1/3 cup cornstarch
3/4 to 1 cup all-purpose flour
1/4 teaspoon baking powder
1/8 teaspoon salt
1/4 cup granulated sugar
2 large egg yolks
1 tablespoon Pisco or regular brandy
1/4 teaspoon vanilla
About 1/4 cup dulce de leche*
Confectioners sugar for dusting
Put oven rack in middle position and preheat oven to 350°F. Butter a large baking sheet.
Whisk together cornstarch, 3/4 cup flour, baking powder, and salt in a small bowl.
Beat together butter and sugar in a large bowl with an electric mixer until light and fluffy, then beat in egg yolks, Pisco, and vanilla. Stir in flour mixture until combined, adding 1 to 2 tablespoons flour if dough is sticky. (Dough should be soft.)
Form dough into a disk and roll out into an 11-inch round (1/8 inch thick) on a lightly floured surface with a lightly floured rolling pin. Cut out 32 rounds with cutter (reroll scraps if necessary) and transfer to sheet, arranging rounds 1/2 inch apart.
Bake until firm and pale golden around edges, 12 to 15 minutes. Transfer to a rack and cool 10 minutes.
Sandwich cookies with about 1/2 teaspoon dulce de leche. Dust with confectioners sugar.
Makes 16 sandwich cookies.
*Available at Latin markets and many supermarkets.
Make ahead: cookies can be made, but not filled, 3 days ahead and cooled completely, then kept in an airtight container at room temperature.