Come Party With Me: Foodie Thanksgiving — Menu
With rich flavors, luxe ingredients, and complex cooking techniques, this delicious Thanksgiving menu is sure to wow your foodie friends. Start with brioche toasts topped with foie gras, date purée, and pomegranate seeds. Caviar with cream cheese on peppered crackers is another hors d'oeuvres option that comes together easily with elements from a gourmet grocery store. A slow-smoked turkey with cane syrup-coffee glaze is a showstopping centerpiece to the main event. Before being smoked, the bird is braised in a mixture of coffee, apple cider vinegar, and cane syrup, so make sure you have a pot large enough to hold a whole turkey.
A decadent stuffing with bacon, sage, and fresh-shucked oysters is a delightful accompaniment to the smoked bird. Sweet potatoes reach new heights when served in souffle form stuffed inside a phyllo dough. To get these recipes for the more advanced home cook, read more.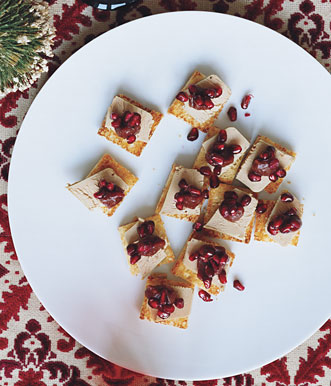 From Gourmet
Foie Gras With Date Purée and Pomegranate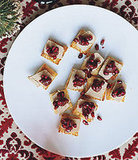 Ingredients
1/4 pound Medjool dates (packed 1/2 cup), pitted
1/2 cup boiling-hot water
1 tablespoon plus 1 teaspoon pomegranate molasses
1 large brioche loaf or challah loaf (1 to 1 1/2 pound)
1 (6 1/2-ounces) block foie gras, chilled
Garnish: pomegranate seeds (from 1 pomegranate)
Directions
Soak dates in boiling-hot water (1/2 cup) in a bowl 10 minutes. Transfer dates with a slotted spoon to a mini food processor or a blender along with 1 tablespoon soaking liquid. Add pomegranate molasses and purée until smooth.
Preheat broiler.
Cut enough 1/4-inch-thick slices from brioche to cut into a total of 32 (1 1/2-inch) squares (without crust).
Broil brioche squares on a baking sheet 4 to 5 inches from heat, turning once, until pale golden, about 1 1/2 minutes total. (Watch carefully; brioche toasts quickly.)
Dip a sharp paring knife in hot water, then dry it and halve foie gras lengthwise. Cut each half crosswise into 16 slices (32 total), dipping and drying knife after each cut. Put each slice as cut on top of a brioche toast, then top with a small dollop of date purée and a few pomegranate seeds.
Makes 32 hors d'oeuvres.
Make ahead: Brioche can be cut (but not toasted) 1 day ahead and kept in an airtight container at room temperature. Date purée can be made 3 days ahead and chilled, covered. Bring to room temperature before serving.
Information
Category

Breads/Crackers, Appetizers

Cuisine

French