Come Party With Me: Memorial Day Barbecue — Drinks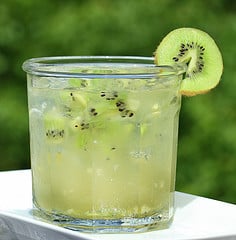 A cool and refreshing cocktail comes to mind whenever I hear the words Memorial Day, and this delicious kiwi lime drink is perfect for all types of Memorial Day barbecues. The recipe, which combines fresh chunks of kiwi, minced ginger, simple syrup, lime juice, and ginger ale, is nonalcoholic. However, vodka, gin, or a light rum can easily be added. Choose your favorite spirit and modify the recipe to suit your drinking needs. It's wonderful with or without the alcohol, so consider making and labeling two pitchers.
If the day is especially hot, remember to stock up on ice, water, sodas, and cooling beverages like lemonade or iced tea. For the recipe to this kiwi lime cocktail,
.