Come Party With Me: My Birthday — Drinks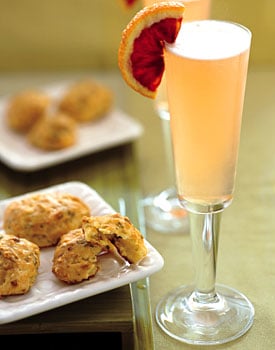 Obviously, I think my birthday is a cause for celebration, and with celebration comes champagne! When choosing a signature drink for my bash, I wanted something that would subtly echo the floral motif of my invitations without being too juvenile. A playful twist on a classic, grownup cocktail seems fitting for someone turning 27.
I've settled on this variation on the French 75 cocktail; it features blood oranges so it has a slightly pink, but not too pink, hue. Better yet, it will please both cocktail connoisseurs and casual drinkers, and it can be made in large batches. To get the recipe,
.