Come Party With Me: My Birthday Party - Menu (The Cake)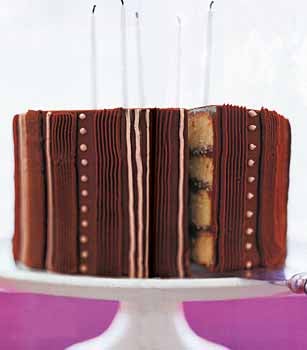 As crazy as it may seem, I always make my own birthday cake. I know most people like it when someone else makes them a super special birthday cake, but I love making cakes so it's a pleasure to make my own. For the cocktail party I'm hosting, I want a classic cake with beautiful presentation. Right now, I've settled on this recipe for a golden cake with sour cream chocolate frosting, but you never know, I may decide I want to make a different one by the time the actual party comes around! To see how this gorgeous cake is made,

Golden Cake With Chocolate Frosting
From Gourmet magazine
3 1/2 cups cake flour (not self-rising)
1 tablespoon baking powder
3/4 teaspoon baking soda
1 teaspoon salt
2 sticks (1 cup) unsalted butter, softened
2 cups sugar
4 large eggs at room temperature
2 teaspoons vanilla
2 cups sour cream
Chocolate sour cream frosting
1 1/4 lb fine-quality milk chocolate, finely chopped
10 oz fine-quality semisweet chocolate, finely chopped
3 cups sour cream
2 teaspoons vanilla
Preheat oven to 350°F. Butter 2 (9- by 2-inch) round cake pans and line bottoms of each with rounds of wax or parchment paper. Butter paper and dust pans with flour, knocking out excess.
Sift together flour, baking powder, baking soda, and salt.
Beat together butter and sugar in a large bowl with an electric mixer until light and fluffy. Add eggs 1 at a time, beating well after each addition, then beat in vanilla. Add half of flour mixture and mix at low speed until just blended. Add sour cream, mixing until just combined, then add remaining flour mixture, mixing at low speed until batter is smooth.
Divide batter between pans, smoothing tops. Bake in middle of oven until cake is springy to the touch and a tester comes out clean, 30 to 40 minutes. Cool in pans on racks 10 minutes, then invert onto racks, remove paper, and cool completely.
Meanwhile, make the frosting: melt chocolates in a double boiler or a large metal bowl set over a saucepan of simmering water, stirring occasionally. Remove bowl from heat, then whisk in sour cream and vanilla. Cool to room temperature, stirring occasionally (frosting will become thick enough to spread). You must work quickly and spread the frosting before it becomes too thick. (If icing does become stiff, reheat over simmering water, then cool and try again.)
Trim tops of cooled cake layers with a long serrated knife if necessary to make flat and level. Halve each layer horizontally with serrated knife to make a total of 4 layers.
Put 1 cake layer on a cake plate and spread with 3/4 cup frosting. Layer remaining cake layers using 3/4 cup frosting between each layer. Frost top and sides of cake with remaining frosting.
Serves 12.