Come Party With Me: My First Thanksgiving — Menu (Part 2)
After a classic Thanksgiving meal, offer guests two delicious dessert options. The best thing about dessert dishes is that they can usually be made in advance. Instead of serving a pie, make a pumpkin spice roll cake with cream cheese filling. Get help from the store and use a box cake mix; no one will know the difference. Make a black bottom chocolate pie for those guests who want a more decadent dessert. To save time, purchase a chocolate cookie crumb crust when making this pie. To look at the recipes for these delicious desserts, read more
Pumpkin Spice Roll Cake
Modified from Diana's Desserts
1 pkg. (2-layer size) yellow cake mix
1 pkg. (4-serving size) vanilla flavor instant pudding & pie filling mix
1 cup canned 100% pumpkin puree
1/2 cup vegetable oil
3 eggs
1 tbsp. pumpkin pie spice
1 cup chopped walnuts
4 oz. (1/2 of 8-oz. pkg.) Philadelphia cream cheese, softened
1-1/2 cups cool whip vanilla whipped topping, thawed (1/2 of 8-oz. tub)
3/4 cup powdered sugar
Preheat oven to 350 degrees F (180 C). Sprinkle clean towel with 1/4 cup of the powdered sugar.
Place cake mix, dry pudding mix, pumpkin, oil, 1/2 cup water, eggs and spice in large bowl. Beat with electric mixer on low speed just until moistened. Beat on medium speed 4 minutes. Pour into greased and floured 15x10x1-inch baking pan, lined with wax paper.
Bake 15 to 20 minutes or until toothpick inserted in center comes out clean. Immediately invert cake onto towel; remove pan. Carefully peel off paper. Starting at one of the short sides, roll up cake and towel together. Cool completely on wire rack.
Beat cream cheese and 1/2 cup of the powdered sugar in medium bowl with electric mixer on medium speed until well blended. Add whipped topping; mix well.
Carefully unroll cake; remove towel. Spread cream cheese mixture over cake. Reroll cake; wrap in plastic wrap. Refrigerate at least 1 hour or until ready to serve. Sprinkle with the remaining 2 Tbsp. powdered sugar just before serving.
Serves 10.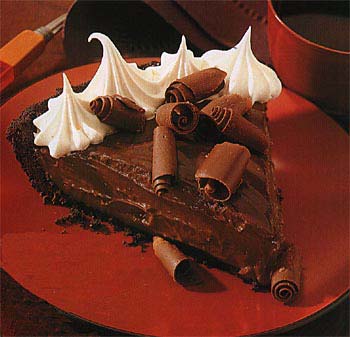 Black Bottom Chocolate Pie
From Bon Appetit magazine
Filling
2/3 cup sugar
1/4 cup cornstarch
2 tablespoons unsweetened cocoa powder
Pinch of salt
6 large egg yolks
2 cups low-fat (1%) milk
1/2 cup chilled whipping cream
6 ounces bittersweet (not unsweetened) or semisweet chocolate, chopped
1 tablespoon dark rum
1 teaspoon vanilla extract
1 Chocolate cookie crumb crust
Topping
1 cup chilled whipping cream
2 tablespoons powdered sugar
1 teaspoon dark rum
Chocolate curls
For Filling: Whisk first 4 ingredients in heavy medium saucepan to blend. Whisk in egg yolks to form thick paste.
Gradually whisk in milk, then cream. Whisk over medium-high heat until mixture thickens and boils 1 minute. Remove from heat.
Add chocolate and whisk until smooth. Whisk in rum and vanilla. Cool 5 minutes, whisking occasionally.
Transfer filling to frozen crust. Chill until cold, at least 2 hours and up to 1 day.
For Topping: beat first 3 ingredients in large bowl until firm peaks form. Spoon whipped cream into pastry bag fitted with large star tip. Pipe rosettes around edge of pie. Garnish with chocolate curls. (Can be made 4 hours ahead; chill.)
Serves 8.