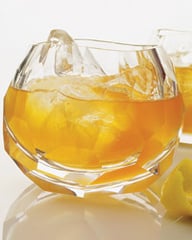 To get in the mood for St. Patrick's Day, set up a "Make Your Drink Green" bar and let the girls help themselves. Fill one ice bucket with bottles of a light Irish beer (such as Harp) and another with bottles of white wine. Arrange beer and wine glasses and green food coloring nearby. Have everyone tint their drinks green.
Also set out the ingredients for a specialty cocktail and write the recipe for the drink, so your guests can play bartender. This interesting cocktail features Irish whiskey making it wonderfully appropriate for the holiday. It combines the whiskey with fresh ginger, lemon juice, apricot jam, and orange liquor.
To look at the recipe,
.