Come Party With Me: Summer Solstice — Menu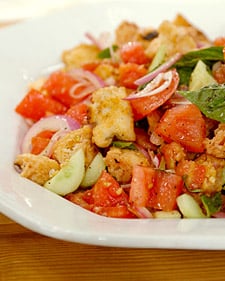 Fresh Italian flavors inspire my Summer solstice dinner party menu. To maximize time spent with guests, all of the food can be made in advance or cooked outdoors on the grill. A buffet of salumi, flatbreads, olives, and store bought spreads will await my guests.
When sliced into triangles grilled mozzarella panini are delightful appetizers. Chicken cooked under a brick is crispy yet succulent. Classic panzanella and balsamic potato salad are delicious served on the side. If these recipes sound tasty, get them now when you
.