Herb butter, or compound butter as it's sometimes called, is a great technique to have in your Summer cooking arsenal. Actually, herb butters are so awesome that I use them year round! But in the warm months, there's a plethora of fresh herbs to choose from — parsley, basil, oregano, etc.
The method is easy: you combine a bunch of chopped herbs and seasonings with room-temperature butter. Use the butter immediately or roll it up in plastic wrap and refrigerate. Once you've made the butter, there are countless ways to use it.
Rub it under a raw chicken's skin before grilling or dot onto just-grilled steaks. Smear on bread before toasting or corn-on-the-cob after cooking. Toss with cooked pasta or shellfish. The recipe is incredibly adaptable, so choose the herbs that you like. Ready to learn how it's done? Read on.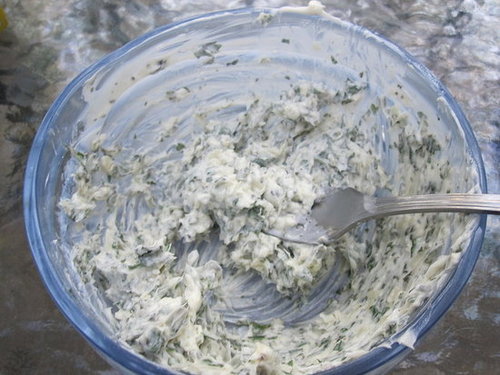 From Katie Sweeney
Herb Butter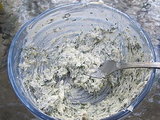 Ingredients
1 stick unsalted butter, at room temperature
1/2 cup fresh herbs, minced
Salt and freshly ground black pepper
Additional seasonings, optional: minced garlic, spices like cayenne pepper or paprika, finely grated hard cheese or crumbled soft cheese, minced anchovy, minced shallot, etc.
Directions
In a medium bowl, combine the butter with the herbs. Stir well to incorporate fully. Season with salt and pepper. Stir in the additional seasonings if using.
Use the butter immediately or refrigerate: spread a long sheet of plastic wrap on a work surface. Mound the butter in the middle and form into a log shape. Cover with the plastic wrap while shaping the butter into a tube, about 1 1/2 inches in diameter. Refrigerate for up to 4 days or freeze for up to a month.
Makes about 3/4 cup butter.


Use the butter: on chicken, fish, or steak. Toss with cooked shellfish, pasta, or vegetables. Spread on bread and make garlic bread. Spread on cooked corn on the cob.
Information
Category

Condiments/Sauces, Other

Cuisine

North American