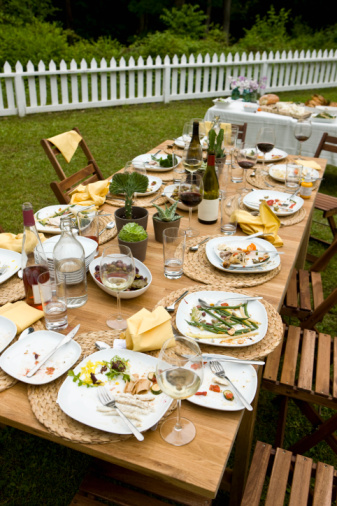 In two Saturdays, after the
Butter and Eggs
parade, a bunch of friends and family will gather at my aunt's house for a seafood barbecue. She has an amazing backyard, and my dad will man the grill while everyone lounges in Adirondack chairs near the fire pit. The colors of butter and eggs (pale yellow and white) inspire the event's decor. Yellow throws will be draped on the back of the chairs in case anyone gets cold.
Oysters
are served on porcelain oyster plates, while the
sardines
look scrumptious on a square platter. Pitchers of
Rosé sangria
will sit on the tables; guests can help themselves to a glass. The decorations will be minimal; I'll simply fill bowls with eggs, arrange yellow tulips in vases, and light lots of candles.