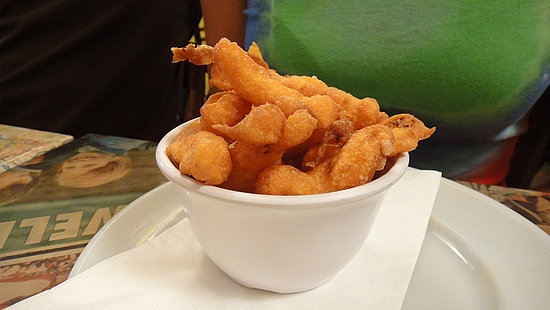 I've recently tried to put the kibosh on my love affair with deep-fried foods, but let's face it. You could bread and fry a pencil and it would probably be great! I suppose that's why people are always attempting new battered feats, from
deep-fried butter
to
pancakes
. Case in point:
The Wandering Foodie
paid a visit to Brooklyn's
Park Slope ChipShop
, where he was greeted with, among other items, fried blood sausage, fried sushi, a fried lox bagel, and fried
Cheetos
.
Deep-fried Cheetos? Aren't Cheetos already deep-fried? (The answer is yes.) Despite the fact that the Wandering Foodie found them underwhelming, I'd still give them a try — after all, I've never been known to turn down Cheetos. What about you?