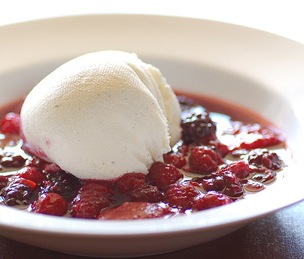 A
compote
is fresh or dried fruit that's been stewed or baked in a syrup. The dish is slow-cooked on low heat to break the fruit down gently and allow it to retain some shape.
Compote
may involve one or a variety of fruits, and may be spiced with the addition of citrus peel, cinnamon, or cloves, or with alcohol. The dish can be served warm or chilled for breakfast or dessert, either on its own or as a topping for another dessert, such as ice cream.
Compote also refers to a deep, stemmed dish that's used to retain fruit, nuts, and candy.
Source: Flickr User jules:stonesoup