Though in a few months we must bid adieu to daylight savings, warm weather, vacation, and all the other amazing things about Summer, there's still time to snatch up the season's best — think tomatoes, basil, eggplant, corn, peppers, and the like — before it's all gone. Don't know what to do with your bounty? Plan out the following weeks ahead with a few of these recipes that highlight Summer produce [1] in a variety of dishes.
— Additional reporting by Nicole Perry, Aemilia Madden, and Hilary White
Chicken Thighs With Rhubarb-Cucumber Salsa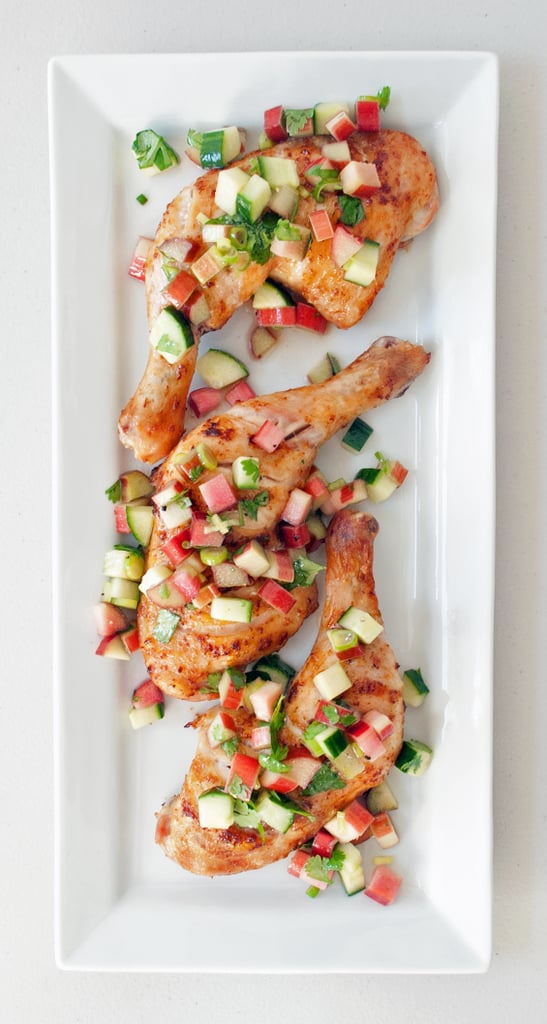 If you thought rhubarb was just meant for pie, it's time to think again. Brighten up chicken with a salsa made of the bracingly tart vegetable and cool cucumber [2].
Chilled Avocado and Corn Soup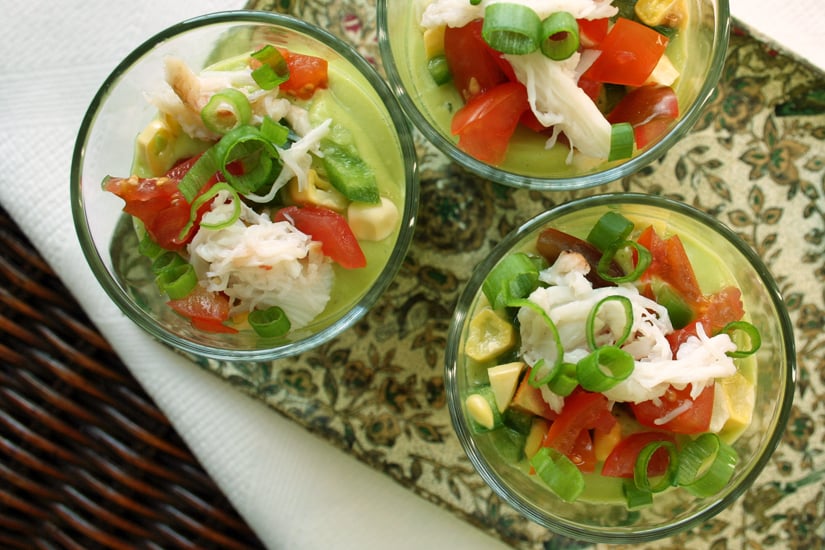 Rather than making little shooters, serve full soup bowls of this creamy, thick raw avocado and corn soup [3], topped with diced tomatoes, spicy jalapeño, and lump crab meat.
Cucumber Avocado Caprese Salad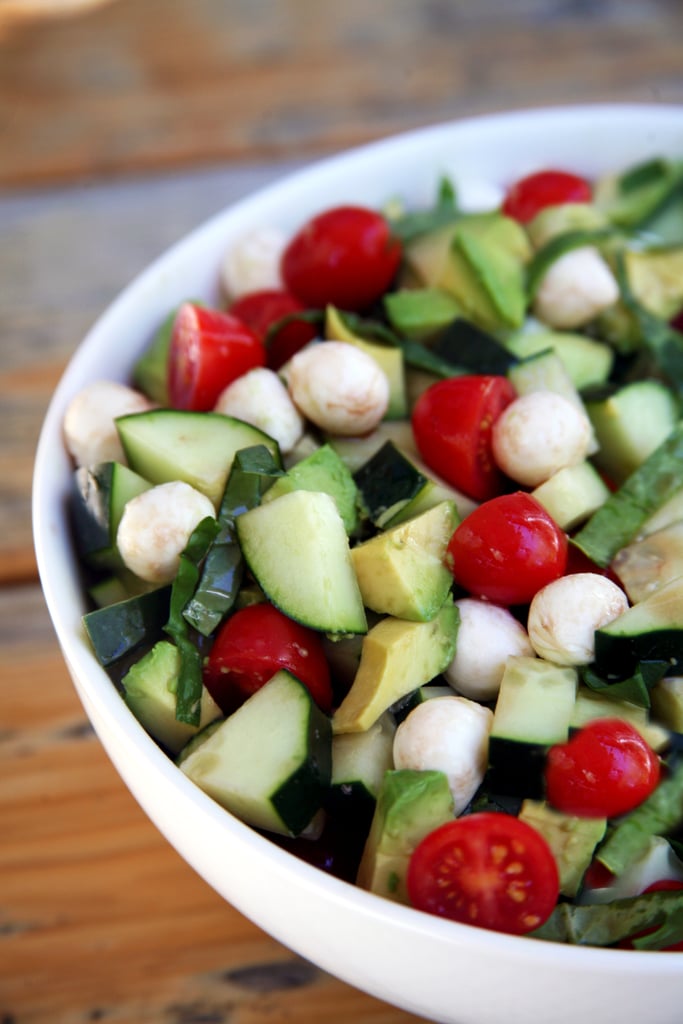 Make the most of your garden-fresh vegetables by throwing together this avocado- and cucumber-enhanced take on caprese salad [4].
Greek Tzatziki Chicken Salad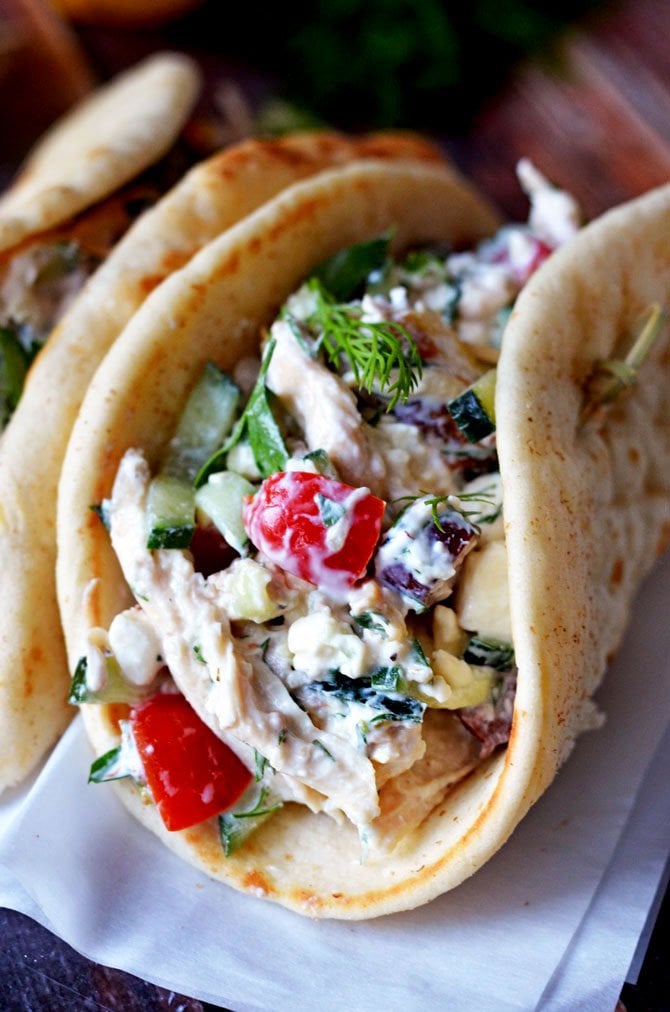 For a lighter dinner, assemble a Greek tzatziki chicken salad [5]. Layered with Mediterranean-inspired ingredients, this sandwich tastes amazing inside toasted pita instead of bread.
Feta and Cherry Quinoa Salad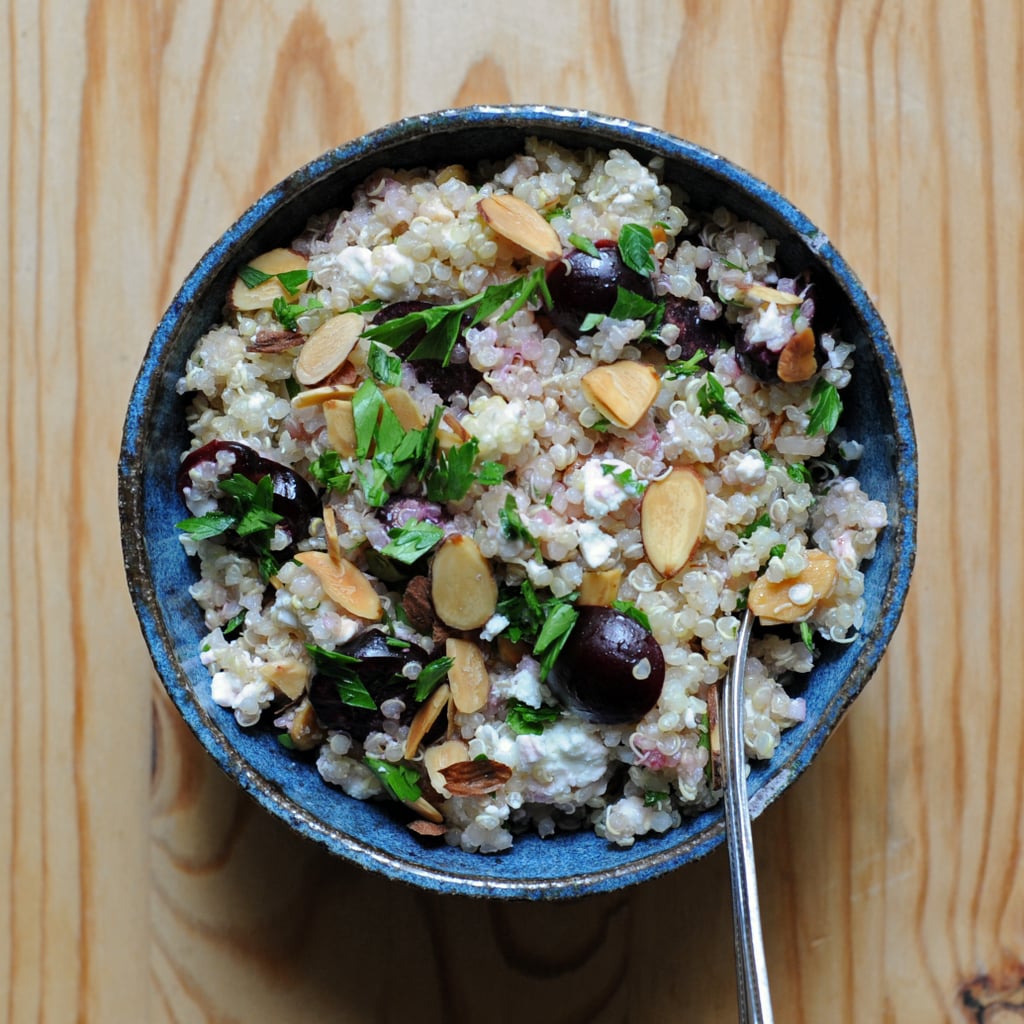 Make the most of cherry season with a cherry, quinoa, and feta salad [6] that's fast and easy to make and nearly as good as leftovers (a boon for brown-bag lunches).
Greek Salad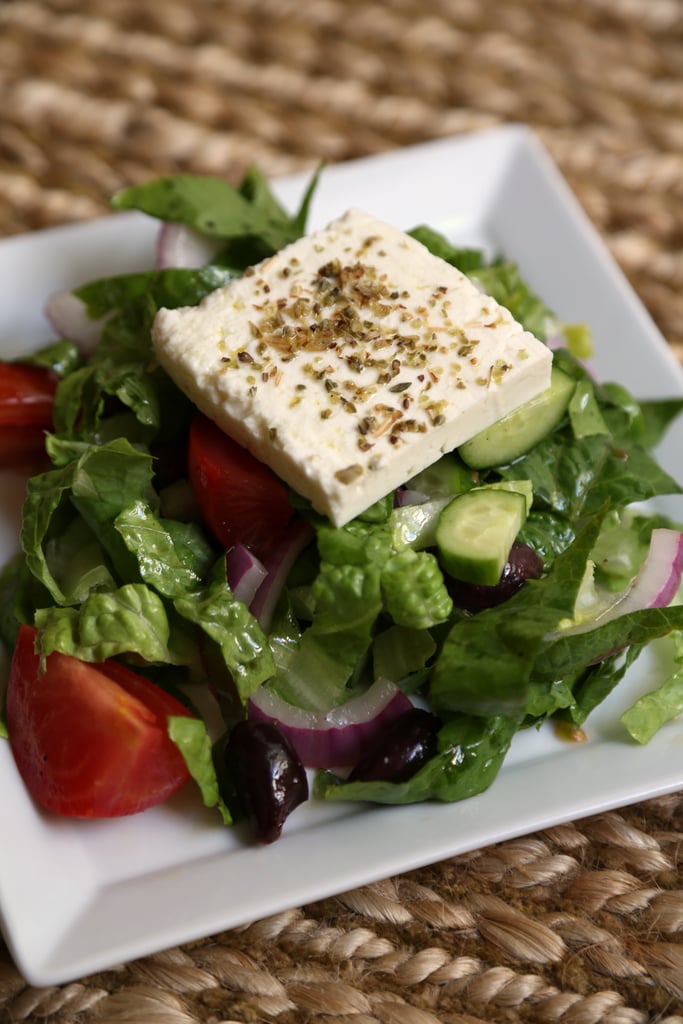 You can't enjoy a proper Greek salad [7] without fresh tomatoes! Add crumbly feta cheese, cool cucumbers, and savory onions to create a perfect Isles-inspired dish.
Zucchini and Corn With Parmesan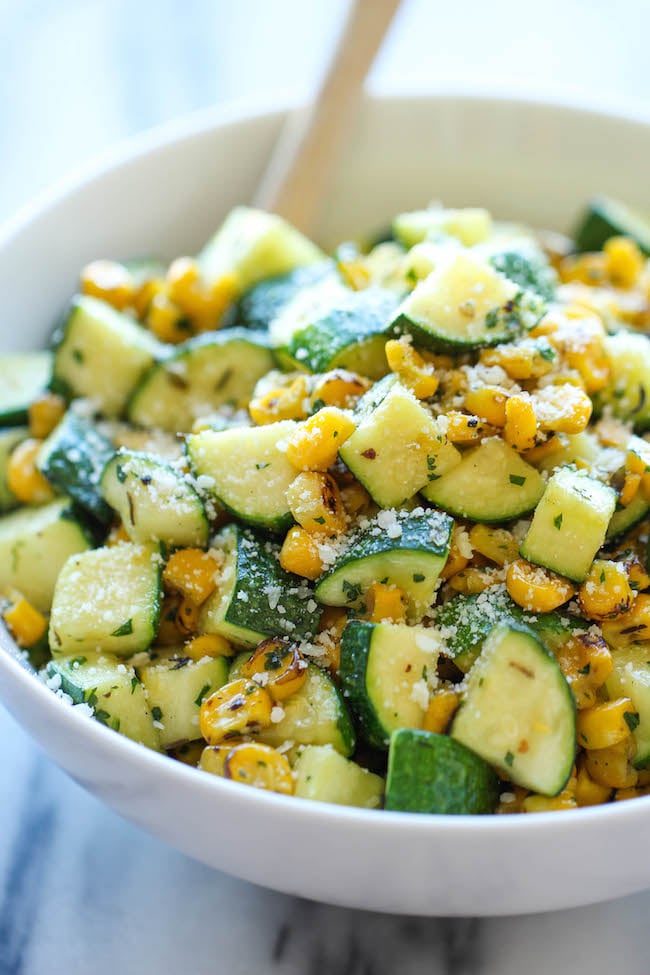 It doesn't get much simpler than this zucchini, corn, and parmesan side [8].The herb-dusted recipe takes only 10 minutes to prepare and is an effortless way to use up your farmers-market haul.
Pasta With Pesto and Roasted Tomatoes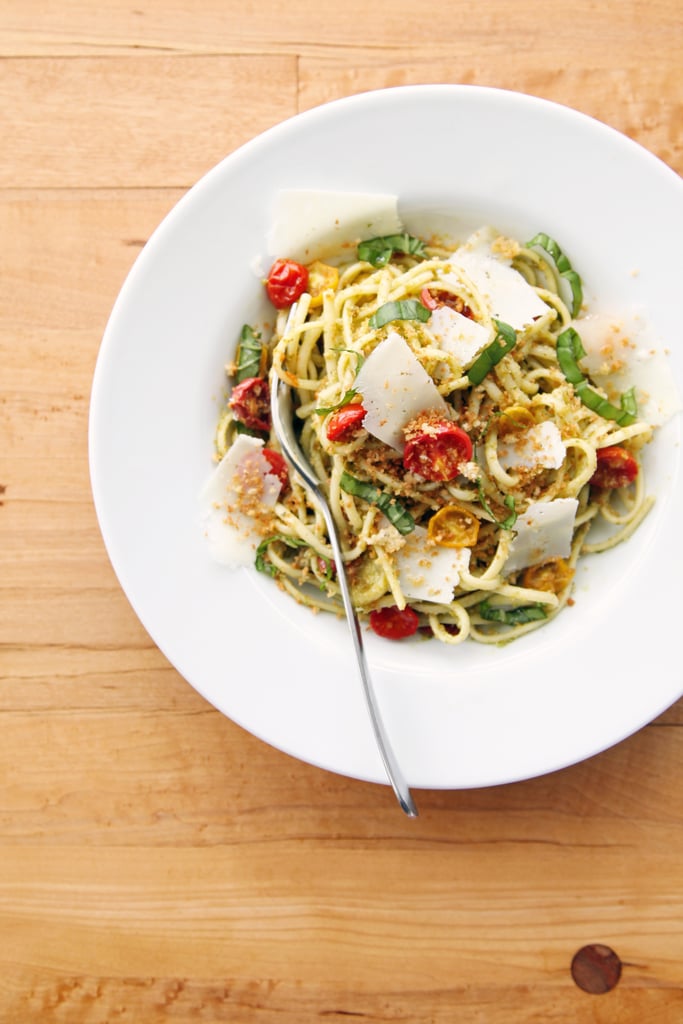 Sometimes the best expressions of seasonal produce are silly simple, and this pesto and roasted tomato pasta [9] is no exception. It may easily become your new favorite thing to whip together.
Creamy Chicken and Corn Soup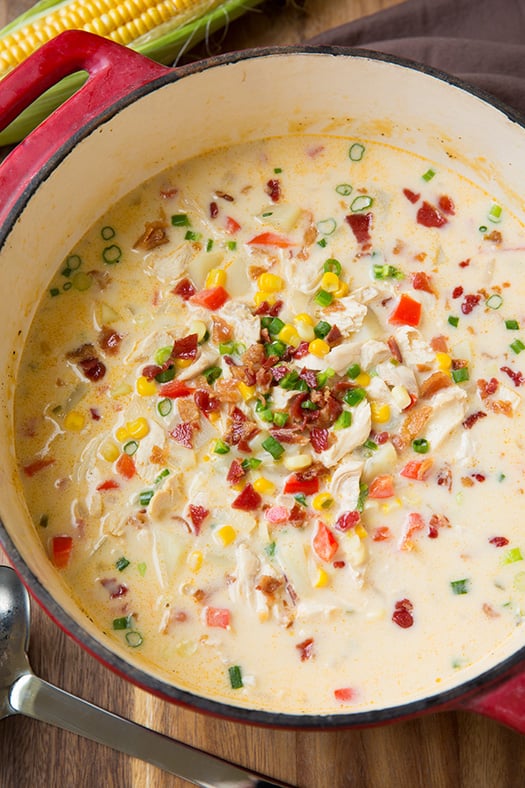 This creamy chicken and corn chowder [10] melds the sweet taste of Summer with the hearty flavors of chicken, potato, and bacon.
Watermelon Caprese Salad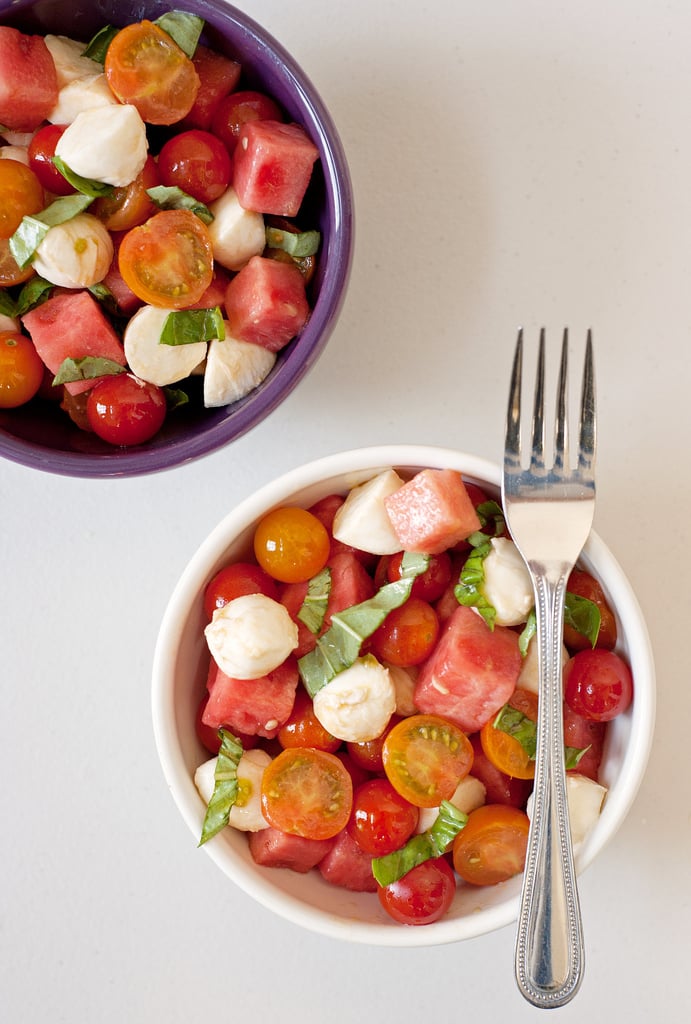 Tangy tomatoes meet sweet melon [11] in this colorful salad, proving a delicious match for both your sweet tooth and your savory cravings.
Bacon and Tomato Pasta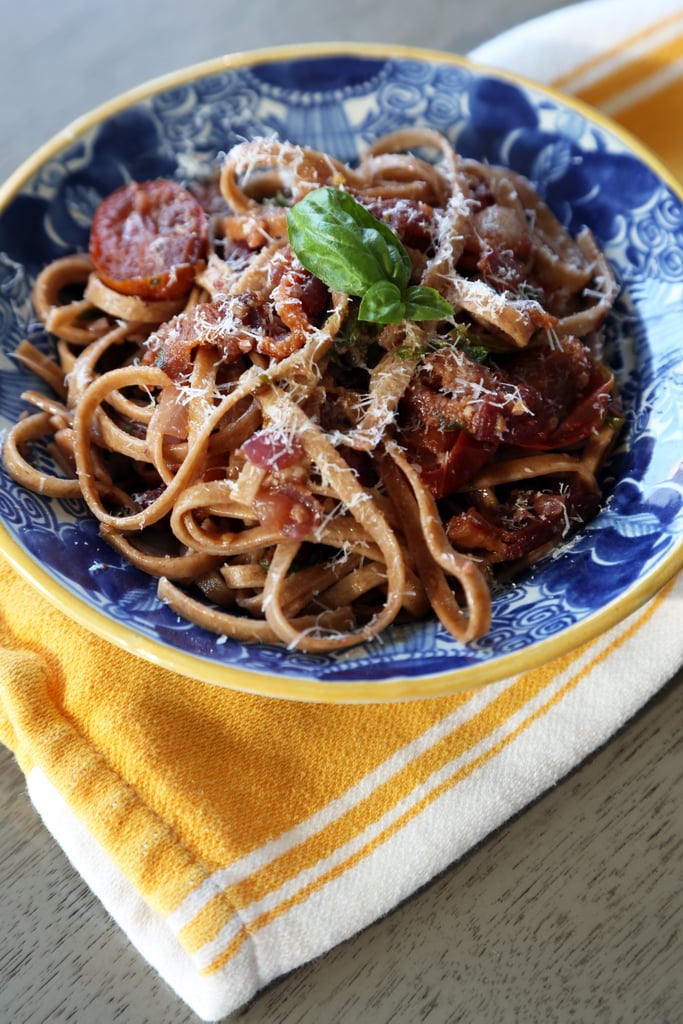 A riff on pasta all'amatriciana, this bacon and tomato pasta [12] is ripe with flavor thanks to a generous helping of tomatoes, diced red onion, bacon, and red chili flakes.
Cheesy Wild-Rice-Stuffed Peppers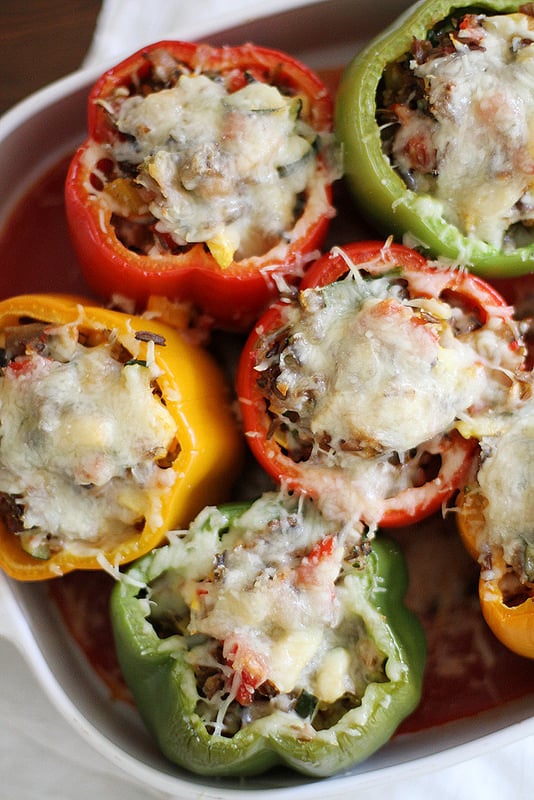 wild-rice-stuffed peppers [13] are stuffed to the gills with late Summer produce.
Corn and Zucchini Pie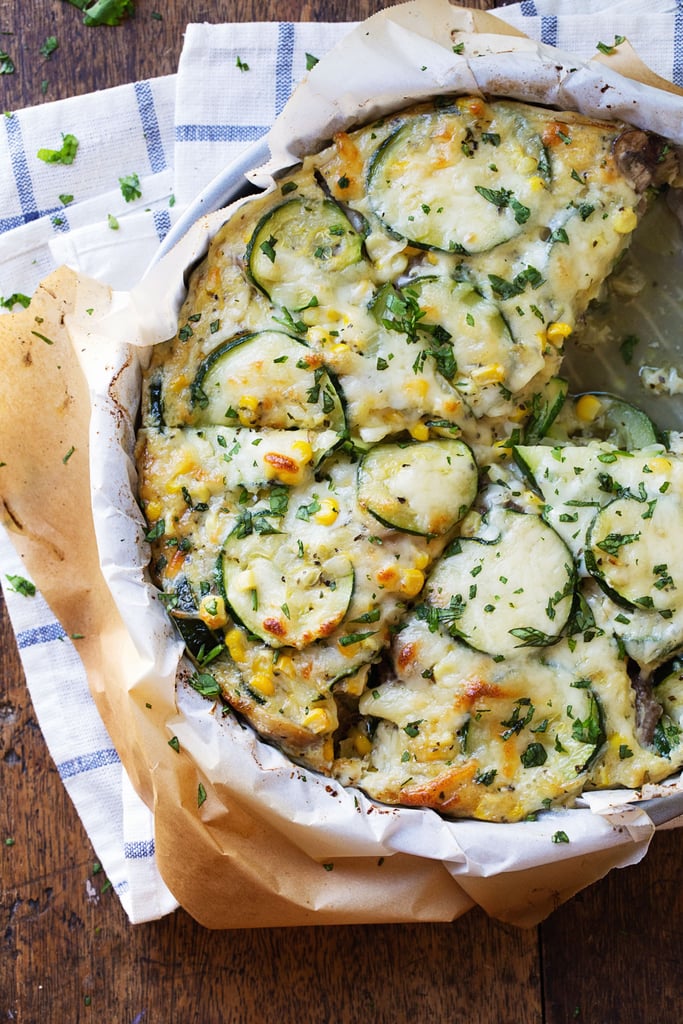 When you think of pie, your mind may go to cherry [14] or berry varieties, but don't write off a veggie version. This seasonal, savory pie [15] packs a generous dose of corn kernels, zucchini coins, and umami-rich mushrooms inside a buttery crust.
Grilled Lamb With Blackberry Sauce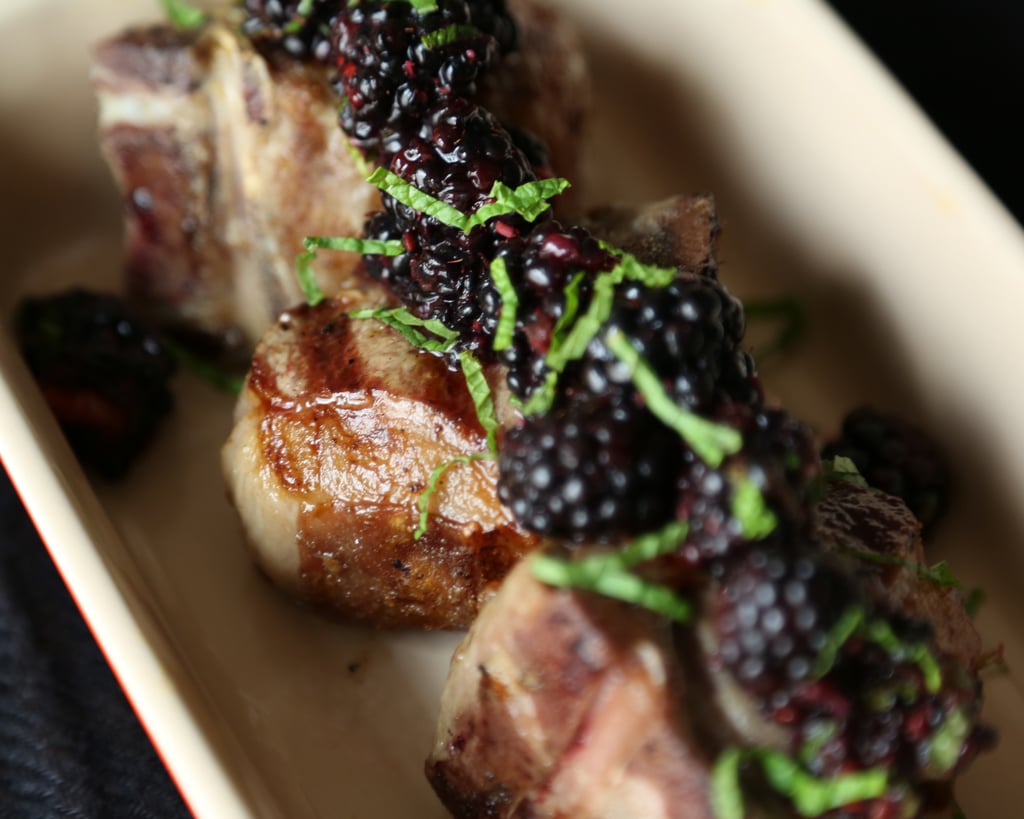 Though most frequently found in sweet treats, berries also add spunk to savory foods. Top grilled lamb with blackberry sauce [16] for a bright and balanced dish.
Hatch Chile, Corn, and Quinoa Casserole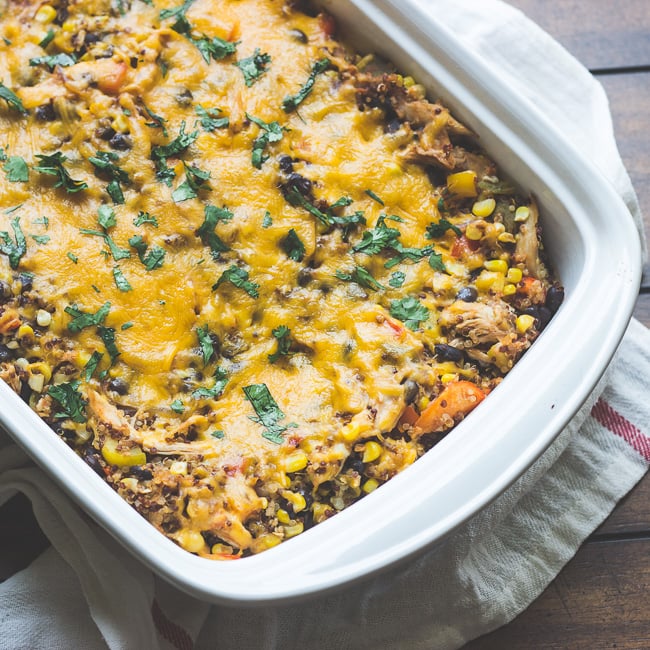 Packed with hatch chilies, corn, quinoa, and chicken this filling casserole [17] is bursting with Southwestern flavor.
Pesto Pasta Salad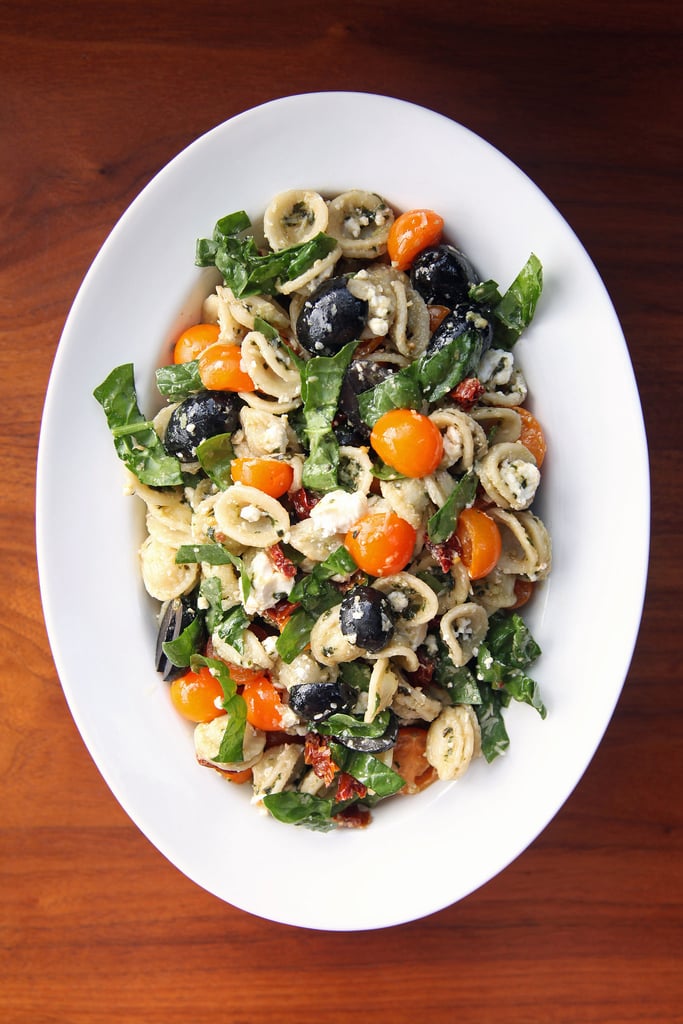 This stunning dish [18] includes both fresh and sun-dried tomatoes, laying the groundwork to win the heart (and stomach) of any tomato-lover. Plus, it's durable enough to pack in the fridge for lunches throughout the week!
Baked Eggs With Tomato, Cheese, and Fire-Roasted Eggplant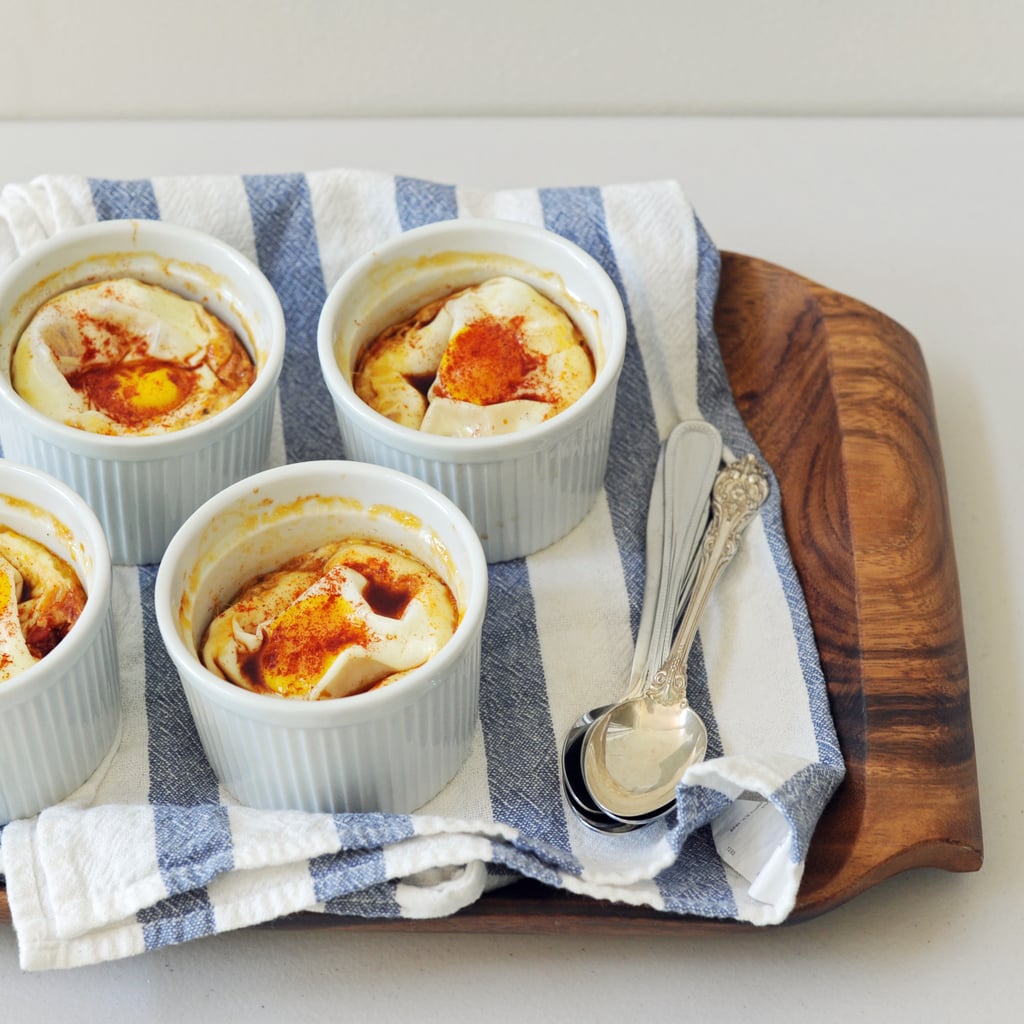 Tomatoes, cheese, roasted eggplant, and eggs might sound like an odd pairing, but the flavors meld together seamlessly for a vibrant brunch-friendly egg recipe [19].
Zucchini Pesto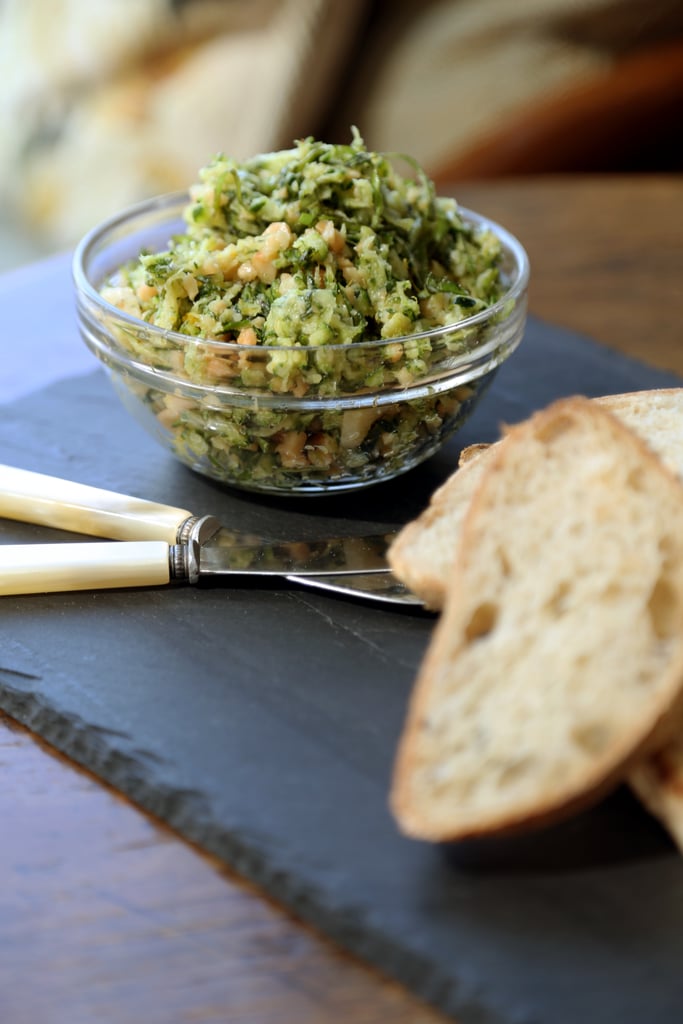 This versatile zucchini pesto [20] can be used as a topping for pasta or crostini or simply devoured by the spoonful when no one else is watching.
Summer Chicken Pot Pie Galette With Herbed Crust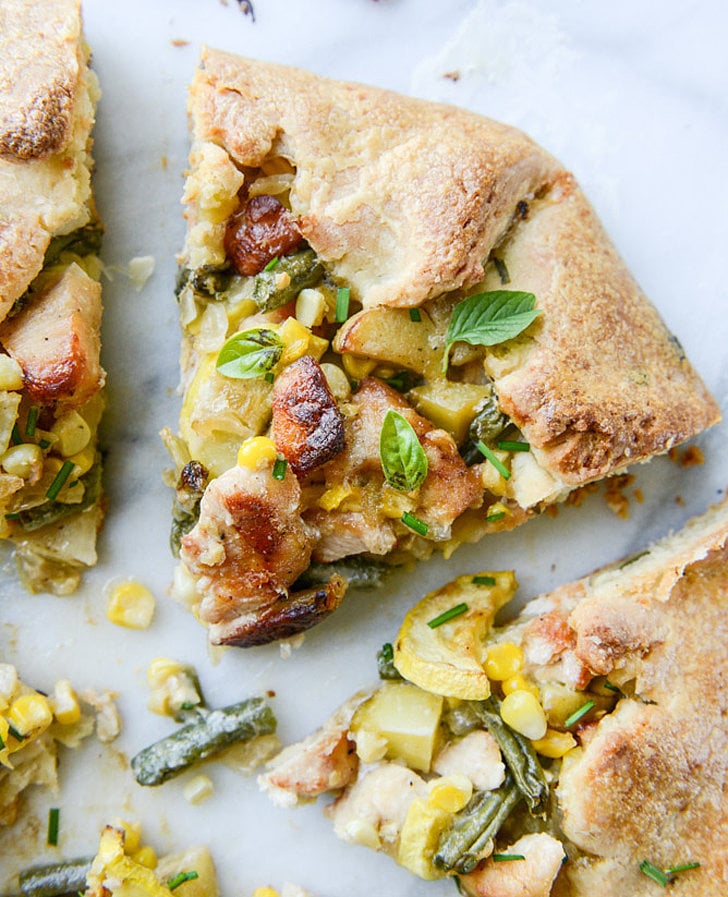 This rustic Summer chicken pot pie galette [21] is a cross between pie and flatbread. Its buttery crust is balanced by a generous helping of fresh veggies, chicken, and heavy cream.
Grilled Peach Salad With Goat Cheese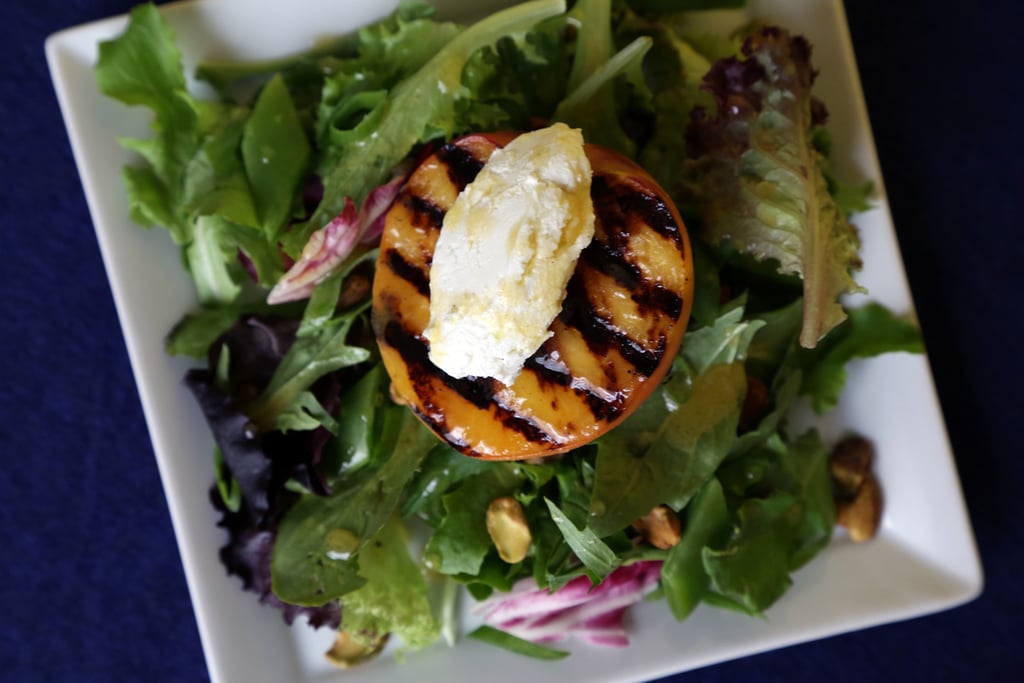 This grilled peach salad [22] has the right balance of creamy cheese and juicy fruit. It's extremely easy to make and pairs well with barbecued chicken or ribs.
Breakfast Tacos With Zucchini and Squash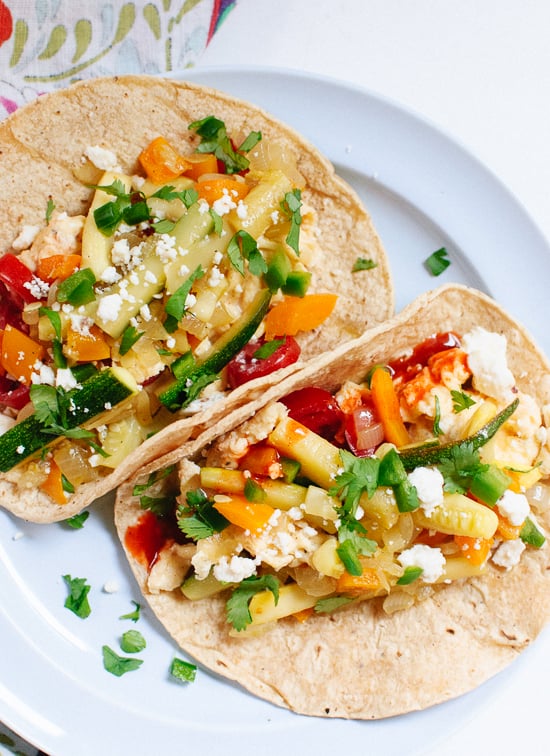 Start your morning on a high note with a plateful of zucchini and squash breakfast tacos [23]. These bites of egg and veggies will help you feel energized all day long.
Stuffed Squash Blossoms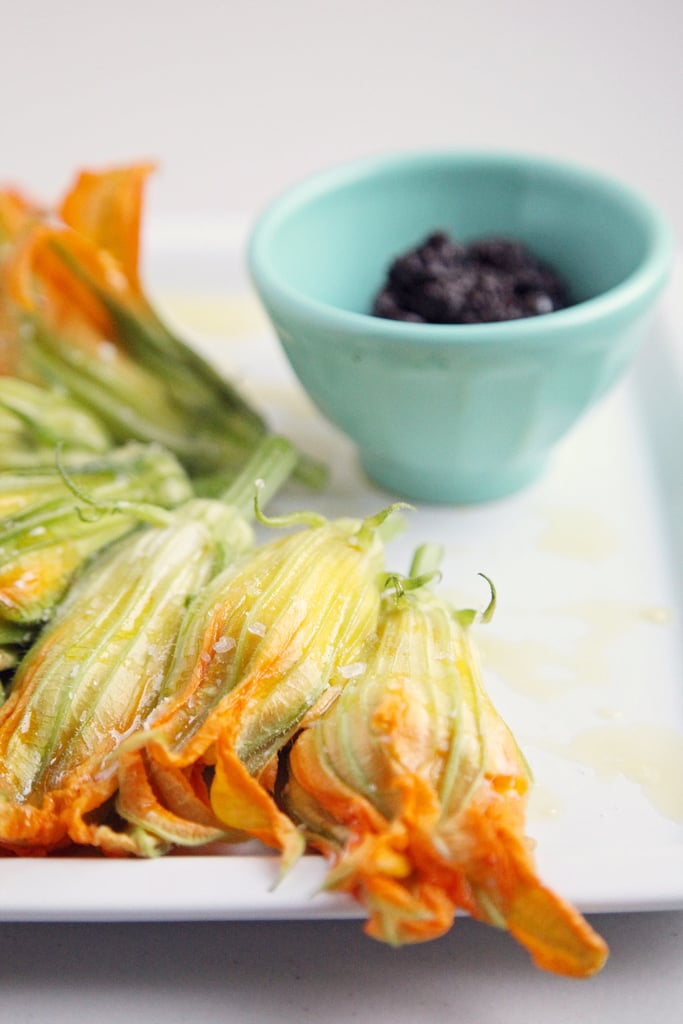 Stuff delicate squash blossoms with burrata [24] and serve them with olive tapenade for a fabulous warm-weather appetizer or picnic snack. The ridiculously creamy cheese and briny tapenade bring boldness to these beautiful blooms.
Mediterranean Quiche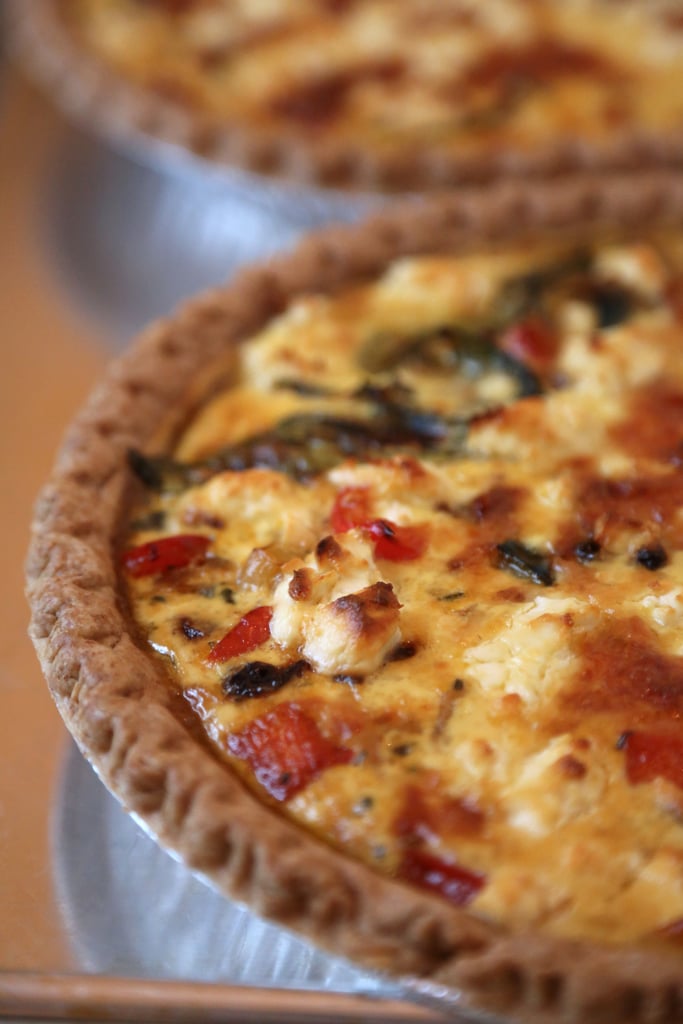 Quiche isn't just for brunch; this Mediterranean stunner [25] stuffed with onions, zucchini, red peppers, and sun-dried tomatoes is appropriate anytime.
Zucchini Noodle Egg Drop Soup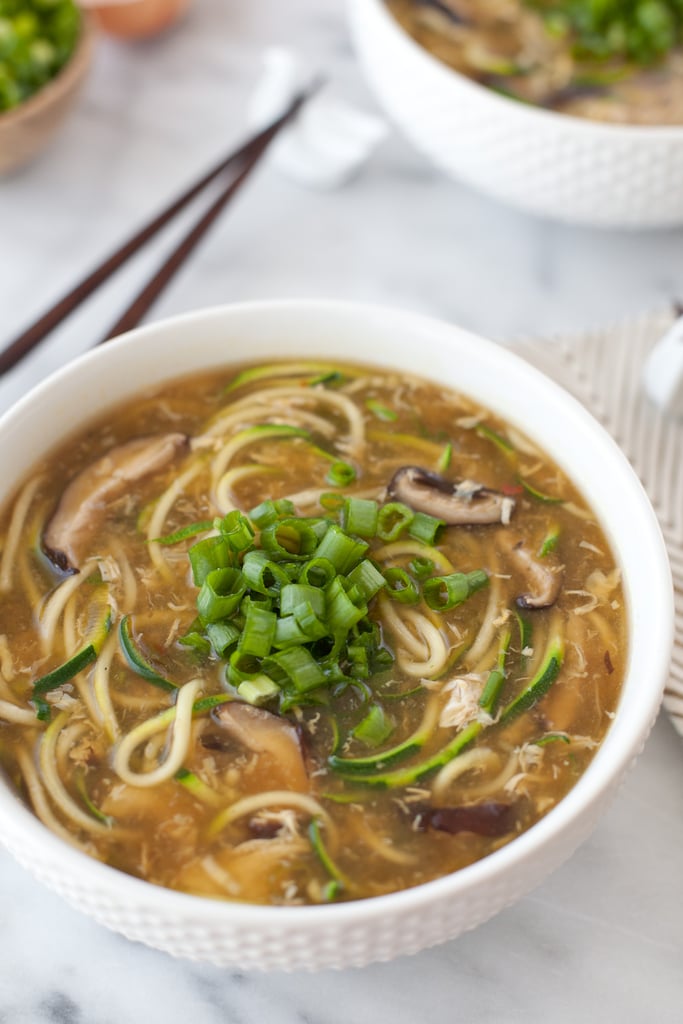 For a summery take on egg drop soup [26], add zoodles, aka zucchini noodles.
Sun-Dried Tomato Pasta Salad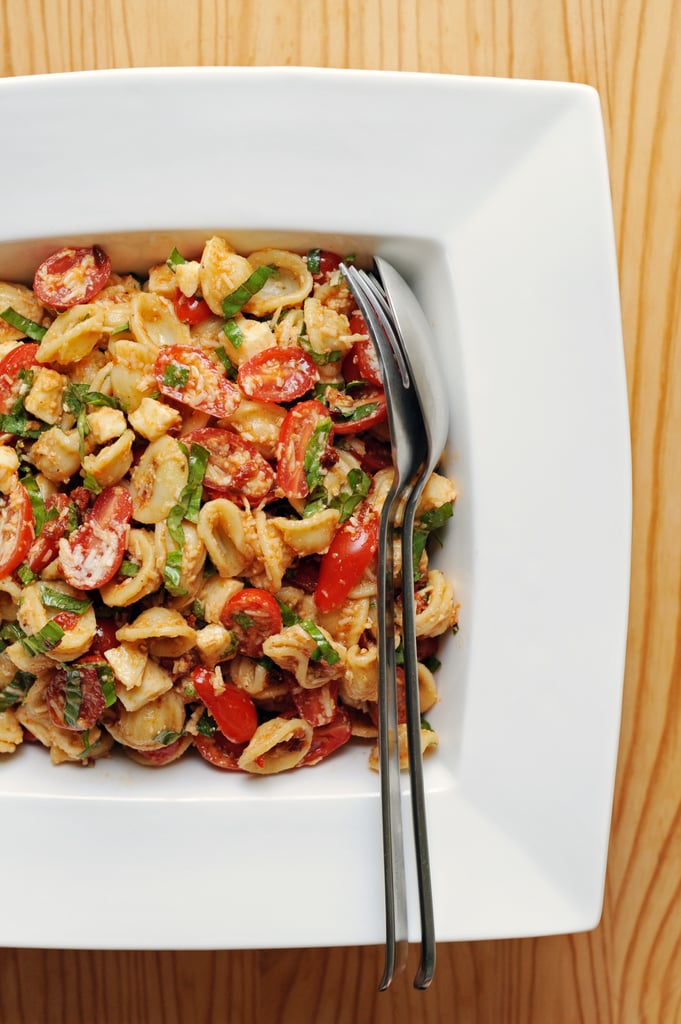 Full of tomato flavor thanks to slivers of sun-dried tomatoes, a dressing made from the candy-sweet dried fruit, and halved cherry tomatoes, this pasta salad [27] is destined to become a potluck and backyard BBQ staple.
Squash Casserole
This cheesy squash casserole [28] perfectly bridges the seasonal shift into Fall.
Caprese Quinoa Bake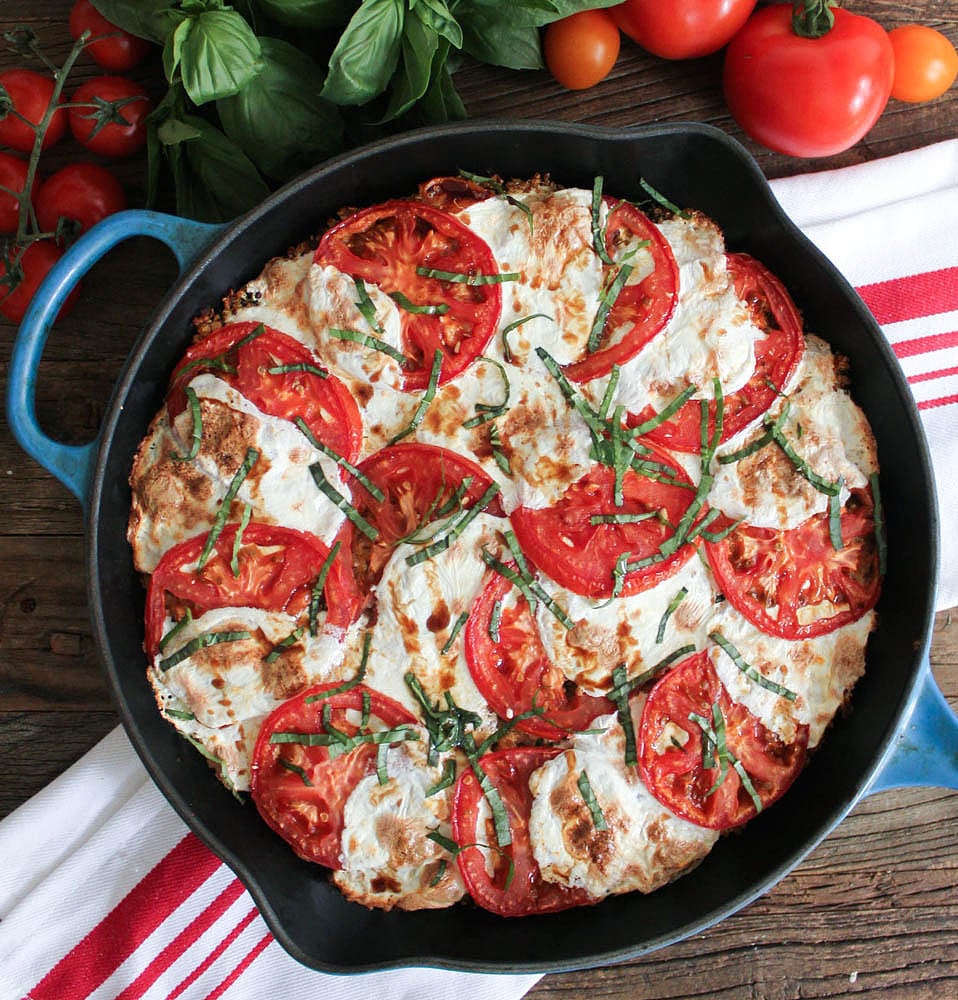 Perfect as a main dish or a side, this scrumptious bake [29] is filled with fluffy grains and succulent tomatoes, then topped with basil and mozzarella.
Summer Socca With Squash Blossoms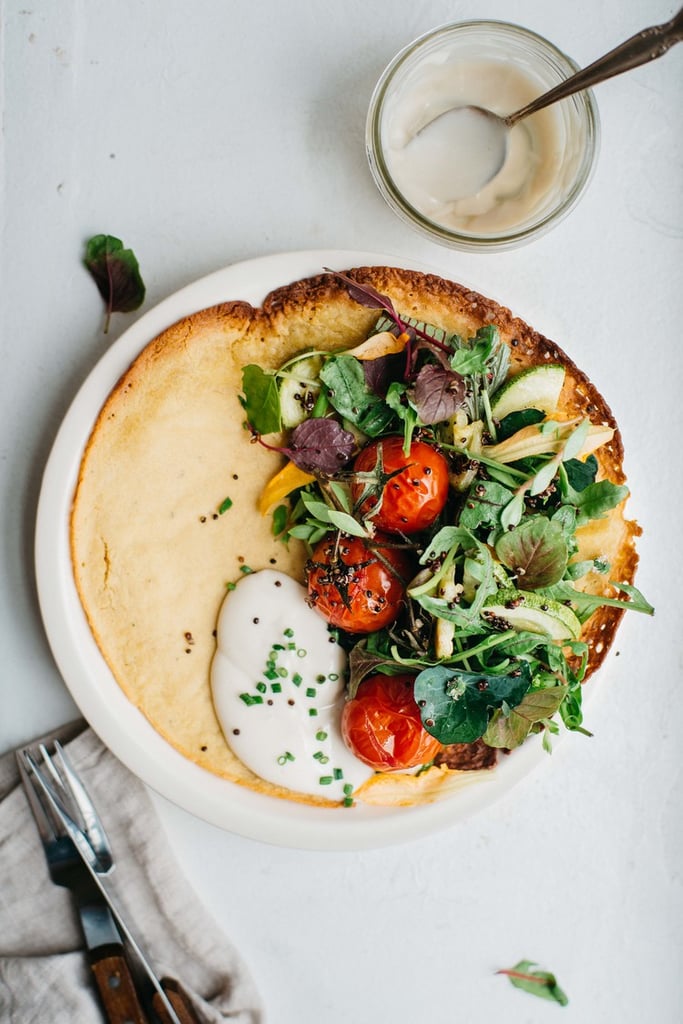 Bursting with the bright flavor of the season's finest, this Summer socca [30] is a unique way to combine the fresh produce you have on hand. The light and savory chickpea crepes, stuffed with blistered tomatoes and roasted zucchini, will leave you feeling refreshed.
Chicken Parmesan Sub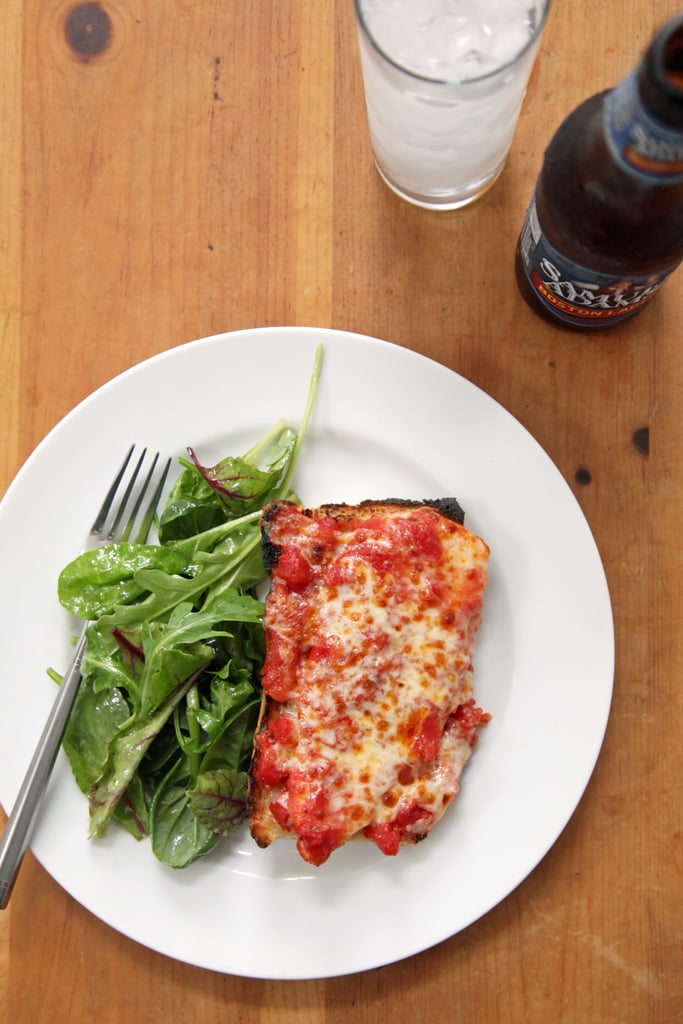 There's nothing more satisfying than this chicken parmesan sub [31]. Slathered with tomato sauce, mozzarella, and herbs, this mouthwatering creation is one to add to your sandwich rotation.
Tricked-Out Ramen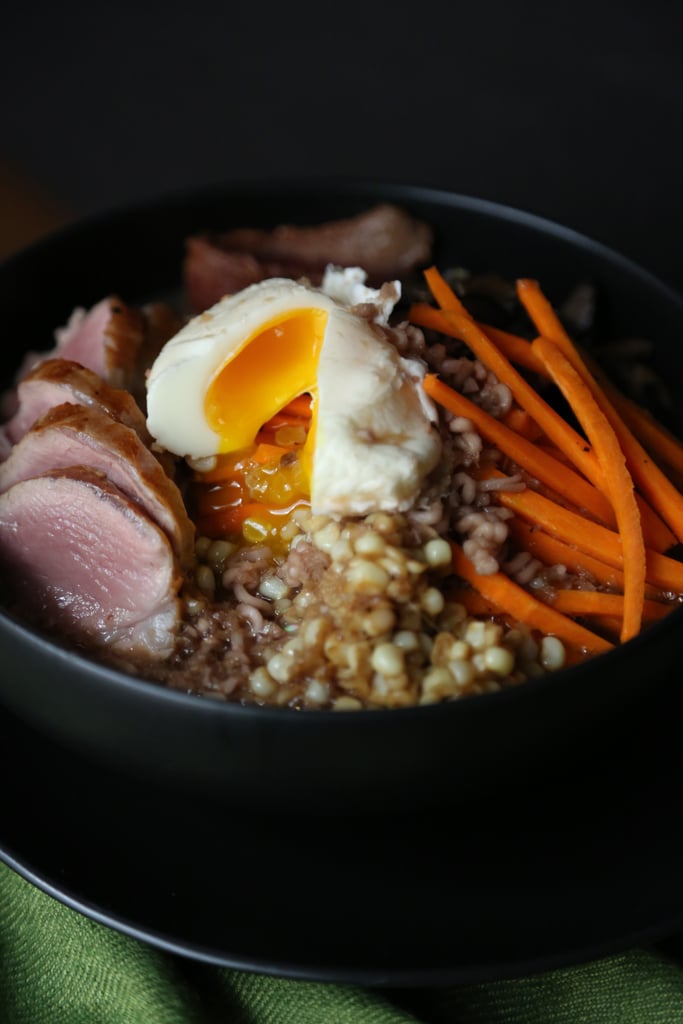 You'll never look at plain old ramen the same way again after trying out this tricked-out version [32]. Packed with sweet corn, savory pork, and a perfectly poached egg, the cozy Japanese meal is impossible to resist.
End-of-Summer Chicken Empanada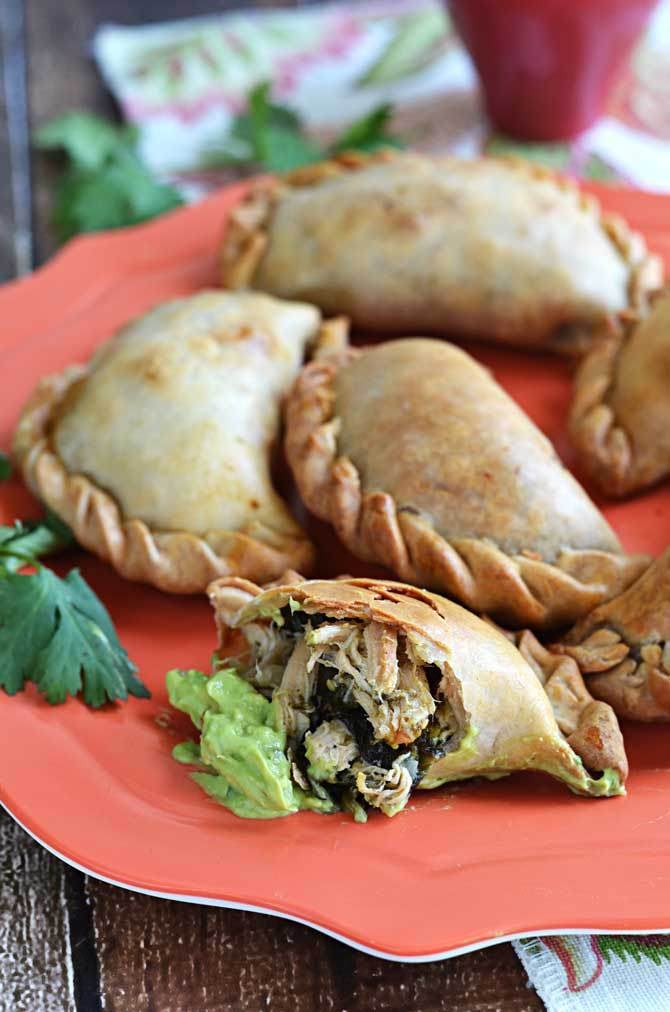 When you first bite through the crisp crust of a piping-hot empanada, you know you're in for a treat. This end-of-Summer empanada [33] features charred poblano, plus the rich flavor of a jalapeño-avocado dip. This finger food surely won't disappoint.
Source:
Guacamole Mason Jar Salad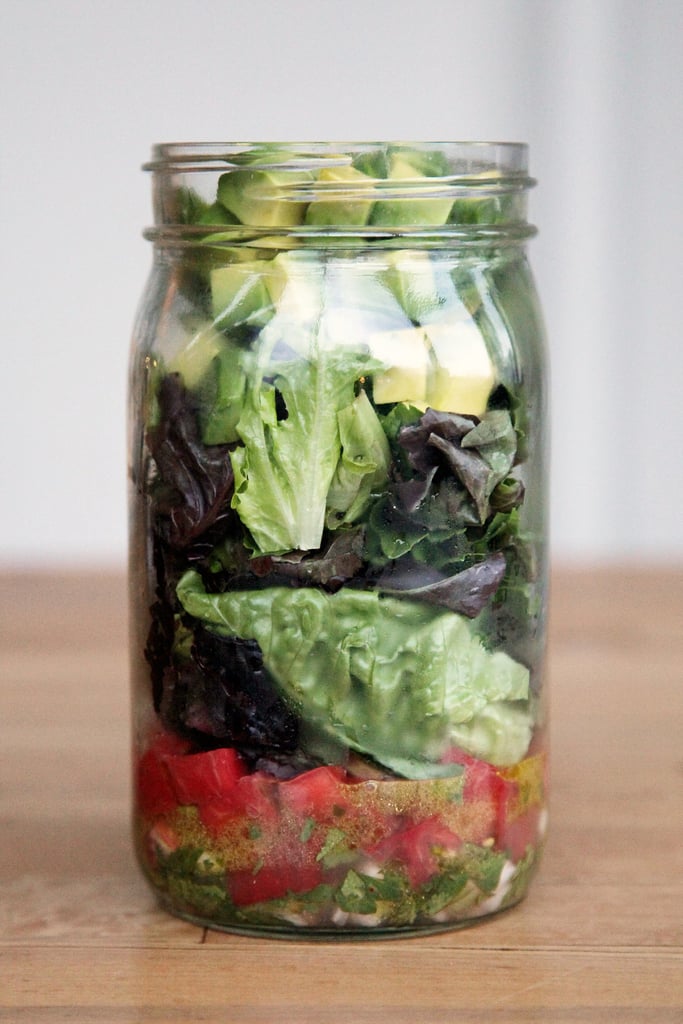 If you love the taste of chips and guac, then you must try this mason jar guacamole salad [34]. It's a lightened-up take on your go-to snack.
Caprese Mac and Cheese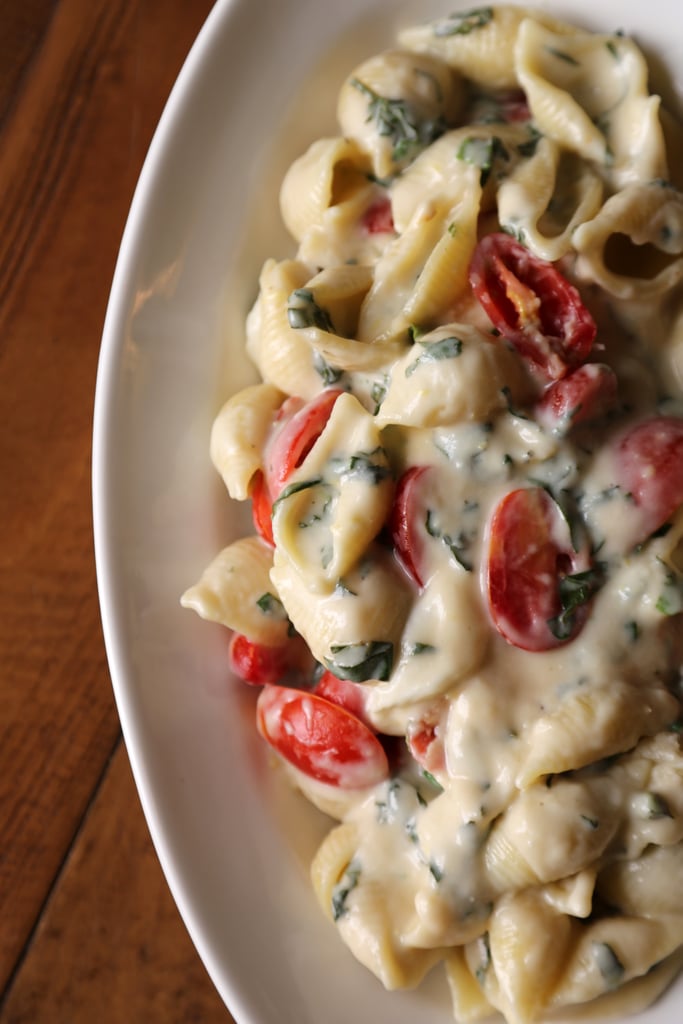 Mac and cheese is a widely adored staple, but sometimes it's nice to mix it up! This caprese version [35] includes all the classic flavors of the salad (tomatoes, mozzarella, and basil) but folded into mac and cheese.
Southwestern Breakfast Cornbread
Spice things up with a Southwestern breakfast cornbread [36], a combo of cornbread, eggs, sausage, and whatever seasonal peppers and tomatoes you can find.
Spicy Tomato Soup With Grilled Cheese Croutons
Rather than pairing tomato soup with a grilled cheese, upgrade the classic soup and sandwich [37] by employing crusty cubes of grilled cheese croutons as a garnish. In the off-season, the soup base is best made from canned tomatoes, but while tomatoes are at their peak, sub in four pounds of peeled [38] farmers-market-fresh fruit.
White Bean Ratatouille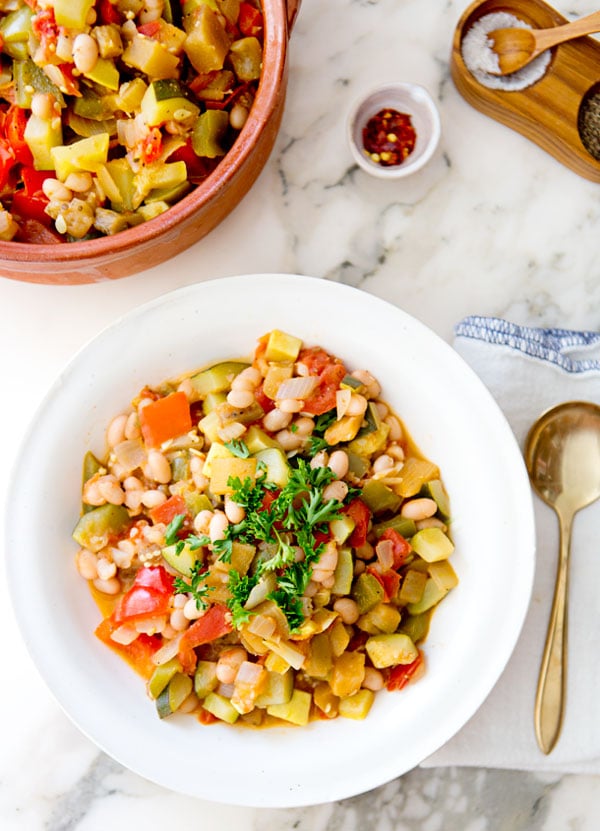 On a night when you're craving a hearty meal that's simple and healthy, whip up a batch of white bean ratatouille [39]. This one-pot recipe combines robust tomatoes and garlic with milder vegetables like zucchini, squash, and eggplant.
Three-Ingredient Tomato Sauce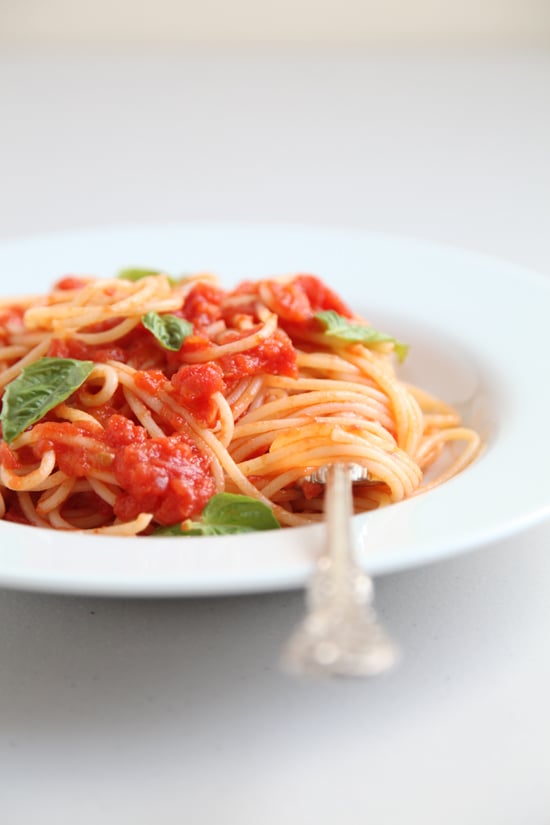 Once you try Marcella Hazan's iconic three-ingredient tomato sauce [40], you're bound to fall in love. Full of buttery flavor, it's all spaghetti needs to be taken from workaday to weeknight masterpiece (though a few leaves of basil can't hurt!).
Quinoa and Tomato Salad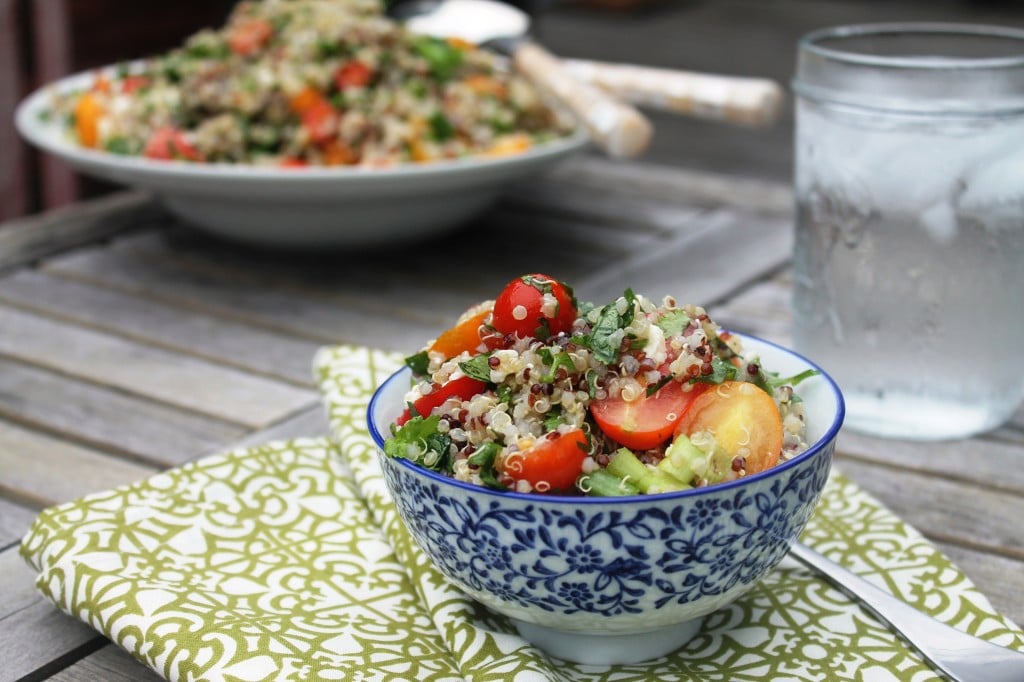 Lunch is served with this quinoa and tomato salad [41]. Tomatoes are abundantly scattered throughout the earthy quinoa.
No-Cook Tomato Sauce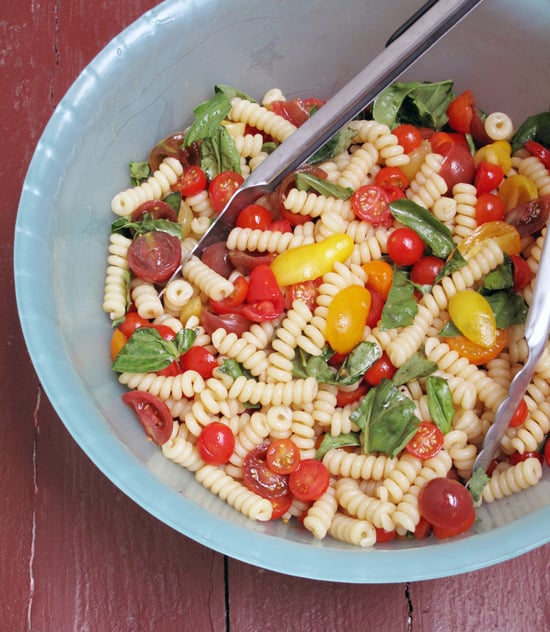 Packed with fresh basil and cherry tomatoes, this Italian pasta recipe [42] comes together in minutes, since the sauce isn't cooked.
Benedictine Cheese Sandwich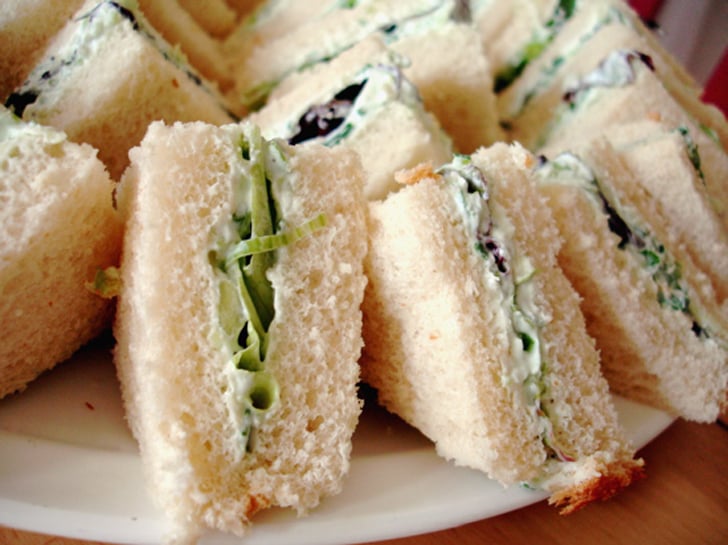 Vamp up your typical tea sandwiches; these Benedictine cheese sandwiches [43] add scallions to the traditional cucumbers and cream cheese for a punch of flavor.
Zucchini With Feta and Lemon Zest
Sometimes, the ingredients speak for themselves and require little to no extra seasoning. Zucchini with feta and lemon zest [44] is fast, easy to make, and full of flavor.
The Obama Family's Chili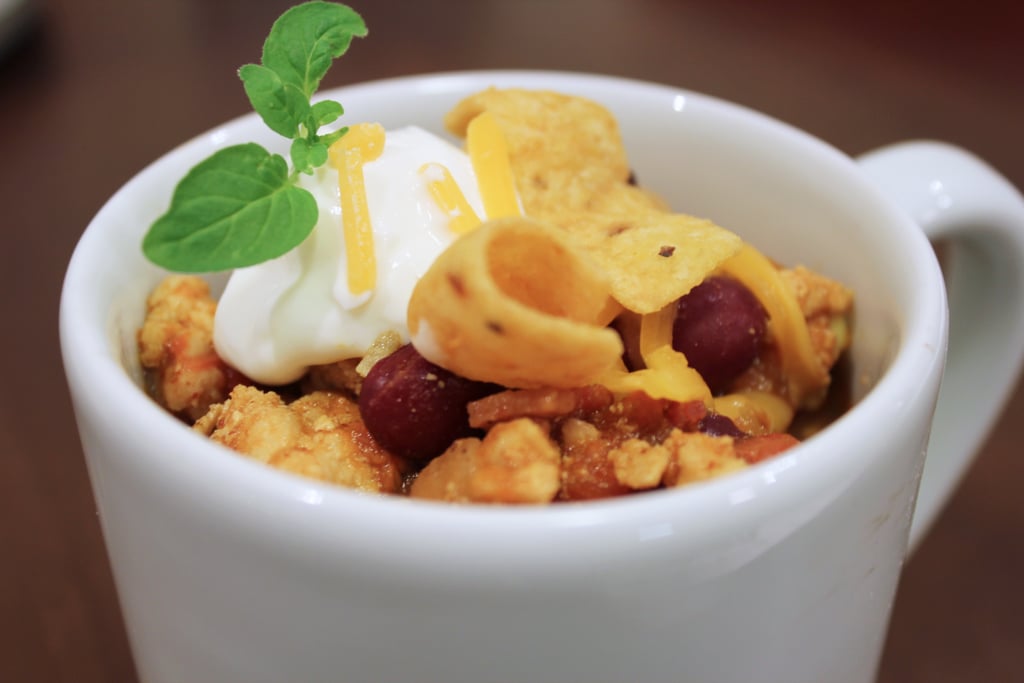 Leave it to the Obamas to come up with the ultimate chili [45], starring Summer produce like bell pepper and roma tomatoes. However, this ain't no vegetarian chili; bacon and ground beef (or turkey) bulk it up.
Braised Chicken With Tomatoes
Braising chicken with the rest of the season's tomatoes [46] is an excellent way to transition from late Summer to early Fall.
Rockfish With Peach Salsa
Buy a boatload of ripe peaches, eat most of them out of hand, and save a few to make peach salsa to use as a sweet-tart topping for flaky, meaty rockfish fillets [47].
Blueberry and Strawberry Balsamic Grilled Cheese
This isn't your mama's grilled cheese. Strawberries, blueberries, balsamic, caramelized onions, and gruyère [48] are packed between two slices of bread.