Dishes Made With Wine For Harvest Party Menu
Come Party With Me: Harvest Party — Menu
Like us on Facebook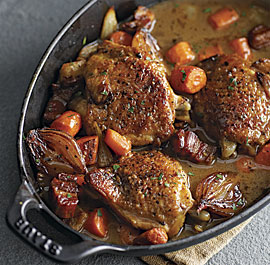 In wine making, the harvest is one of the most crucial times of year. It's when the vintners pick the grapes and usually occurs between August and October. Since the harvest is such an important season, many wineries celebrate with a lunch or dinner.

I think the tradition is the perfect excuse to plan a party! Just because you don't live in wine country doesn't mean you can't commemorate the harvest. Invite friends over for a meal that honors the wonderful world of wine. Every dish on the menu has wine on the ingredient list.

Start by displaying an assortment of charcuterie, olives, crackers, and goat cheese mousse with red-wine caramel. For the main course, offer chicken braised in white wine with shallots, pancetta, and fennel. Plate the chicken with a simple risotto alla Milanese — made with white wine and Parmesan cheese. These recipes are welcome at any dinner party, be it harvest-themed or a special birthday. To check them out, keep reading.

From Food & Wine
Goat Cheese Mousse With Red-Wine Caramel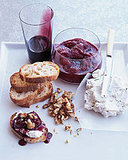 Ingredients
2 cups dry red wine
1/2 cup ruby port
1 teaspoon whole black peppercorns
1 shallot, minced
2 thyme sprigs plus 1/2 teaspoon chopped thyme
1 1/2 cups sugar
4 cups strawberries, hulled (2 pints)
2 teaspoons finely grated orange zest
2 tablespoons water
One 11-ounce log of fresh goat cheese, softened
2 tablespoons heavy cream
Pinch of freshly ground pepper
Crostini and toasted walnuts, for serving
Directions
In a saucepan, bring the wine, port, black peppercorns, shallot, thyme sprigs and 1 cup of the sugar to a boil, stirring until the sugar dissolves. Using a moistened pastry brush, wash down any sugar crystals on the side of the pan. Cook over moderate heat, without stirring, until syrupy and reduced to 1 cup, about 35 minutes. Strain and discard the solids. Let the caramel cool slightly.
Meanwhile, in a medium saucepan, toss the strawberries, orange zest, water and the remaining 1/2 cup of sugar and let stand until juicy, about 30 minutes.
Bring the strawberries to a boil and simmer over moderate heat until slightly thickened and jammy, about 15 minutes. Transfer the compote to a bowl and let cool.
In a medium bowl, using an electric mixer, beat the goat cheese, cream, ground pepper and chopped thyme until creamy. Spoon the mousse into a bowl and serve with the compote, caramel, crostini and walnuts so guests can assemble their own.
Serves 4.
Make Ahead: The caramel, strawberries and mousse can be refrigerated separately for up to 3 days. Bring to room temperature before serving.
Information
Category

Appetizers, Crostini
From Fine Cooking
Wine-Braised Chicken With Shallots and Pancetta

Ingredients
1/4 cup olive oil
4 bone-in, skin-on chicken thighs (about 1-1/2 lb.)
4 chicken drumsticks (about 1-1/2 lb.)
Kosher salt and freshly ground black pepper
7 oz. pancetta, cut into 3/4-inch dice (1 heaping cup)
8 medium shallots, lobes separated, large lobes halved through the core
4 medium carrots, cut into 3/4-inch-thick slices, large slices cut in half
1 small bulb fennel, trimmed, cored, and cut into 3/4-inch dice
1 large clove garlic, finely chopped
4 sprigs fresh flat-leaf parsley
4 sprigs fresh thyme
1 bay leaf
2 cups dry fruity white wine, preferably Alsatian or German dry Riesling
3 cups lower-salt chicken broth
1/4 tsp. finely grated lemon zest
1 Tbs. chopped fresh flat-leaf parsley
Directions
Position a rack in the bottom third of the oven and heat the oven to 300°F.
Heat 2 Tbs. of the oil in a 7- to 8-quart Dutch oven over medium-high heat. Season the chicken all over with 1 tsp. salt and 1/2 tsp. pepper. Arrange the chicken skin side down in the pot in a snug single layer and sear, flipping once, until golden brown all over, 10 to 13 minutes. Transfer to a plate.
Cook the pancetta in the pot until well browned all over, 5 to 8 minutes. Transfer with a slotted spoon to paper towels to drain. Pour off and discard the fat.
Heat the remaining 2 Tbs. oil in the pot over medium-high heat. Cook the shallots, carrots, and fennel, stirring occasionally, until lightly browned, about 7 minutes. Add the garlic and cook, stirring frequently, until its aroma subsides, 1 to 2 minutes.
Tie the parsley sprigs, thyme sprigs, and bay leaf together with twine (or tie them in a small cheesecloth sachet). Add the herb bundle to the pot, along with the wine. Simmer briskly, scraping the bottom of the pot to loosen the brown bits. Add the broth and return the chicken and pancetta to the pot, arranging the chicken in a single layer. Bring to a simmer, cover and transfer to the oven.
Braise the chicken until the meat is fork-tender and just starting to come away from the bone, 35 to 45 minutes.
Transfer the chicken and vegetables to a serving platter with a slotted spoon and tent with foil. Discard the herb bundle.
Bring the sauce to a boil over high heat and reduce to 2 cups, about 15 minutes. Stir in the lemon zest and season with salt and pepper. Pour the sauce over the chicken and serve sprinkled with the chopped parsley.
Serves 4.
Make Ahead: This dish may be made up to 2 days ahead. Let the sauce cool before adding the chicken and vegetables and refrigerating. Reheat gently over medium-low heat before serving.
Information
Category

Poultry, Main Dishes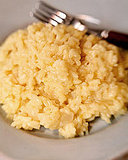 Ingredients
1/2 teaspoon powdered saffron or 20 threads
3 tablespoons unsalted butter
2 tablespoons olive oil, plus more for drizzling
1/2 cup roughly chopped onion
2 cups Arborio rice
1/2 cup dry white wine
1/4 cup finely grated Parmesan cheese
8 cups homemade or canned low-sodium chicken stock, heated
Directions
Remove 1/2 cup of the heated chicken stock to a small bowl; stir in saffron, and set aside. Keep the remaining stock warm in a medium saucepan over medium-low heat.
Combine 2 tablespoons butter and olive oil in a large saucepan over medium heat. Add the onion and cook, stirring, until translucent, but not browned, about 5 minutes.
Add the rice, and stir to coat with the butter mixture. Stir in the wine and cook, stirring continuously, until the wine evaporates, about 1 minute.
Stir in the saffron broth and cook, allowing the rice to absorb it, about 2 minutes. Add the remaining broth, 1/2 cup at a time, stirring after each addition and allowing the rice to absorb after each addition before adding more. Cook until the rice is tender (but not mushy), about 20 minutes.
Stir in the Parmesan, remaining tablespoon butter, and drizzle with olive oil. Serve immediately.
Serves 6.
Information
Category

Side Dishes, Rice