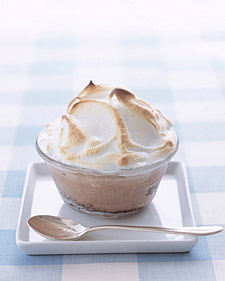 On Sunday evening, the stars in attendance at the Governors Ball, the official afterparty to the
Oscars
, will
be enjoying
baked Alaska with espresso glace, Guittard L'Etoile du Nord chocolate sorbet and toasted meringue for dessert. Although it sounds incredibly fancy, a baked Alaska is quite simply an ice cream cake topped with meringue. Take some help from the grocery store and you can serve this elegant treat to friends at your
Oscars viewing party
. All you have to do is follow this easy — yes, easy — recipe for individual baked Alaskas. Use your favorite flavor of ice cream, or to be authentic, a rich chocolate sorbet. Sound delish? Here's the recipe.
Ingredients
4 slices (3/4 inch thick each) pound cake
1 1/2 cups softened ice cream
3 egg whites
Pinch of salt
1/2 cup sugar
Directions
Using a cookie cutter or knife, trim 4 slices of pound cake (3/4 inch thick each) to snugly fit bottoms of four (6-ounce) ovenproof custard cups. Divide 1 1/2 cups softened ice cream among lined cups.
In a mixing bowl, beat 3 egg whites with a pinch of salt to soft peaks. Gradually add 1/2 cup sugar, beating until stiff and glossy; mound over ice cream. Freeze 1 hour or up to 1 week.
To serve, preheat oven to 450 degrees. Transfer cups to a baking sheet; let sit 10 minutes. Bake until lightly browned (watch carefully), 2 to 4 minutes.
Serves 4.
Information
Category

Desserts, Ice cream

Cuisine

North American