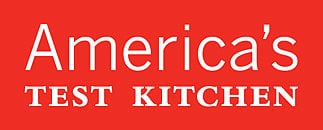 We've got a partnership with the recipe, equipment, and product-testing gurus at America's Test Kitchen [1]. They'll be sharing some of their time-tested recipes and technical expertise with us. This week, blow you friends and family away by taking note of few insider cake-decorating tips.
What takes a perfectly frosted cake from every-day to special-occasion? A professional cake decorator might pipe intricate flowers and borders using a pastry bag and tip, but oftentimes less is more when it comes to decorating something homemade. Ahead are some easy techniques for decorating cakes that don't require special equipment or professional experience. All you need are some simple, readily available ingredients and a few tricks up your sleeve — and you'll effortlessly turn out a special cake for family and friends.
To Decorate the Sides
Gently press toasted, sweetened coconut into the frosting, allowing the excess to fall onto the parchment protecting the plate. Or try using sliced almonds, finely chopped nuts, mini chocolate chips, crushed hard candies, or colored sprinkles.
To Apply a Minimalist Garnish
Arrange sliced almonds, candied fruit, fresh berries, or even unsprayed fresh rose petals in decorative patterns around the edge and center of the cake.
To Make Colorful Shapes
Colored sugar or sprinkles can add a special touch to a frosted cake. To apply the colored sugar in neat shapes, use a small cookie cutter as a guide. Once you've covered the area outlined by the cookie cutter, carefully remove the cutter to reveal a fanciful decoration.
To Make Billowy Swirls
Use the back of a large dinner spoon to make billowy swirls of frosting on the top and sides of the cake.
To Decorate with Chocolate Shavings
Use a vegetable peeler to shave a semisweet or bittersweet chocolate bar over parchment. Simply shake the shavings off the parchment onto the top of the cake.
To Write Messages in Chocolate
Place chopped chocolate in a ziplock bag and immerse the bag in hot (but not boiling) water until the chocolate melts. When the chocolate is melted, dry the bag thoroughly, then snip off a small piece from one corner to create a tiny spout. Holding the bag in one hand, gently squeeze the chocolate from the hole as you write.
More stories from America's Test Kitchen:
Waxing Poetic: 3 Novel Uses for Waxed Paper [2]
10 Best Things We Ate at the Summer Fancy Food Show 2013 [3]
Secrets to Lemon Pudding Cake [4]
The Beauty of a Meat Pounder [5]