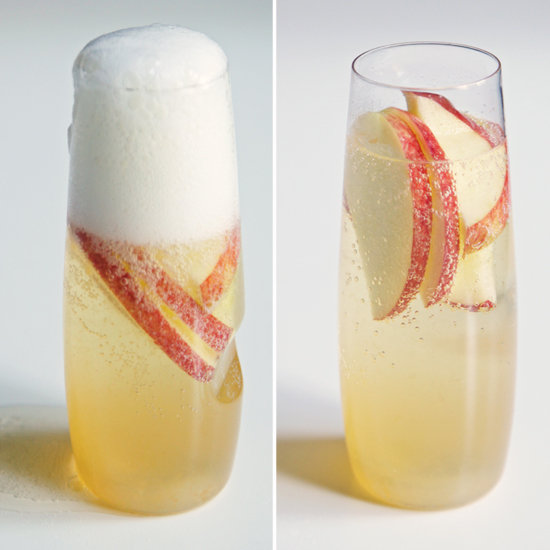 If you can't really get away to a luxe vacation spot during the holidays, you can at least temporarily transport yourself to a relaxing mental state via a satisfying sparkling cocktail. Apples, orange, and lemon juices, elderflower liqueur, and sweet sparkling wine are all easy-to-find ingredients, so this cocktail is as stress-free as can be. And with all the rough-and-tumble going on about you during the holidays, keep spills and glass breakage to a minimum by serving the cocktails in
Govino plastic flutes
like the ones above.
The sparkling cocktail is surprisingly light and sweet, and you can munch on the wine-soaked apple slices once you've drained the flute. If you're prepared to be sent to a temporary dream state, see the sparkling cocktail recipe now.
Photos: Nicole Perry
Ingredients
1 apple, thinly sliced
1 ounce orange juice
1/2 ounce lemon juice
2 ounces St-Germain elderflower liqueur
8 ounces Deutscher Sekt or other sweet sparkling wine
Directions
Fill a cocktail shaker hallway full with ice cubes. Add orange and lemon juices and elderflower liqueur. Shake for several seconds.
In two flutes, place four apple slices in each. Strain the juice mixture into glasses. Top each with chilled sparkling wine. Serve immediately.
Makes two cocktails.
Information
Category

Cocktails, Drinks