Easy Individual Crustless Quiche Recipe
Fast & Easy Dinner: Crustless Broccoli-Cheddar Quiches
Like us on Facebook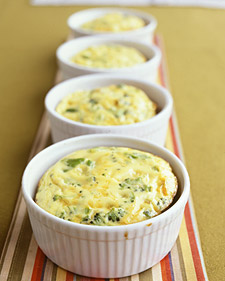 Who says making quiche has to be complicated? This recipe proves that a quick and simple quiche can come together in minutes. The secret is to leave out the pastry dough crust. Not only are you saving time, but you'll also cut calories. The classic combination of cheddar and broccoli is featured in this recipe; however other cheese and vegetable pairings can be substituted. Follow the same measurements but consider gruyere and mushrooms, gouda and red peppers, or parmesan and spinach. Get the basic vegetarian recipe when you

.


Ingredients
Butter, for ramekins
Coarse salt
1 package (10 ounces) frozen broccoli florets
6 large eggs
1/2 cup half-and-half
Ground pepper
1/8 teaspoon ground nutmeg
3/4 cup shredded cheddar cheese (3 ounces)
Crusty bread and mixed salad (optional)
Directions
Preheat oven to 350 degrees. Butter four 8-ounce ramekins (or a 9-inch pie dish); set aside.
Bring a medium pot of salted water to a boil. Add broccoli; cook 1 minute. Drain well; transfer to a cutting board, and blot dry with paper towels. Chop coarsely.
In a large bowl, whisk together eggs, half-and-half, 1/2 teaspoon salt, 1/4 teaspoon pepper, and nutmeg. Stir in broccoli and cheese.
Place ramekins on a rimmed baking sheet. Ladle broccoli mixture into ramekins, dividing evenly. Bake until golden brown, 35 to 40 minutes. Serve with crusty bread and a mixed-green salad, if desired.
Serves 4.
Information
Category

Main Dishes, Eggs

Cuisine

French