We can't believe it either, but Cinco de Mayo [1] is right around the corner! Planning to celebrate with friends? Besides all the tequila goodness, some delicious homemade dips can take an ordinary get-together to the next level. Instead of grabbing prepackaged salsas at the store, the easy extra effort it takes to make fresh dip will make a world of difference to your taste buds. Whether you want a classic choice or you'd like to take a twist on tradition, click through these 15 recipes for inspiration!
Mango, Black Bean, and Jicama Salsa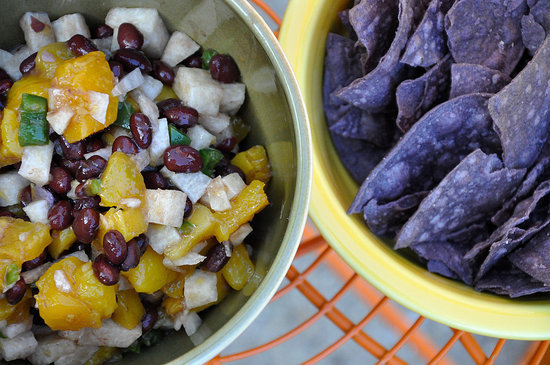 This recipe for mango, black bean, and jicama salsa [2] brings a whole new fiesta of flavors and textures to your standard one-dimensional salsa. If you're a fan of fruit-filled salsas, dip into a pineapple, mango, and jalapeño salsa [3] next.
Chipotle's Guacamole
If you've ever had Chipotle's spicy guacamole [4], then you'll be thrilled to watch this video and get the dish straight from the legendary burrito chain.
Chile Con Queso
Ditch the old days of Velveeta: this all-natural chile con queso [5] is an easy and delicious way to get your queso on.
Pico de Gallo
There's nothing tastier than fresh pico de gallo [6] dip to help out a party.
Pomegranate Mango Guacamole
As pretty to look at as it is yummy, pomegranate mango guacamole [7] brings a whole new layer of fresh to the table with sweet fruit.
Easy Tomato Salsa
If you've got a pickier crowd that likes the classics, this easy tomato salsa [8] will delight young and old.
Salsa Verde
The Mexican condiment salsa verde [9] may seem like something you'd never create from scratch, but making this tomatillo-based salsa at home brings a whole new complexity of flavors to the table.
Bacon and Tomato Guacamole
The combination of avocado and bacon is simply decadent. Bacon lovers will swoon over a tasty bacon and tomato guacamole [10] recipe.
Cherry Salsa
Summer cherry season is just around the corner! Time to get excited with this tasty fresh cherry salsa [11].
Mushroom and Goat Cheese Queso
Creamy, gooey mushroom and goat cheese queso [12] will bring an elegant and dreamy update to the classic queso dip.
Rick Bayless Salsas
Rick Bayless dedicated the majority of his life to culinary research in Mexico. Not entirely convinced of his chops? After you've tasted this trio of Rick Bayless salsas [13], you'll understand that all that research resulted in huge gourmet successes.
Roasted Garlic Guacamole
You can never go wrong with a big bowl of classic guacamole [14]. If you want to kick it up a notch, employ some unexpected help from roasted garlic guacamole [15].
Strawberry Salsa
I love the look of these cute avocado boats topped off with strawberry salsa [16]. What a perfect way to bring the season's bounty to your Cinco de Mayo celebration.