Easy Shrimp and Pearl Couscous Dinner Recipe
Fast & Easy Dinner: Shrimp and Pearl Couscous
Like us on Facebook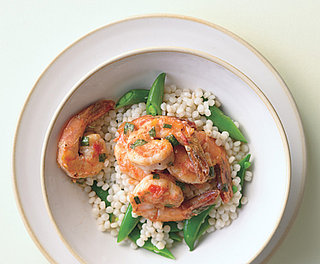 Since it cooks in under 10 minutes, couscous is a great ingredient to have on hand for quick and simple dinners. However, regular couscous can be a bit boring. When I'm in need of more excitement, I look to Israeli couscous. Its grains are larger than traditional couscous, and have a pearl-like shape, wonderful bouncy snap, and great ability to absorb flavor. In this recipe, the couscous is served with in-season peas, perfectly pink shrimp, and a light tomato-white wine sauce. Learn how easy it is to make this Israeli couscous dinner when you

.
From Gourmet
Shrimp and Pearl Couscous
Ingredients
1/2 cup pearl (Israeli) couscous
1/2 cup sugar snap peas, strings removed, then halved
1 1/2 tablespoons unsalted butter, divided
5 ounces peeled and deveined shrimp
1/4 cup dry white wine
1 small tomato, finely chopped
1 pinch of sugar
1 tablespoon chopped tarragon
Directions
Cook couscous in well-salted boiling water, uncovered, until tender, about 10 minutes. Stir in sugar snaps 3 minutes before couscous is done. Drain and transfer to a bowl, then stir in 1/2 tablespoon butter and salt and pepper to taste.
While couscous and sugar snaps cook, toss shrimp with 1/8 teaspoon each of salt and pepper. Heat remaining tablespoon butter in a 10-inch heavy skillet over medium-high heat until foam subsides. Sauté shrimp, turning once, until just cooked through, about 3 minutes total. Transfer shrimp with a slotted spoon to a plate.
Add wine, tomato, and sugar to skillet and boil until tomato starts to fall apart, about 4 minutes. Return shrimp to skillet and stir in tarragon.
Season with salt and pepper. Serve shrimp and pan sauce on top of pearl couscous.
Serves 1.
Information
Category

Main Dishes, Shellfish

Cuisine

Mediterranean/Middle Eastern