Near magical in their ability to add oomph and flavor to any manner of meals, eggs are considered a pantry staple in our kitchens despite their refrigerated resting place. Keep reading for a plethora of suggestions on how to best crack the code on egg cookery, whether in omelets, soufflés, or even atop a pizza.
Ham and Cheese Soufflés
Push aside your fears of soufflé cookery — we promise they're easier than their fussy reputation suggests — and bake up a batch of cheese-, chive-, and ham-studded stunners [1].
Mediterranean Quiche
Add Mediterranean flair to quiche [2] with sundried tomatoes, fresh herbs, and goat cheese for a hearty main equally suitable for brunch or dinner.
Sweet and Spicy Deviled Eggs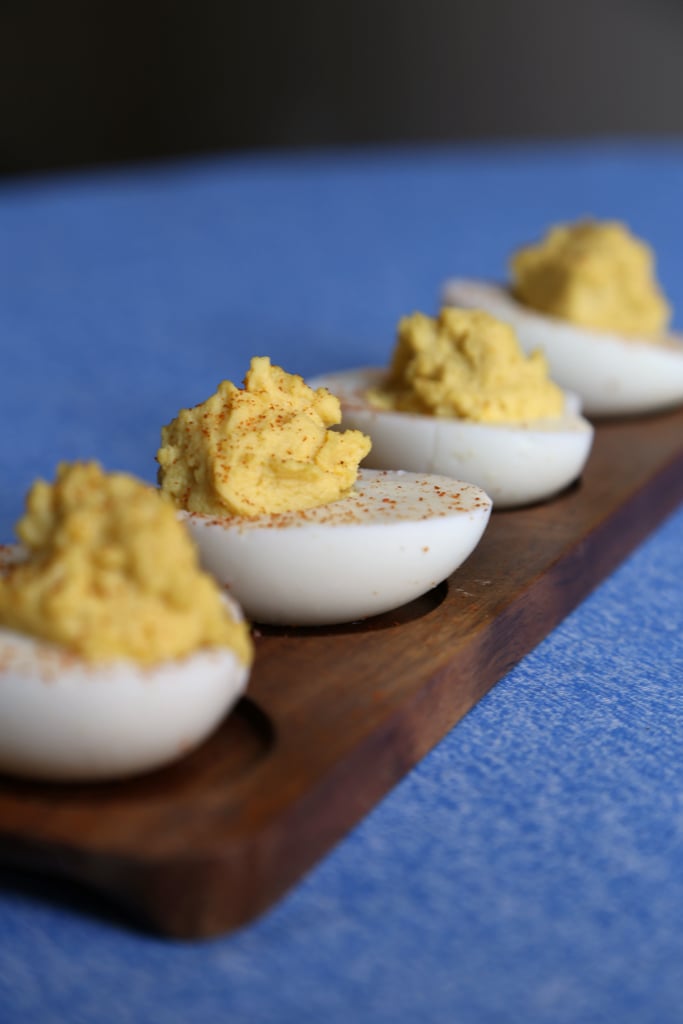 Deviled eggs [3] take a subtle spicy-sweet turn with the addition of honey mustard and cayenne pepper.
Kimchi Fried Rice
Make the most of leftover rice by stir-frying it with spicy kimchi, scallions, and soy sauce for a Korean take on fried rice [4]. The kicker? A perfectly runny-yolked fried egg on top.
French Omelet
A mere four ingredients and a good grasp on omelet-cookery technique are all it takes to make a tender classic French omelet [5]. Don't worry, we'll walk you through the surprisingly easy steps.
Asparagus Ribbon Pizza
For a taste of springtime, try ribboned asparagus pizza [6], which pairs willowy shaved asparagus with crisp pea shoots, goat cheese, and tangy balsamic reduction.
Roasted Asparagus With Miso Butter
Roasted asparagus with poached eggs [7] and miso butter might sound like the sort of dish left to the pros, but it's fast, easy, and weeknight-friendly, despite its restaurant pedigree.
Matzo Brei With Lox
Matzo brei [8] — a Passover-friendly french toast analogue that subs matzo for bread — becomes even more special with the addition of lox and dill.
Baked Eggs in Spiced Tomato Sauce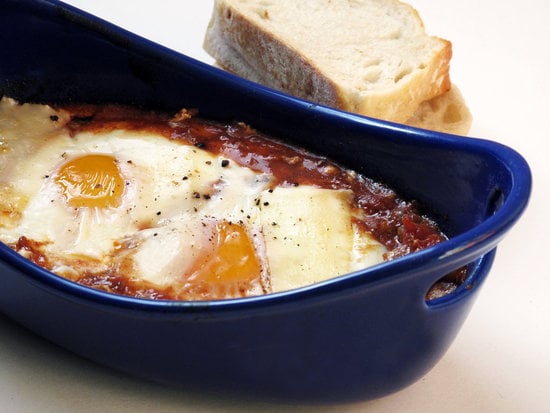 Nestle eggs into a bath of Moroccan-spiced tomato sauce and the result is a comforting yet exotic take [9] on eggs in purgatory — a low-fuss brunch favorite.
Oeufs en Cocotte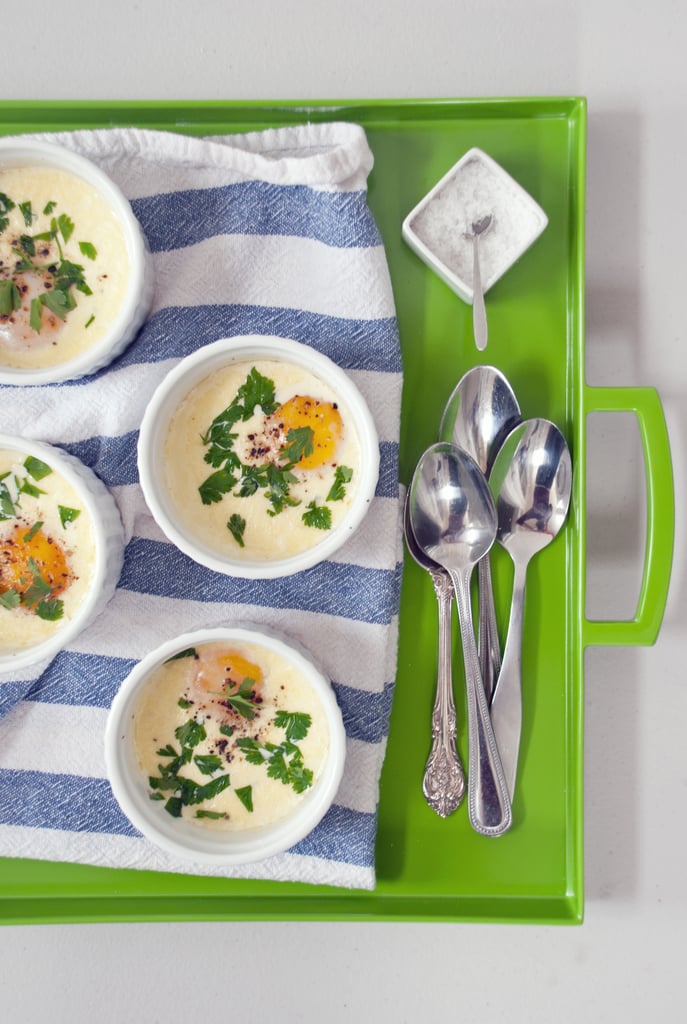 Whether you call them oeufs en cocotte or coddled eggs (both are correct), this easy, eye-catching, and near-infinitely-customizable baked egg recipe [10] is bound to delight.
Spicy Garlic Kale With Poached Eggs
Fast, fresh, and full of flavor, spicy garlic kale [11] is a dual-purpose delight. Serve it with a hearty slab of toast and poached eggs for a complete meal; omit the add-ons and it's a versatile side dish.
Lyonnaise Salad
Lyonnaise salad [12], a classic bistro dish that pairs frilly, slightly bitter frisée with poached eggs, salty bacon, and a tart vinaigrette based upon the salty bacon drippings is flat-out irresistible.
Asparagus-Goat Cheese Omelet and Bacon-Cheddar Frittata
Whether you're looking for a Spring-centric take on a fold-over omelet [13] (think asparagus, pesto, and goat cheese) or a hearty bacon and cheese frittata [14], this video has you covered.
Homemade Breakfast Burritos
Skip the long brunch lines and make hangover-squelching breakfast burritos [15] at home. Don't let the name fool you; they're equally at home morning, noon, or night.
Asian-Inspired Savory Oatmeal
Like an oaten take on congee, this soul-soothing breakfast recipe [16] packs in lots of flavor without an excess of effort or expense.
Green Eggs and Ham
Cheeky name aside, green eggs and ham [17] (a spinach, egg, and bacon breakfast casserole) is a satisfying start to the day. We like to make this leftover-friendly option on Sundays, and portion it out for a brown-bag breakfast or lunch throughout the week.
Asparagus With Grated Egg and Vinaigrette
Easy and elegant, asparagus with grated egg and zingy vinaigrette [18] is a solid Spring side, perfect for rounding out a brunch spread (or dinner, for that matter).
Gallina de Madre
Add serrano ham and a drizzle of manchego-spiked bechamel to just about anything and it's bound to be delicious. Gallina de madre [19] (mother hen toast) rounds it all out with what's essentially toad-in-the-hole for a decadent breakfast.
Vegetarian Frittata
Unlike many egg dishes, this vegetarian frittata [20] is equally delightful whether served fresh from the oven or at room temperature, making it a great candidate for picnic lunches, brunch, or dinner.
Mushroom, Spinach, and Tomato Scramble
Get a taste of the spa with a hearty yet wholesome veggie-packed scramble recipe [21].
French Toast Strata With Chicken Sausage
This french toast strata [22] will satisfy cravings for savory and sweet breakfast options in equal measure, thanks to a maple-soaked challah base studded with chicken sausage. Even better, the majority of prep work can be done the night before — come bleary-eyed mornings, just pop it in the oven, and you'll have breakfast ready shortly thereafter.