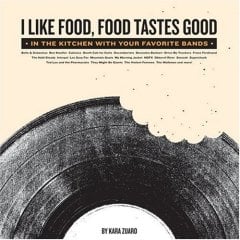 I guess it's official, indie rock and food do go hand in hand.
Last month I told you about Dinner With the Band (a webshow featuring Sam Mason and touring indie bands) and now I'm telling you about a new book called I Like Food, Food Tastes Good by food writer Kara Zuaro. The book, which comes out today (and has got me and my gal BuzzSugar all excited), is a compilation of recipes from over 100 indie raaawwwk bands, including: Belle & Sebastian, Devendra Banhart, Interpol, The Mountain Goats, The Decemberists, They Might Be Giants and (my current favorite experimental folk quartet) Grizzly Bear (with a killer sounding pecan pie - recipe after the jump).
The best part is that Zuaro has left the recipes as the artists submitted them (I hear that Banhart's is exactly what you expect). Plus, the NYC release parties sound like they'd be a blast to check out too.
For those of us that can't make the release party, we'll have to make do with making the recipes on our own. To get started, have a look at Grizzly Bear's Pecan Pie,
Source: Time Out New York