Beef With Onions and Watercress
From The Nest [2]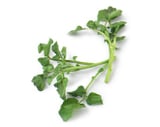 Ingredients
3/4 pound thickly cut steak, such as New York Strip or rib eye
1 tablespoon fish sauce
2 teaspoons soy sauce
1/2 teaspoon sugar
1/2 teaspoon black pepper
For the Watercress Salad:
2 tablespoons vinegar, any kind
1 teaspoon vegetable oil
1 teaspoon sugar
1/2 teaspoon salt
1/2 teaspoon black pepper
1/2 cup very thin red onion slices
2 cups bite-sized leaves or torn pieces of watercress, fresh spinach, or leaf lettuce
2 tablespoons vegetable oil
2 tablespoons finely chopped garlic
Directions
To marinate the beef, begin by cutting it into big, bite-sized chunks, about 1 inch square.
In a medium bowl, combine the fish sauce, soy sauce, sugar, and pepper and stir well. Add the beef, toss to coat it evenly, and set aside for 20 to 30 minutes while you make the salad.
To make the watercress salad, combine the vinegar, oil, sugar, salt, and pepper in a medium bowl and stir well. Add the onion slices and toss to coat them with the dressing. Add the watercress to the bowl but don't toss it yet.
To cook the beef, heat the 2 tablespoons of oil in a large, heavy skillet over high heat until a bit of garlic sizzles at once. Add the beef and let it cook on one side, undisturbed, for 1 to 2 minutes, until nicely browned. Shake the pan to turn the meat and cook on the other side the same way. Continue cooking, shaking and searing the meat, until evenly browned and done to your liking.
Remove the pan from the heat and set aside while you prepare the serving platter. Toss the watercress to coat it with the dressing, and arrange it on a small serving platter. Scoop up the steak, pile it in the center of the watercress salad, and serve hot or warm.
Serves 4.
Information
Category

Main Dishes, Beef

Cuisine

Other Asian