Fast & Easy Dinner: Beef Stroganoff With Pasta
Fast & Easy Dinner: Beef Stroganoff With Pasta
Tonight, make this rich, comforting classic for your family's dinner. Thinly sliced beef is seared with a pan-sauce of tomato paste, beef broth, and Worcestershire, making a meal that is flavorful and filling. Passing the sour cream horseradish mixture around the table lets everyone control the amount of creaminess in their stroganoff. To save time and dishwasher space, cook the pasta and broccoli in the same pot of boiling water. Get this mouth-watering recipe and read more.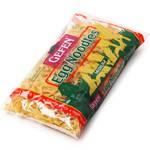 Beef Stroganoff With Pasta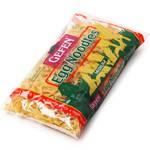 Ingredients
3 cups dried wide noodles
3 cups broccoli spears (12 ounces)
1/2 cup light dairy sour cream
1-1/2 teaspoons prepared horseradish
1/2 teaspoon snipped fresh dill
1 pound beef ribeye steak
1 small onion, cut into 1/2-inch slices
1/2 teaspoon minced garlic
1 tablespoon cooking oil
4 teaspoons all-purpose flour
1/2 teaspoon ground black pepper
1 14-ounce can beef broth
3 tablespoons tomato paste
1 teaspoon Worcestershire sauce
Directions
Cook noodles according to package directions, adding broccoli the last 5 minutes of cooking. Drain; return noodles and broccoli to pan.
Meanwhile, stir together the sour cream, horseradish, and dill in a small serving bowl; cover and chill until serving time.
Trim fat from beef. Cut beef into bite-size strips. Cook half of the beef, all of the onion, and garlic in hot oil in a large skillet until onion is tender and beef is of desired doneness. Remove from skillet. Add remaining beef; cook and stir until beef is of desired doneness. Return all meat to skillet; sprinkle flour and black pepper over meat. Stir to coat.
Stir in broth, tomato paste, and Worcestershire sauce. Cook and stir until mixture is thickened and bubbly. Cook and stir 1 minute more.
Divide noodle-broccoli mixture among four bowls. Spoon beef mixture on top of noodle mixture. Top with one or two spoonfuls or two of the sour cream mixture.
Serves 4.
Nutrition Facts: Servings Per Recipe 4 servings, Calories 368, Total Fat (g) 15, Saturated Fat (g) 5, Monounsaturated Fat (g) 4, Polyunsaturated Fat (g) 1, Cholesterol (mg) 81, Sodium (mg) 454, Carbohydrate (g) 32, Total Sugar (g) 4, Fiber (g) 4, Protein (g) 29, Vitamin A (DV%) 0, Vitamin C (DV%) 83, Calcium (DV%) 9, Iron (DV%) 21
Information
Category

Beef, Main Dishes