Fast & Easy Dinner: Coconut Chicken With Snow Peas
Fast & Easy Dinner: Coconut Chicken With Snow Peas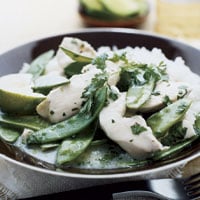 Everyday chicken doesn't have to be boring, especially when using exotic ingredients.
With its coconut milk, fresh ginger, and fish sauce, this recipe is inspired by Thailand. It's surprisingly quick to make — you simply boil the sauce components and toss in the chicken pieces — and delicious to eat.
If you dislike cilantro, substitute finely chopped basil. For the recipe,
.