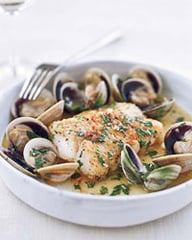 In this flavorful dish, two types of seafood — firm white fish and briny shellfish — are combined, creating a sophisticated meal that is surprisingly uncomplicated to make.
If your local market does not have cod or cockles, consider using another affordable flaky white fish, like halibut, and small clams in place of the cockles.
Serve a lightly dressed salad of mixed greens with herbs on the side and a glass of chilled Rosé. Take a trip to the seashore with this recipe and
.