Fast & Easy Dinner: Eggy Pasta with Spinach and Bacon
Fast & Easy Dinner: Eggy Pasta with Spinach and Bacon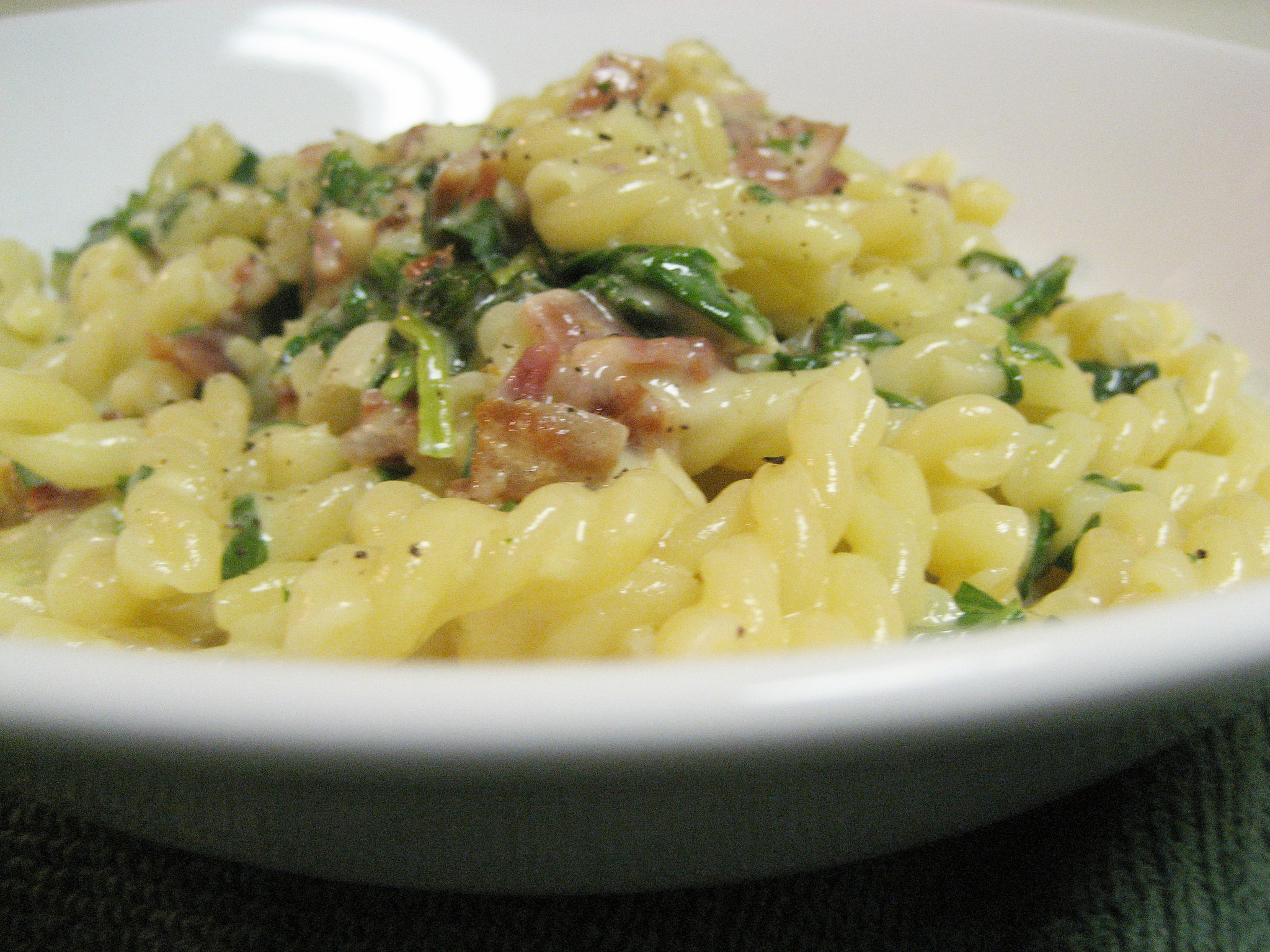 Wondering what to do with almost wilted spinach? Mix it into a carbonara style pasta dish! Last week, I made this scrumptious dish that comes together in minutes. The spinach is tossed with garlic and lightly sautéed. To this, add cooked pasta and an egg, Parmesan, and parsley mixture. The egg provides a deliciously creamy texture, and the bacon gives the dish a salty finish. To get this wonderful, quick-fix recipe that pairs perfectly with a glass of red wine, read more

Eggy Pasta with Spinach and Bacon
Modified from iVillage
1 tablespoon extra virgin olive oil
2 cups chopped spinach
1 clove garlic minced
1 egg
1 1/2 teaspoons heavy cream
1/4 cup Parmesan cheese, finely grated
1 tablespoon parsley, finely chopped
2/3 cup pasta
2 pieces of cooked or leftover bacon, chopped
salt and freshly ground black pepper to taste
Fill a large pot with water and bring it to a boil.
In a large sauté pan heat the oil over medium low heat. Add the garlic and spinach, tossing to coat until wilted a few minutes. Remove from heat.
Meanwhile, break the egg into a medium-size mixing bowl and beat with a fork. Add the cream, cheese, parsley, bacon and beat again.
Cook the pasta according to the package directions. Using a slotted spoon scoop the pasta from the water. Add to the pan with the spinach and garlic. Add the egg mixture. Turn the heat on as low as it goes, and stir constantly with a wooden spoon until the pasta is coated with a creamy sauce. Season with salt and pepper. Remove from the heat and serve immediately.
Serves 1.