Orange Chicken Salad with Feta
From Cooking Light [4]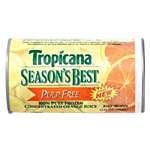 Ingredients
1 pound skinless, boneless chicken breast
Cooking spray
8 cups torn leaf lettuce
1 cup orange bell pepper strips
1 cup grape or cherry tomatoes, halved
1/2 cup matchstick-cut carrots
1/2 cup (2 ounces) feta cheese, crumbled
1/4 cup chopped green onions
3 tablespoons thawed orange juice concentrate, undiluted
1 tablespoon white vinegar
1 tablespoon olive oil
1/8 teaspoon salt
1/8 teaspoon black pepper
1 (11-ounce) can mandarin oranges in light syrup, drained
2 tablespoons sliced almonds, toasted
Get more recipes at MyRecipes.com [5]
Directions
Prepare grill.
Place chicken on a grill rack coated with cooking spray; grill 6 minutes on each side or until done. Cut into 1/2-inch-thick slices. Set aside.
Combine lettuce and next 5 ingredients (through onions) in a large bowl.
Combine orange juice concentrate, vinegar, oil, salt, and black pepper; stir with a whisk.
Pour juice mixture over lettuce mixture, tossing to coat. Divide lettuce mixture evenly among 4 plates; top evenly with chicken, oranges, and almonds.
Serves 4 (serving size: about 2 cups salad, 3 ounces chicken, about 10 mandarin orange segments, and 1 1/2 teaspoons almonds).
Nutritional Information: CALORIES 299(28% from fat); FAT 9.3g (sat 3g,mono 4.4g,poly 1.2g); PROTEIN 25.1g; CHOLESTEROL 62mg; CALCIUM 161mg; SODIUM 351mg; FIBER 4.8g; IRON 1.5mg; CARBOHYDRATE 31.2g
Like the recipe above? Try out some of these other ones:
— 10 Chicken Dinners for the Busy Cook [6]
— Dinner Tonight Recipes in 45-Minutes or Less [7]
— Eat Smart at CookingLight.com
— Get More Salad Recipes [8]
Information
Category

Salads, Main Dishes

Cuisine

North American