Fast & Easy Dinner: Prosciutto-Wrapped Cod With Spinach
Fast & Easy Dinner: Prosciutto-Wrapped Cod With Spinach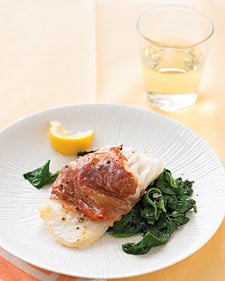 In between attending holiday parties and making edible gifts, I've been laying off the heavy meals, opting regularly for fish instead.
This dinner of cod wrapped in cured Italian ham looks both light and filling at the same time. Since white fish tend to be mild in taste, I'm looking forward to the boost of flavor that paper-thin prosciutto will provide.
Adding a side of spinach with a lemony kick will help me put a meal on the table in less than half an hour — which leaves time for last-minute holiday shopping! To make this dish,
.