Fast & Easy Dinner: Seared Salmon With Oranges and Fennel
Fast & Easy Dinner: Seared Salmon With Oranges and Fennel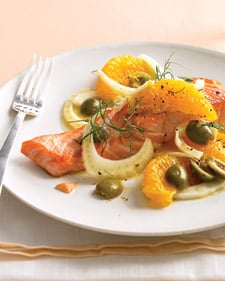 Have dinner on the table in minutes with this flavorful salmon dish. Select thin, six-ounce salmon fillets that are firm, but delicate. Once seared, the salmon takes on a buttery, melt-in-your mouth texture.
The fragrant sauce combines citrus juice with crisp fennel and salty olives. For a hearty meal, serve the salmon and vegetables atop couscous.
To look at the delicious recipe,
.