Fast & Easy Dinner: Spicy Mussels and Chorizo
Fast & Easy Dinner: Spicy Mussels and Chorizo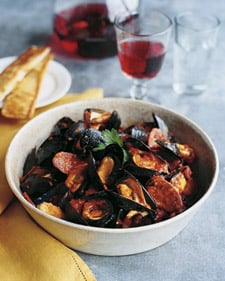 Every year, the night before Thanksgiving, I like to treat my family to a luxuriously delicious dinner. I usually choose a dish (like pasta or seafood) that is simple to make, not too rich, and has nothing to do with the traditional flavors of Thanksgiving.
Tonight I'll be serving up a huge pot of mussels. The plump shellfish is cooked in a fragrant broth of crushed tomatoes and white wine. Spanish chorizo provides a spicy meatiness to the sauce that is so scrumptious you'll want to lick the bowl!
To get the recipe — I'm pairing mine with crusty bread and a green salad —
.